<![CDATA[[vc_row][vc_column][vc_column_text]
Farm-to-table restaurants delight with local ingredients, garden dining.
by Scott Koenig A basil-infused sea breeze rustles trees surrounding an outdoor dining room. A salad is tossed with crisp lettuce and vegetables, gathered fresh from the restaurant's on-site organic garden. Bright orange carrots SNAP when bitten into and burst with revelatory sweetness. The beets are deeply delicious, with a mineral-rich taste of the earth in which they were grown. Giant scallops and still-squirming chocolate clams are sourced from an aquaculture farm north of La Paz — and served raw or grilled over fragrant mesquite wood. A plump chicken with crispy roasted skin was raised free range on a ranch just outside of Santiago. Even the agua fresca is made with guava plucked from a tree just twenty feet from a rustic campestre style kitchen.
This is "farm-to-table" dining in Baja California Sur.
Once upon a time in Mexico, all dining was farm-to-table — that is, chefs used only fresh, local, and organic ingredients in the creation of every dish they served. Throughout the country, restaurateurs relied wholly on small, nearby farmers, ranchers, and fishermen to procure what was needed on a daily basis. But with the eventual introduction of chemical fertilizers, pesticides, factory farms, and food service companies in the 20th century, restaurants around the globe began to focus less on local sourcing and more on economies of scale. Modern food production and procurement practices helped keep menu offerings consistent and prices competitive. Attitudes began to change in 2001 after chef Jair Tellez opened restaurant Laja in the Valle de Guadalupe — Baja California's wine country in Ensenada. Inspired by the farm- to-table movement in Northern California, he was one of the first chefs in Mexico to dictate the use of only local ingredients. Laja has since been named one of Latin America's Top 50 Restaurants, similar concepts have taken seed in the Valle, and Tellez's culinary proposal has become a primary example of what's now known widely as Baja California cuisine — Mexican influenced, Mediterranean style dishes created with local ingredients. It was only a matter of time before the trend took root in the southern part of the peninsula. Flora's Field Kitchen was one of the first in 2012, when the San Jose del Cabo restaurant opened at Flora Farms in the foothills of the Sierra de la Laguna Mountains. After a year of nurturing, Hortaliza Hierabuena sprouted in 2013 at the end of a dirt road in El Pescedero. Baja California chef Javier Plascencia opened Jazamango in 2016, inspired by the surf and Todos Santos' bohemian vibe. All three restaurants offer al fresco dining in garden settings, and menus that may change depending on the daily availability of ingredients. "Our motto is 'Grow it, plate it, eat it'," Marcos Ramirez, founder and co-owner of Hortaliza Hierbabuena states. It's an ideology the staffs at all of these restaurants share.
Flora's Field Kitchen (San José del Cabo)
Located on Flora Farms' 10 acres of lush grounds and organic gardens, Flora's Field Kitchen makes use of produce, dairy, and proteins grown or raised at the farm. Chef Guillermo Tellez – a protégé of famed restaurateur Charlie Trotter – works closely with the farm's gardeners and ranchers when designing his menu. [caption id="attachment_3018" align="alignright" width="407"]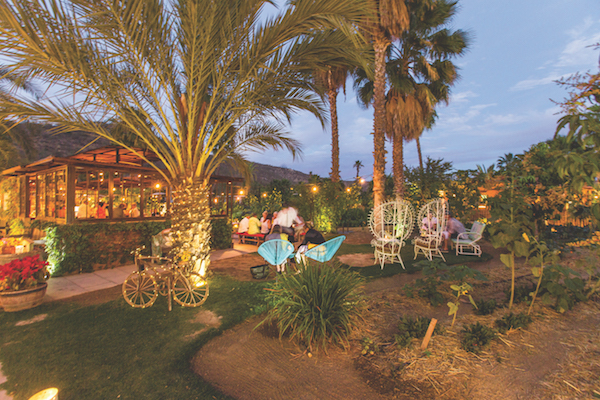 Flora's Field Kitchen[/caption] Flora's Field Kitchen's on-site bakery produces all the restaurant's bread. Ice cream is churned from their dairy and is very popular on hot Cabo days. Chef Tellez recently built a charcuterie room where he cures hams, porchetta, and bacon made from the farm's vegetable-fed pigs. The restaurant offers healthy salads, soups, sandwiches, pastas, and roasted and grilled chicken, pork, and fish entrees during lunch and dinner. Their Sunday brunch has become legendary with locals and tourists. "Don't Miss" dishes include the wood-fired arugula pizza, a silky burrata made with mozzarella and stuffed with ricotta from the farm's dairy, and their perfectly seasoned, smoky, and tender mesquite-roasted chicken. Flora Farms also maintains a grocery where customers can purchase produce, dairy, and meats from the farm, a bar with a full-range of fruit and vegetable-infused specialty cocktails, a cooking school, a wellness spa, and artisanal shops that carry everything from local artwork to Baja California wines. Flora's Field Kitchen is open Tue-Sat 9-11am for breakfast, 11-3pm for lunch, and evenings from 5-9:30pm. Sunday brunch is served from 10-2pm. Address: Carretera Transpeninsular, San José del Cabo, Km. 30, Col. Las Ánimas Bajas, 23407 San José del Cabo, B.C.S., Mexico. Phone: 624 142 1000. Website:
www.flora-farms.com
Hortaliza Hierbabuena (El Pescedero)
[caption id="attachment_2949" align="alignright" width="335"]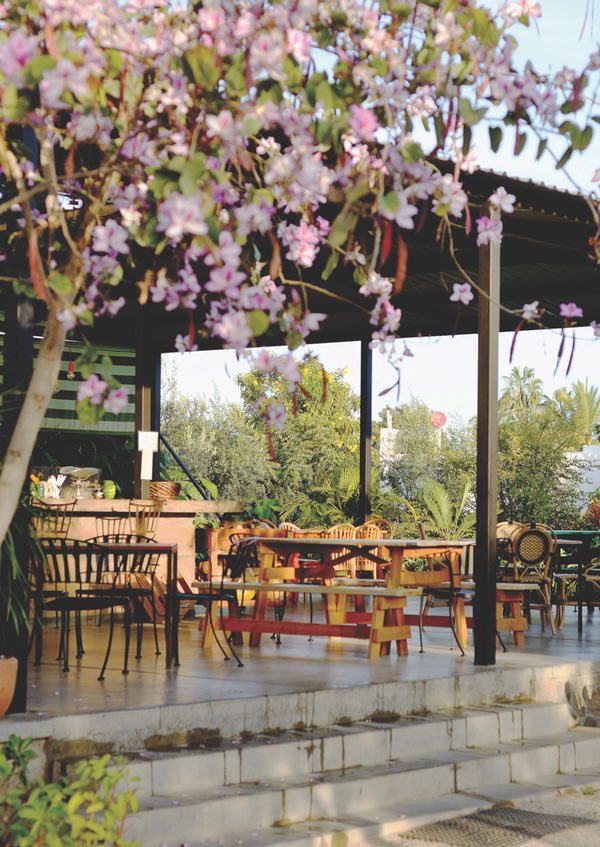 Hierbabuena – Photo by Scott Koenig[/caption] Restaurant Hortaliza Hierbabuena co-owner Marcos Ramirez had a vision in 2012. "I turned my car down a dirt road looking for beach access to the Pacific Ocean," he reminisces. "It dead-ended in the basil fields of El Pescedero. I knew immediately that I wanted to build a restaurant here." Hortaliza Hierbabunea's garden envelops the restaurant's outdoor dining patio and open- air kitchen and was designed to provide diners with a sense of where their food came from. Ramirez and kitchen manager Humberto Ramos Perez also partner with and buy ingredients from local farmers and ranchers. Ramirez observes, "A lot of farmers here are looking to grow more organic produce, and are going back to the old practices. It's become a (positive) trend, and now more land is being used for farming. And when you have such fresh products, you don't really have to do too much with them." Hortaliza Hierbabuena's menu is based on whatever ingredients are available on a daily basis. Standouts are a beet salad with arugula, pumpkin seed, and fresh local cheese, a creamy house-made hummus, a roasted Poblano chile relleno, and the catch of the day — grilled and served in a hearty mole verde atop pico de gallo. Hortaliza Hierbabuena is open Wed-Mon 1-9pm. Address: Highway 19, Km. 62, 23310 El Pescadero, B.C.S., Mexico. Phone: 612 149 2568. Website:
www.hierbabuenarestaurante.com
Jazamango (Todos Santos)
Celebrity chef Javier Plascencia is no stranger to farm-to-table dining. At Finca Altozano – his popular campestre style restaurant in the Valle de Guadalupe – he and chef de cuisine Pedro Peñuelas utilize produce and proteins grown and raised onsite and procured from regional sources. [caption id="attachment_3020" align="alignleft" width="365"]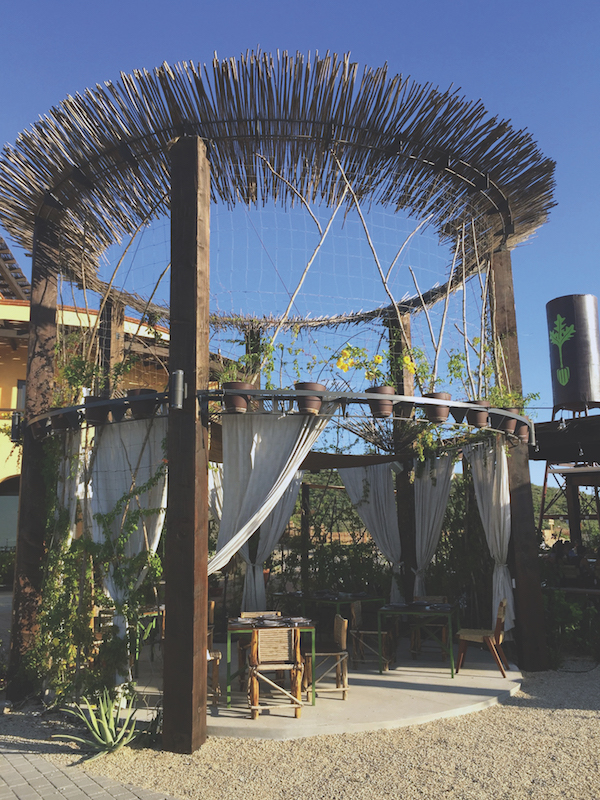 Jazamango – Photo by Scott Koenig[/caption] When Plascencia's partners in Jazamango asked if he'd like to open something similar in Todos Santos, it was a no-brainer. He shares, "I'd traveled to the region on surf trips, and visited the town many times. I fell in love with it because I really like the laid-back, bohemian vibe." Chef Plascencia says that 100% of the restaurant's proteins and 90% of its overall ingredients are sourced locally. The menu features garden salads, small plates, tacos, pastas, and hearty family-style entrees. Jazamango also carries wines from Baja California. Menu highlights include fire-roasted rabbit with risotto and sweet corn, pressed lechón (suckling pig) with garden vegetables, grilled chocolate clams with pasta and fermented bean sauce, and a scrumptious raw callo de hacha (jumbo sea scallops) with just a kiss of sea salt to allow the bivalve's flavor to shine through. "The farms down here are small and family-owned," chef Plascencia concludes. "They put a lot of pride into what they grow. It's only a matter of time before this region gets more attention and more farm-to-table style restaurants open." Jazamango is open Tue-Sun 1-9pm. Address: Calle Naranjos esquina Jardín, Las Huertas Tres Santos, 23300 Todos Santos B.C.S., Mexico. Phone 612 688 1501. Website:
www.tressantosbaja.com
[/vc_column_text][/vc_column][/vc_row]]]>