<![CDATA[[vc_row][vc_column][vc_column_text]by Justine Schock, your guide to the Cabo Social Scene
ENJOY
CULTURAL CIRCUIT MARINA LOS CABOS
– The 4th season of the Cultural Circuit Marina Los Cabos is a casual family friendly activity occurring every Saturday from 5:00pm to 10:00pm from now until July 7. Take the opportunity to stroll along the Cabo Marina and talk with talented local artists about the inspiration behind their unique works of art. The Cultural Circuit features art pieces by Claudia Gastélum, Guadmara Aviles, and many many more! Located on the marina outside Solomans Landing Restaurant. @CircuitoCulturalMarinaCaboSanLucas
EAT
[caption id="attachment_3114" align="alignright" width="350"]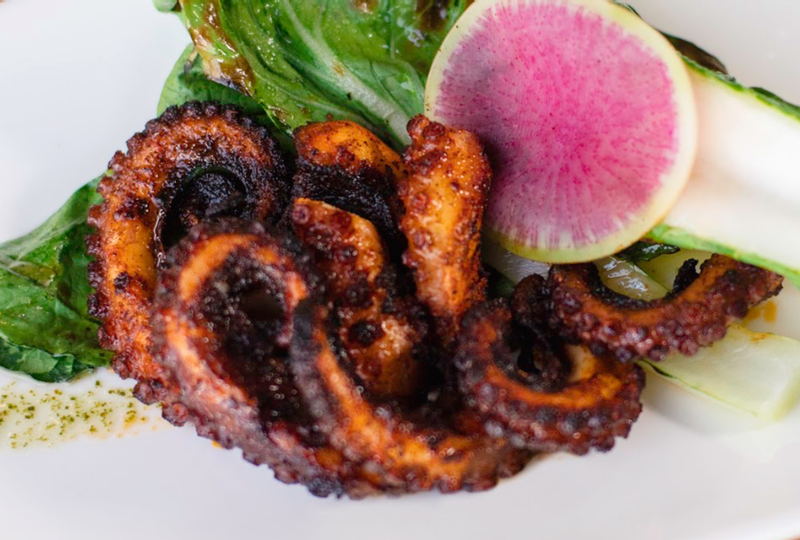 Photo Courtesy of Fat Tuna[/caption]
FAT TUNA COPAS Y COCINA
– Fat Tuna opened in April 2017, after months of anticipation and questions as to what was going into the space that was formally occupied by Baja Junkie nightclub. The new space was completely remodeled and redesigned into a three-story restaurant, bar and newly opened rooftop nightclub (read more in our March issue). I had the opportunity to chat with Julio Mabarak, Director of Operations of Fat Tuna and learn a little bit more about the concept behind the restaurant that advertises "unexpected flavors and unique experiences." Mabarak explains, "Fat Tuna Copas y Cocina is a celebration of savory flavors and good times, where fresh and fun is taken to another level." A few of their most popular dishes include the Braised Short Rib, Farm Raised Totoaba, Lasagna and Charred Octopus. Their website explains Fat Tuna as "a place where food, drink and friends come together to create experiences surrounded by flavors that will keep you coming back for more. Our love for honest, good food inspires the simple approach to our dishes. Only the best and freshest ingredients available are used in every preparation." Chef Angel Carbajal has made a name for himself in the Los Cabos culinary world for the last 22 years. His love for fishing and watersports helped him create delicious innovative dishes inspired by the Sea of Cortez. Fat Tuna is open daily from 5:00pm to 12:00am. Located next to El Squid Roe on the main road through downtown Cabo.
www.fattunarestaurant.com
@FATTUNArestaurant
DRINK
[caption id="attachment_3115" align="alignleft" width="350"]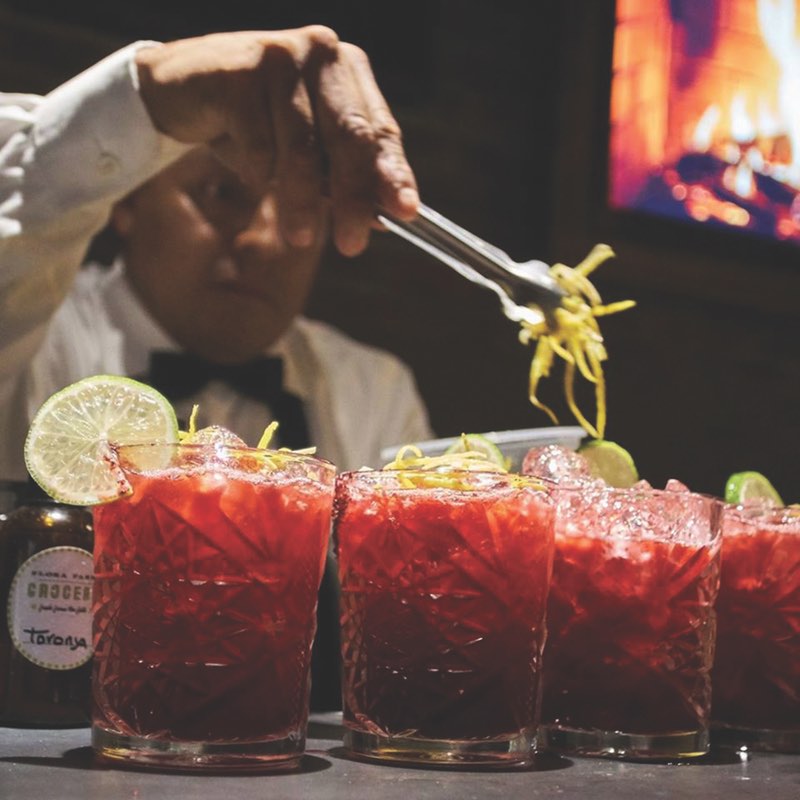 Photo Courtesy of Outpost[/caption]
OUTPOST
– Outpost is without a doubt my new favorite spot for ladies night and drinks in Cabo. Located on Blvd. Paseo de la Marina across from the Tesoro hotel, Outpost is a lounge, bar, kitchen and boutique. They have a cool funky vibe and serve small tapas style plates (choose from Ranch, Sea or Veggies) and mouthwatering handcrafted cocktails and spirits ranging from $150-250 pesos. Although the plates are small, usually 2 or 3 items are enough for a meal. Outpost has several amazing daily specials including "Ladies Drink Free," "All You Can Eat for $100 pesos," and a serve yourself beer option where you grab from a wheelbarrow full of ice cold beer (just $30 pesos each). For the "Ladies Drink Free" promotion, ladies receive three free drinks from the "Feminine Favorites" cocktail menu every night from 7:00pm to 11:00pm with the purchase of one regular food item (no snacks or dessert). Want a forth drink? Don't worry…just order another menu item and keep the free drinks coming! My favorites menu items include the Beef Ceviche Tostadas, the Ham and Goat Cheese Bruchettas (prepared gluten free) and the Vietnamese Rolls, served with several Herbal Hendricks cocktails. Vegan, vegetarian, gluten free options and breakfast items are also available. If you like loud music, the inside lounge area is great, but for me it's way too loud for casual dinner or drinks with my girlfriends, so I personally enjoy the front patio or newly opened rooftop deck. Open daily from 7:00am to 1:00am (2:00am on Friday and Saturday) and valet service is free. With all these great specials, please don't forget to tip your waiters well!
www.outpost.mx
@OutpostCabo
RELAX
SANTA MARIA BEACH
– Santa Maria Beach has been a long time favorite hangout for Los Cabos locals, especially those who love to snorkel! Located about 15 minutes outside downtown Cabo, this horseshoe shaped beach is the perfect place to relax and enjoy your day. I suggest getting there early because the palapas go quickly. Don't forget to bring water, beer, snacks and towels, but if you forget your snorkel equipment and beach umbrellas at home, they are always available to rent. To get there, follow the signs to "Playa Santa Maria" when driving on highway 1 towards San Jose Del Cabo.[/vc_column_text][/vc_column][/vc_row][vc_row][vc_column][vc_single_image image="3117" img_size="full" add_caption="yes"][/vc_column][/vc_row]]]>