<![CDATA[[vc_row][vc_column][vc_column_text]By Justine Schock, your guide to the Cabo Social Scene Spring Break has finally arrived! Every March you will find thousands of college students day drinking at packed beach clubs like the new Omnia Los Cabos in San Jose, and Blue Marlin Ibiza, SUR, Mango Deck, Cachet Beach Club or Billygan's on Medano Beach in Cabo. But when the sun sets, and the real party begins, where are the best places to be? We've got you covered with all the hottest parties in Los Cabos.
CABO SAN LUCAS
EL SQUID ROE –
The Vibe:
The atmosphere at El Squid Roe is similar to a house party; with an MC to guide the crowd through the night and an environment that allows guests to feel free enough to dance on top of tables. A very popular choice for Spring Breakers.
The Music:
Dinner time (when all ages are welcome) is mostly 80's and Rock& Roll. Around 11pm they switch it up to throwback remixes of Pop, R&B, Rap and Hip Hop. After 2am, they add Latin and Reggaeton hits to the mix.
The Party:
El Squid Roe partners with Chicabo to host a Spring Break concert series known as Baewatch Cabo. This year's roster features four of the world's hottest and wildest performers including Lil Dicky, Waka Flocka, Lil Yachty and Jessie Reyez. Stop in and try a yard-long container filled with your choice of drink! @ElSquidRoeCabo [caption id="attachment_3249" align="alignright" width="318"]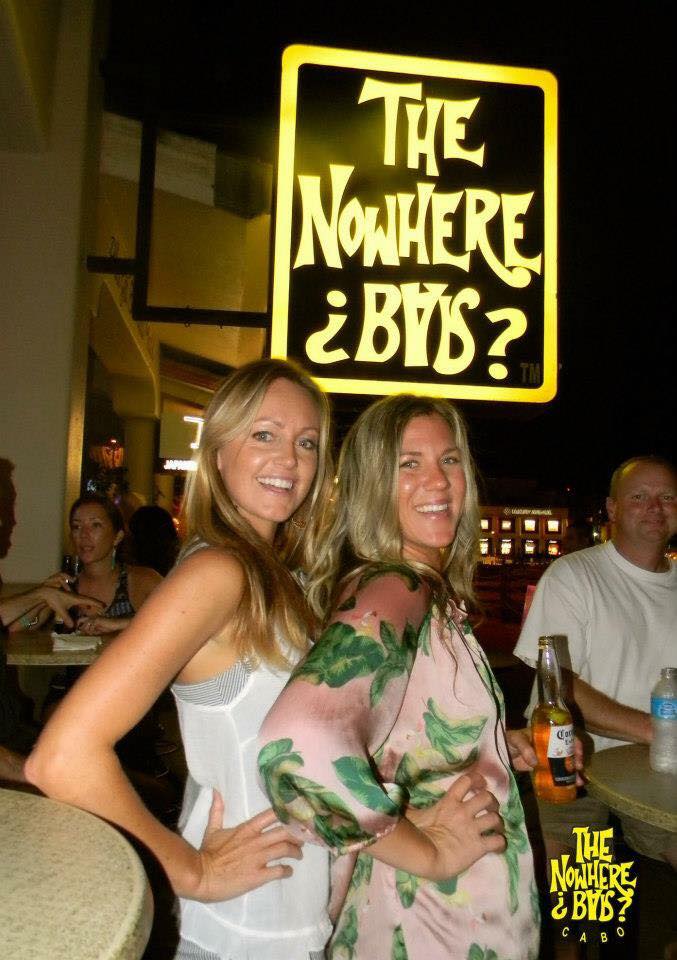 The Nowhere Bar[/caption]
THE NOWHERE BAR –
The Vibe:
The Nowhere Bar is a great pre-party venue located on the Cabo San Lucas marina. Partygoers can dance and go crazy inside at the bar or on their intimate dance floor, or chill at high tables outside on the boardwalk overlooking the boats in the marina.
The Music:
Top 40's with a mix of 80's and 90's
The Party:
Don't miss Ladies Night every Tuesday night (ladies drink free from 9-12pm) and 2 for 1 drinks daily from 7-10pm for the entire month of March! There is also a private VIP area that can be reserved in advance. Contact The Nowhere Bar for more information. @NowhereBarCabo
CRUSH NIGHTSPOT –
The Vibe:
Located in the heart of the downtown Cabo party district, Crush features elegant décor and a fun, comfortable atmosphere.
The Music:
Hip Hop, EDM, Reggaeton, and Party Anthems
The Party:
Crush offers 2 for 1 bottle service every night before midnight. The staff welcomes you to dance on the bar, or above it on a custom dance platform. Entertainment includes go-go dancers, live drummer/DJ mash ups, guitar and saxophone performances, and a live MC. Whether you are looking to have a drink at the bar, or top-notch bottle service, Crush Nightspot has it all! @CrushNightspot
MANDALA LOS CABOS –
The Vibe:
If you enjoy an upscale Vegas style club atmosphere, Mandala is definitely the place for you.
The Music:
House Music, EDM and Hip Hop
The Party:
Exclusivity, good music, excellent atmosphere, fashion and elegance are all characteristics of Mandala. The club interior is impressive, including shimmering disco balls suspended above the dance floor, chandeliers, colorful light displays, supersized plasma screens and comfortable lounge type VIP areas ideal for ordering bottle service and taking a break from the dance floor. During Spring Break, Mandala will host contests and theme parties, including a Mardi Gras fiesta every Thursday night. @MandalaCabos
LA VAQUITA LOS CABOS –
The Vibe:
A fun, quirky environment and the perfect space for Spring Breakers to let loose and enjoy an unforgettable Cabo party.
The Music:
Latin Rhythms, Reggaeton and Hip Hop
The Party:
La Vaquita, which means "the little cow," is hard to miss when walking by with its giant floating cows above an almost always packed club and walls and booths covered in cow print. Their famous ice-cold liter drinks are an excellent value. La Vaquita will host bikini contests, beer contests, wet t-shirt contests and more during the month of March. Have your cell phone ready because you will likely find yourself dancing among a crowd of colorful balloons and confetti, which makes an awesome Cabo Insta story! @LaVaquitaLosCabos [caption id="attachment_3250" align="aligncenter" width="958"]
La Vaquita[/caption]
PINK KITTY LOS CABOS –
The Vibe:
An intimate nightclub atmosphere with moody lighting and areas for both chilling out or dancing.
The Music:
Top 40
The Party:
At first glance, Pink Kitty looks nothing more than a small little space with a custom designed skull bar and high tables and chairs perched above the Cabo strip. While this is a great spot to relax, have a drink and people watch, it's only a small part of the actual club. Once you descend the steps into the main club area, you will find a large open dance floor surrounded by upholstered VIP booths, a plasma display screen, a ceiling of flashing lights, and even a dance pole. Don't forget to get a selfie with the Pink Kitty mascot. @ThePinkKittyCabo
FAT TUNES –
The Vibe:
The newest addition to the Cabo club scene, Fat Tunes is the most exclusive rooftop party in town with an elevated lighted dance floor and a bird's-eye view of all the action in downtown Cabo.
The Music:
House Music, Hip Hop, & Top 40's
The Party:
To get there, enter Fat Tuna Restaurant and take the elevator or stairs to the 3rd floor rooftop deck. Ladies drink free every Wednesday, Thursday and Friday from 10pm to 12pm. You won't want to miss special international guest DJ performances every Saturday night throughout the month of March! Keep checking Facebook for guest DJ announcements. @FatTunesCabo [caption id="attachment_3251" align="alignleft" width="319"]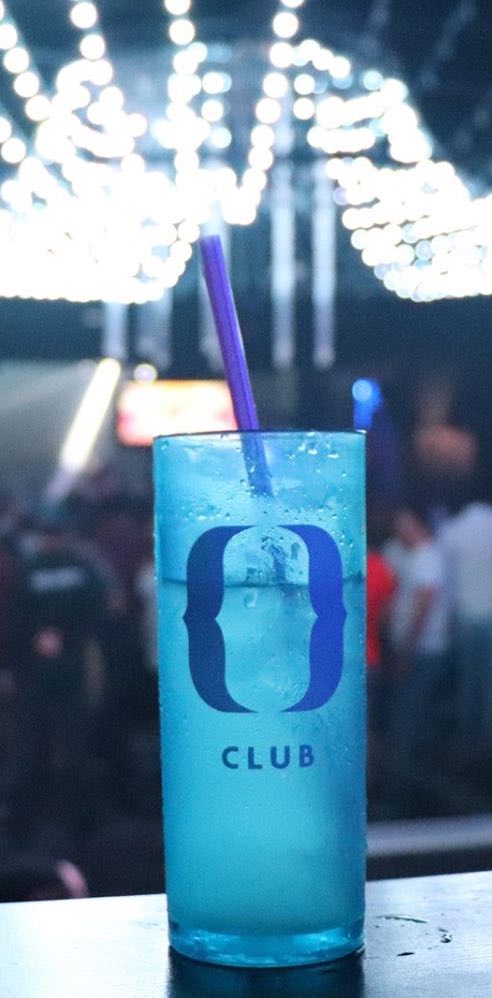 O Club[/caption]
O CLUB –
The Vibe:
O Club is the only club in Cabo with an indoor pool for floating or cooling off after you dance the night away.
The Music:
Pop, Reggaeton, Hip-Hop & Electro Music
The Party:
O Club is a new concept inspired by the Pacific Ocean and the beautiful City of Los Cabos. "O" comes from the abbreviation of Ocean. The pool represents the sea, and the textures inside the club resemble the movement of water. If you visit O Club, you must taste a shot of the house "Nube". Spring Break promotions and artists will be announced soon on O Club's social media. Stay tuned for more information! @OClubCabo
THE GIGGLING MARLIN –
The Vibe:
A great way to start your night. No matter your age or where you are from, The Giggling Marlin is a place where people can get together, be themselves and have pure and authentic fun!
The Music:
Classics from all decades. Any music that will make you sing and dance.
The Party:
The Giggling Marlin has been open since 1984 and has fixture in Cabo ever since. Entertainment starts at noon daily with interactive shows and contests every evening. Shows include card tricks, dancing on the bar, a Tortilla Splash tank, beer chugging, and more with an MC to guide you through the night. Guests are also invited to hang upside down and take shots and photos, a bucket list activity for any Cabo visitor. Don't forget to try their famous "Skip and Go Naked" cocktail which is sure to get you buzzed and ready for the rest of your night. @GigglingMarlin
CABO WABO CANTINA –
The Vibe:
If you love Rock & Roll and live music, Cabo Wabo will be your new favorite hangout.
The Music:
Rock & Roll
The Party:
Since opening in 1990, Cabo Wabo has been one of the most recognized names in Cabo, hosting celebrities and musicians from all over the world. The dream was brought to life by American rock vocalist and guitarist Sammy Hagar, and if you are lucky, you may find one of Sammy's friends like Toby Keith, John Mayer, or Bob Weir stopping in for a surprise performance on the Cabo Wabo stage. A live band performs every night and the restaurant is open daily for lunch and dinner. In addition to delicious food, Cabo Wabo offers great drink specials including 2 for 1 Corona, Pacifico, house margaritas and blanco tequila everyday from 9am to 6pm! @CaboWaboCantinaCSL [caption id="attachment_3252" align="aligncenter" width="1000"]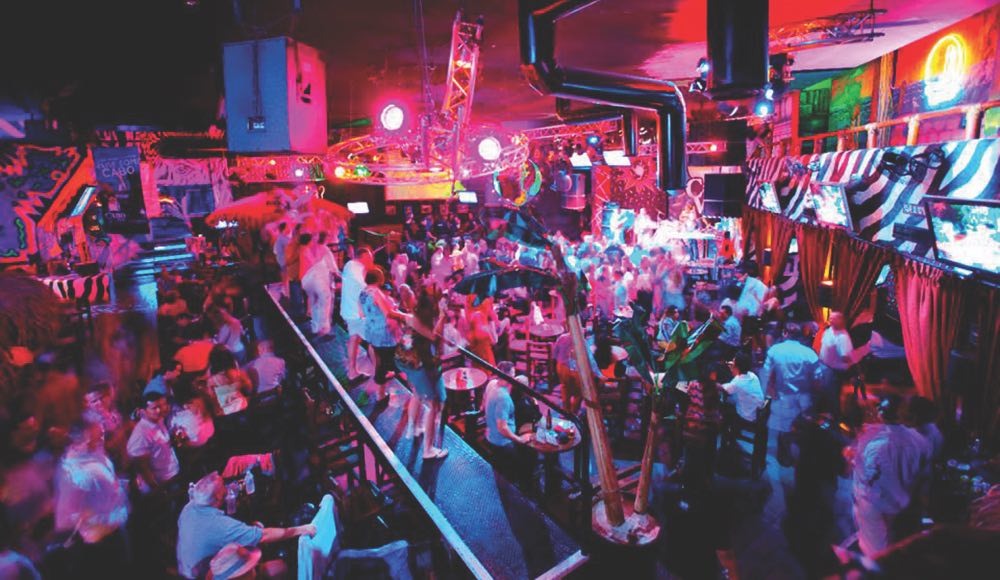 Cabo Wabo Cantina[/caption]
SAN JOSE DEL CABO
MIXOLOGY FUSION BAR –
The Vibe:
Mixology Fusion Bar is a place for those who love cocktails and who are lucky enough to find the secret password of the night. Think of it as a modern speakeasy.
The Music:
House and Techno
The Party:
Mixology is a mystery place full of laughs and good company with a full premium bar and a DJ booth where musicians can express their art. The "key" to be part of Mixology is by invitational membership or getting the secret password of the night. Their must try drink is the Mexico Lindo cocktail, a mix of tequila, pineapple and mint. They also offer a new concept on Thursdays and Fridays called "The Mixology Cocktail Club", offering Eclectic Music and Funky Disco. Same place, no password. @MixologyFusionBar[/vc_column_text][/vc_column][/vc_row]]]>