By: [post_author]
by Marilia Olio, Marine Biologist and guide at Cabo Trek
Humpback whales have became famous to be the superheroes of the ocean and the reason remains unclear. There have been at least 115 documented sightings of rescues made by humpback whales since 1951 and recent reports suggest that humpbacks have intervened to save their own calves, as well as California sea lions, ocean sunfish, harbor seals, and gray whales. In nearly 90 percent of cases, the humpbacks seemed to show up after the orcas had already begun to hunt, suggesting that humpbacks are not defending themselves but actively choosing to interact with hungry orcas.
One of this cases happened in Antarctic in 2009. Several killer whales were trying to catch a Weddell seal that had taken refuge atop a drifting patch of Antarctic ice when a pair of humpback whales turned up. As the panicked seal swam toward them, a lucky wave tossed it onto the chest of the closer, upturned whale. The whale arched its chest out of the water, which kept the seal away from the charging killer whales. And when the seal started to fall off, the whale carefully pushed it back onto its chest with a flipper. Soon after that, the seal scrambled to safety on another ice floe.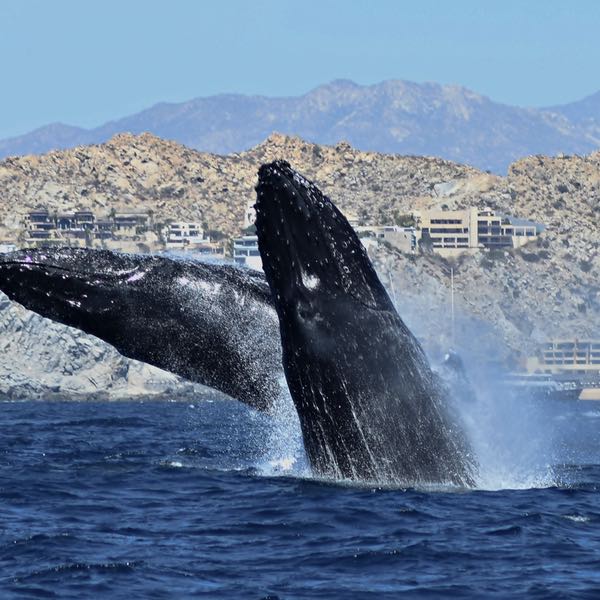 In 2012, researchers observed a pod of killer whales attacking a gray whale and its calf in Monterey Bay, California. Two humpback whales were already on the scene as the killer whales, or orcas, attacked the grays. After a struggle, the calf was killed. But after the calf had been killed, around 14 more humpbacks arrived—seemingly to prevent the orcas from eating the calf. One of those humpbacks was sighted in Cabo in March of 2017.
And the most recently case happened last year when a marine biologist was saved by a humpback whale in Cook islands. She was shocked when, on this dive, one of the animals swam up to her and began to nudge her with its head and cover her with its pectoral fin. Unsure why the humpback was acting this way and easily overpowered by the creature, the marine biologist decided to stay still and let the whale call the shots. After 10 minutes of care- fully dancing with the whale, when she climbed on board, she understood what the graceful giant was trying to tell her: a large tiger shark. The whale's proximity saved her from a potential attack.
So are humpbacks compassionate? To fully understand the complexities of these interac- tions, a lot more research is needed. Meanwhile, you can Be a Cabo Trek guest and witness these gentle animals in their environment here.
Recent Blog Posts