By Gary Graham
Some of the most prolific waters on the planet are found off the coastline surrounding the tip of Baja Sur, from Magdalena Bay on the Pacific side down to Land's End and around up into the legendary Sea of Cortez to Loreto.
These 500+ miles offer an unusual variety of sportfishing, ranging from offshore billfish to outstanding fishing from the shore with more than 800 species of fish including exotics and everything in-between.
Loreto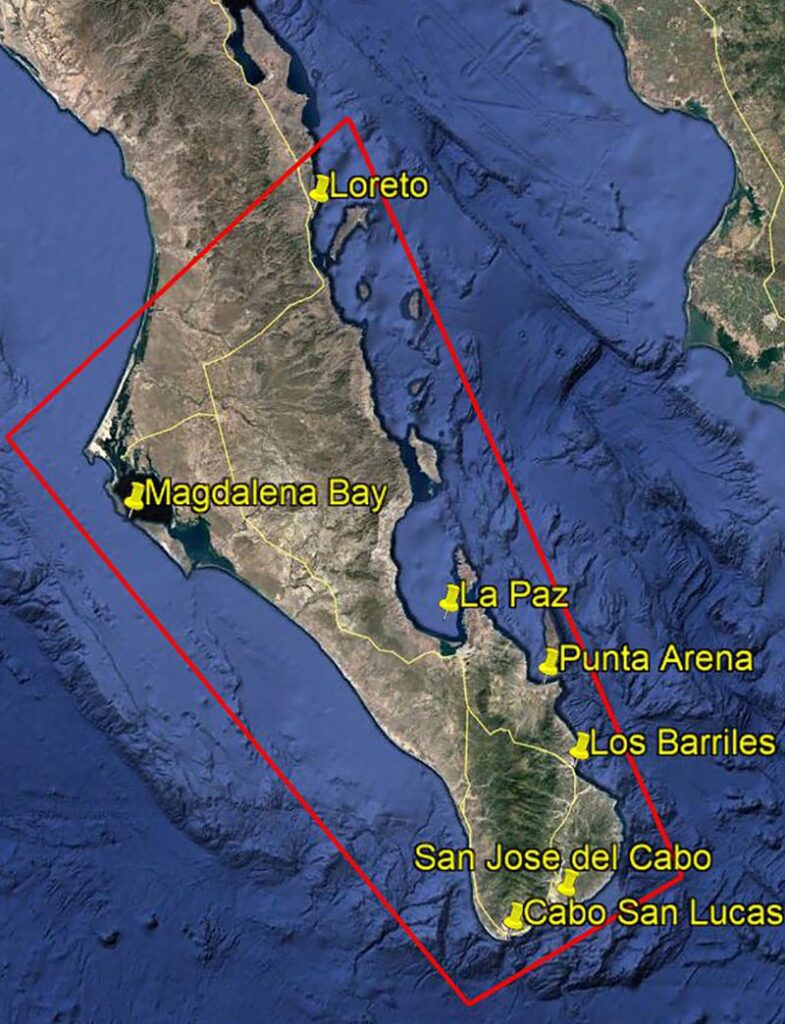 fewer than 235 miles north (as the frigate flies) of Cabo San Lucas, seems like a village in comparison to Cabo or La Paz with its population numbering only 25,000.But Loreto is a 300 year-old-treasure not to be overlooked if you are searching for a glimpse of old Baja.
This is a real town with authentic Mexican charm that attracts travelers to its gracious hotels and slow-going lifestyle. People do not come to Loreto for "night life," but rather the fishing, and the feel of old Mexico that has been lost in some of the larger cities in Baja.
Loreto International Airport offers daily flights from the United States (and beyond); Loreto also has a bus depot and excellent tourism services, hotels up to five stars, bed and breakfast inns, restaurants, colorful markets, RV parks and campgrounds, car rentals, recreational services, developments and even its own golf courses.
There's kayaking in the shadow of the rocky coastline and snorkeling or Scuba diving in the largest marine park in Mexico, Bahía de Loreto National Park. The park protects nearly 800 square miles of a pristine marine ecosystem in the central Sea of Cortez, including five large uninhabited islands – Isla Coronado, Isla Carmen, Isla Danzante, Isla Monserrate and Isla Santa Catalan – along with many smaller islets in Loreto Bay.
Although dorado and yellowtail were the two species that put the area on the map, the waters off Loreto provide remarkable sportfishing for a variety of others.The sportfishing community here has traditionally been served by one of the largest fleets of pangas in Baja Sur along with a few smaller sportfishers.
However, the recent addition of Marina Puerto Escondido with its 100 slips (an additional 70 to be added) plus a boat yard located about a half-hour south of town is already a game changer for local sportfishing. Charter operators can now offer larger sportfishers accommodating more anglers and traveling farther to explore the prolific waters surrounding Loreto.
The results have been astonishing already! In January, there were at least a half-dozen cow-sized tuna, the two largest caught by Jorge Lazo, aboard Jay Yadon's Cast N Reel a 40-foot Luhrs Express berthed in the new marina.
The largest, weighing 424.6 pounds, topped the current IGFA record of 385- pounds, 12-ounces by a click less than 40 pounds. Lazo's second tuna weighed 319 pounds – a two-day fish total for the weary angler of 743.6 pounds. That news, along with reports of excellent catches of huge blue marlin by larger sportfishers venturing farther offshore, coupled with the completion of the new protected marina, indicate that Loreto's sportfishing is about to become a more popular alternate destination.
La Paz
The capital of Baja Sur, with nearly 250,000 inhabitants, has managed to retain much of its old Mexican charm as well. It offers four different modern marina facilities within the city.
Shuttles are offered to anglers wishing to experience the wonderful fishing available one hour south at Punta Arena and Muertos Bay. There are also options of fishing on cruisers or pangas for either half- or full-day trips offshore, inshore locally or around several islands or inshore along the east coast of the Sea of Cortez. If addition to boats, other options are fishing from the beaches a few miles from town.
Punta Arena is considered to be one of the best rooster fishing areas in all of Baja. There is an expansive sandy beach extending to the east and west to the lighthouse, accessible by foot or by panga or kayak. Around the point, the shoreline becomes rocky and the several shallow rock reefs offer a variety of fish to target. Pangas are available for fishing offshore and can be on the fish in minutes. There is a 1,000 foot trench that runs between Isla Cerralvo and the shore where all the blue water species migrate to and from the Sea of Cortez. Closer to the island, at the south tip, is a shelf that extends out some three-quarters of a mile.Anglers never know just what they will find under the diving birds there … and all of this while non-fishing members enjoy the rich heritage of this vibrant city.
East Cape/Los Barriles
Only 45 minutes from the Los Cabos airport, East Cape offers a multitude of options. With 10 miles of accessible beaches and the 100 Fathom Curve within a few miles of shore, Buena Vista/Los Barriles is an attractive laid-back destination.
Most of the hotels own fleets of sportfishers or outboard-powered pangas fully-equipped for sportfishing, along with portable piers on which guests can board their boats.
Here, the 100 Fathom Curve is where the bottom begins its descent – depths exceeding 1,000 feet are within a mile or two from shore. Often, cruisers can be seen from shore battling huge fish.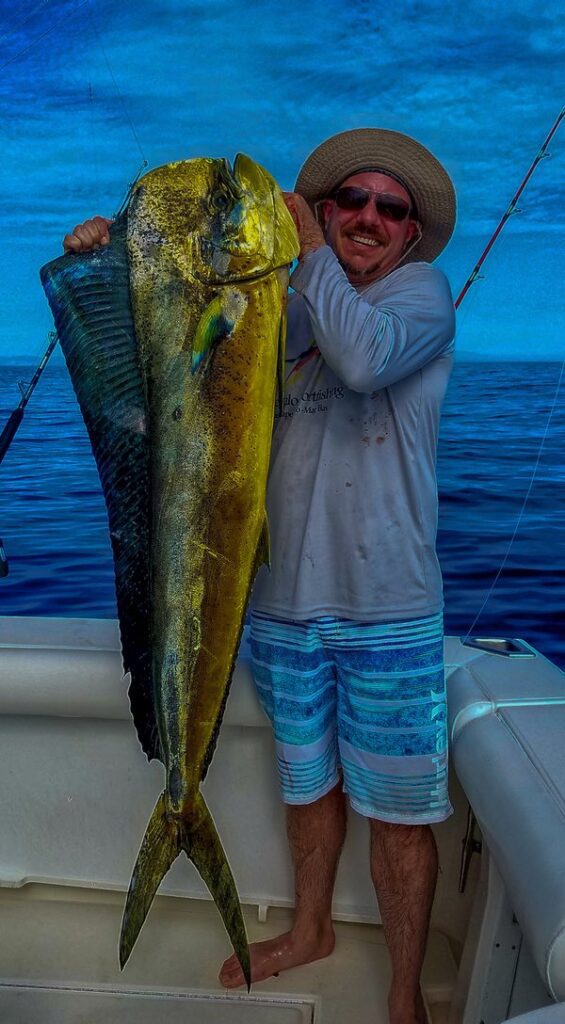 There are a number of anchoring buoys placed by the hotels that attract baitfish which in turn attract the larger fish.
Beyond the 100 Fathom Curve, there are more commercial buoys where fish seem to congregate. Farther out, trophy-sized fish hang out, feeding on squid, mackerel, flying fish and sardina.
The Sea of Cortez has no waves, so fishing from shore is like fishing a river … only you can't see the other bank. Long stretches of sandy beach interspersed with rocky points offer a great variety.
Inshore, several rock reefs extend out from the beach. Looking down into the water from those reefs is like looking into an aquarium.
Farther south is Puerto Los Cabos, near San Jose del Cabo, where there are charter and private sportfishers plus one of the larger panga fleets. Just 10 miles outside of the marina is the world-famous Gordo Banks, with excellent fishing.
The sportfishing and private fleet in Cabo San Lucas has grown to be one of the largest in the world. The area has earned the reputation of being the Billfish Capital of the World, hosting many tournaments annually and drawing thousands of participants competing for staggering sums of money.
On the Pacific side there are a series of sea mounts jutting from the ocean's floor to 150 feet below the surface – the "Finger Bank," the "Golden Gate Bank," and the "San Jaime Bank."
These banks throughout the year offer incomparable challenges for both novice and hardcore anglers to catch and release billfish in double- as well as occasionally in triple-digit sizes. There are world-record-sized yellowfin tuna and wahoo as well. Inshore, while smaller by offshore standards, the catch list is fascinating and unusual.
On the Pacific side, 131 miles long Magdalena Bay is equal in size to San Francisco Bay. It is created by five barrier islands and possesses countless miles of mangrove-lined channels filled with a remarkable assortment of sportfish to pursue.
Offshore, the nutrient-rich Pacific currents sweep in and down the coast in the fall, a
ttracting pelagics of every description feeding on vast schools of forage fish. Billfish, wahoo, tuna, and dorado join with the whales, seals, sharks and porpoise to gorge themselves before continuing their travels up and down the west coast of Baja. It's hard to imagine a place in the world where as many different species can be seen at one time. Marlin schools race from bait-ball to bait-ball, devouring every single bait – a spectacle that draws big game anglers from around the world.
The Magdalena Bay esteros stretch for miles and are like nothing else in Baja. They provide cover for an astonishing list of fish to target. Fishing trips may be arranged in both Puerto San Carlos and Lopez Mateos.
Recent Blog Posts