Monthly Fishing Report by Gary Graham
As we transition from winter to spring (temps average 66° in March), the operative word is "experimentation." If you are a seasoned angler, try to step out of your comfort zone; this is a great time to add a species or two to your catch list.
The novice angler should ask the captain what species is biting and go for it! The number of choices is dazzling in our local waters from the usual catch to the exotic – the unusual.
Striped marlin is at the top of the list recently as many boats have been scoring multiple releases on a regular basis.
TIP: Look out over the IGY Marina. Those blue pennants fluttering from boat outriggers in the afternoon breeze signify a marlin taken, and if accompanied by red ones, it indicates a successful release of the fish. That tells the story.
Another common sight is the white flags that attest to the catch of yellowfin tuna. What they don't reveal is the size. They are being caught from the tip all the way up to La Paz with some in the 50-pound class – that's a lot of sashimi! Although others are not quite so large, they are still ample for a fresh fish feast prepared at one of the many restaurants offering that service. And though it hasn't happened often, there were several tuna caught on the Pacific side from shore with spinning equipment by two local anglers.
Though they have been scarce this year, the yellow flag is flown for dorado catches; however, with sea temps beginning to climb, there may be more and more of those fluttering in the wind.
One final flag, used to proclaim the catch of wahoo, is orange. Catching a wahoo is a real feat since they are rated by marine biologists as the fourth fastest- swimming fish in the ocean, often reaching speeds just a click below 47mph. They earn high marks as one of the best eating fish caught in saltwater as well.
All the above species are usually caught on or near the surface, but another option now is fishing down deeper in the water column where an entirely different group of catchable fish hang out.
The list includes: yellowtail, yellow snapper, red snapper, cabrilla, pargo liso, pargo perro, and barred pargo. They all live in a hostile environment and have earned a much-deserved reputation of being tough fighters that don't give up easily. Often unaware, anglers are sure they have snagged a big rock in the beginning of the battle that may last awhile.
Up into the Sea of Cortez, the dreaded North Winds are a fact of life during the winter months, but they begin to weaken as the season changes with fewer windy periods.
The good news this year is that there seems to be many more sardina available from the tip, along the coast all the way up to La Paz and beyond according to local reports … a good omen for improving inshore fishing throughout the area.
Outside of Puerto Los Cabos at San Jose del Cabo as well as East Cape, yellowfin tuna and billfish are at the top of the catch list, along with improving inshore action for jack crevalle, pompano and some smaller roosterfish being caught close to shore fishing from both cruisers and pangas.
Anglers can still expect to catch a few sierra mackerel, much improved this year, though their numbers will wind down as sea temps rise. A word of caution: they have sharp teeth, so wire leaders or long-shank hooks are a must.
Muertos Bay and La Paz are enjoying the early spring as well. Sardina have already begun appearing along the shore, and it's evident that the waters are changing. With a bit of transition going on, both warm- and coldwater fish are occupying the same water space! There are some dorado, tuna and billfish around. Normally, they aren't seen this early.
The coldwater species that are still around – cabrilla, snapper and sierra – were caught recently as well as several species of pargo (dog-tooth/cubera snapper and barred pargo), the usual jack crevalle and lots of bonito.
by Marilia Olio, Marine Biologist and guide at Cabo Trek
Humpback whales have became famous to be the superheroes of the ocean and the reason remains unclear. There have been at least 115 documented sightings of rescues made by humpback whales since 1951 and recent reports suggest that humpbacks have intervened to save their own calves, as well as California sea lions, ocean sunfish, harbor seals, and gray whales. In nearly 90 percent of cases, the humpbacks seemed to show up after the orcas had already begun to hunt, suggesting that humpbacks are not defending themselves but actively choosing to interact with hungry orcas.
One of this cases happened in Antarctic in 2009. Several killer whales were trying to catch a Weddell seal that had taken refuge atop a drifting patch of Antarctic ice when a pair of humpback whales turned up. As the panicked seal swam toward them, a lucky wave tossed it onto the chest of the closer, upturned whale. The whale arched its chest out of the water, which kept the seal away from the charging killer whales. And when the seal started to fall off, the whale carefully pushed it back onto its chest with a flipper. Soon after that, the seal scrambled to safety on another ice floe.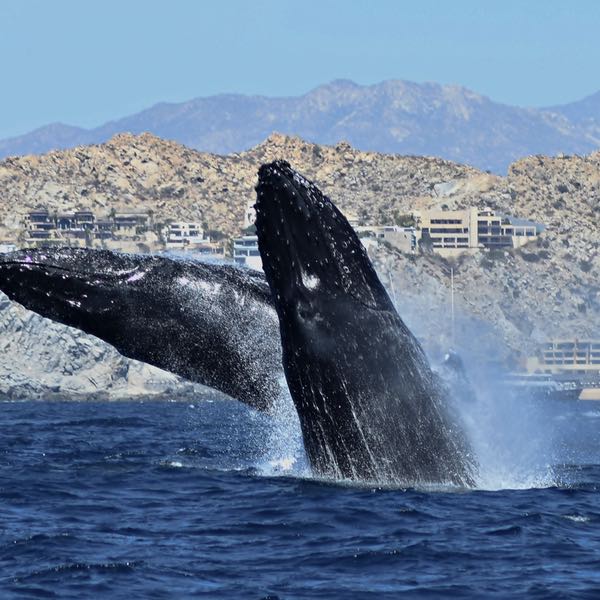 In 2012, researchers observed a pod of killer whales attacking a gray whale and its calf in Monterey Bay, California. Two humpback whales were already on the scene as the killer whales, or orcas, attacked the grays. After a struggle, the calf was killed. But after the calf had been killed, around 14 more humpbacks arrived—seemingly to prevent the orcas from eating the calf. One of those humpbacks was sighted in Cabo in March of 2017.
And the most recently case happened last year when a marine biologist was saved by a humpback whale in Cook islands. She was shocked when, on this dive, one of the animals swam up to her and began to nudge her with its head and cover her with its pectoral fin. Unsure why the humpback was acting this way and easily overpowered by the creature, the marine biologist decided to stay still and let the whale call the shots. After 10 minutes of care- fully dancing with the whale, when she climbed on board, she understood what the graceful giant was trying to tell her: a large tiger shark. The whale's proximity saved her from a potential attack.
So are humpbacks compassionate? To fully understand the complexities of these interac- tions, a lot more research is needed. Meanwhile, you can Be a Cabo Trek guest and witness these gentle animals in their environment here.
Recent Blog Posts