By Justin Porter Biel
Andy and Erin Wheelwright have always shared a love for travel and adventure. They enjoy discovering unique, authentic experiences. And during one road trip from Northern Chile to the Southern tip of Argentina, Erin and Andy started making plans. Also during that trip, a realization dawned on them – they were not going to be a 9-to-5, white picket fence, suit and tie kind of couple.
"We wanted to have a different life," said Andy, "We wanted to have a family and raise our kids with different languages and cultures."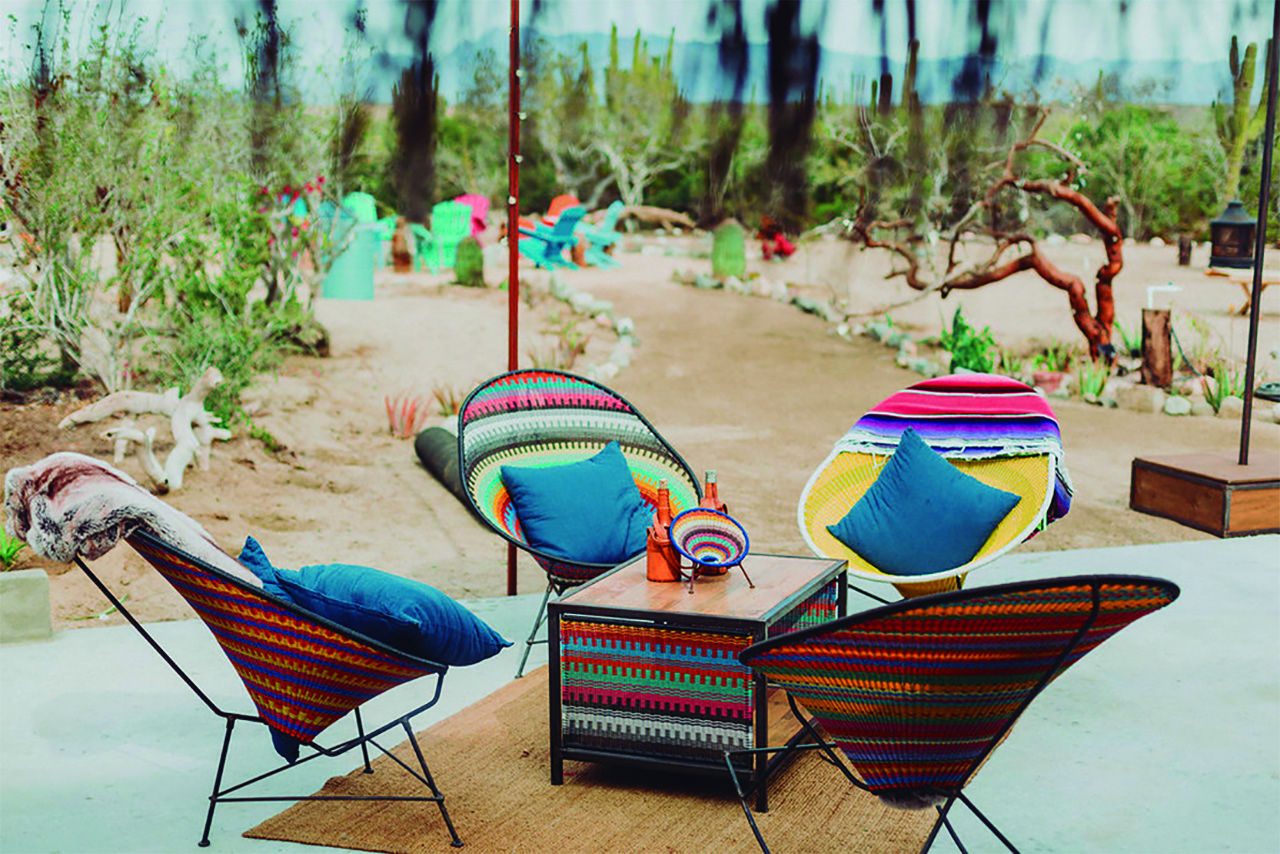 On that trip, Erin and Andy drove a lot, but they dreamed even more, specifically about the kind of life they wanted to live. The journey also helped spark a vision for the future. Travel had impacted them profoundly, and they wanted to share this gift with others. They wanted to use their hard-learned travel secrets to curate memorable experiences. They wanted to live a full, satisfying family life, but one that was a bit different than the typical American Dream.
Eight years later, the Wheelwrights have achieved their vision.
Today, Erin and Andy call the Pueblo Magico of Todos Santos home. They are raising bi-lingual children on the beaches of Baja, and to make a living, they own and operate two hotels. The first hotel, La Bohemia, is a design focused boutique hotel located in the heart of downtown Todos Santos. Their newest creation, Gypsy Canyon, is a unique glamping hotel where guests can "experience the beauty and serenity of sleeping outdoors without sacrificing comfort and luxury."
Inspired by the Wheelwright's story, Destino writer Justin Biel caught up with Andy to learn about life in Todos Santos, and get the inside scoop on Gypsy Canyon.
Out of all the places in the world, why did you choose to settle down in Todos Santos?I like the freedom, the beauty, and the wildness. This area of the Baja is still a frontier. It comes with interesting history, wonderful locals, an abundance of water and a canopy of green palms smack dab in the middle of a desert. I'm drawn to the mountains and the water. I also like the brick architecture, the artistic vibe, and the fact that most things are closed on Sunday. In Todos Santos, the town is small enough to recognize everyone.
What was the inspiration to start Gypsy Canyon? Our inspiration was to put people in touch with nature, but we also wanted to provide a comfortable experience. At Gypsy Canyon, you're totally immersed in nature, but you also have access to comfortable beds, hot showers, bathrooms and a large open kitchen.
Where is the property located? Gypsy Canyon Baja is located approximately 4.5 miles north from downtown Todos Santos, just past the beautiful, La Pastora beach.
What's it like spending the night in one of your glamping tents? We have a total of eight tents, and they are built above platforms. Each tent is large, 16' in diameter, and they are outfitted with everything you need – a queen cool gel mattress with memory foam, bed frames, side tables, rugs, a chair, towels and even alpaca blankets.
Are there food and drinks available at Gypsy Canyon? Yes, there are tons of options for food and drink. Depending on your accommodation package, you can get breakfast included or have meals scheduled throughout the day. We also have local chefs cook for groups, and we even have international chefs sometimes. We recommend ending the night with Gypsy Canyon's Mexican crepes – they're delicious. We have specialty drinks like the Mexcalicious and the Paloma. Of course, we also make a mean Margarita.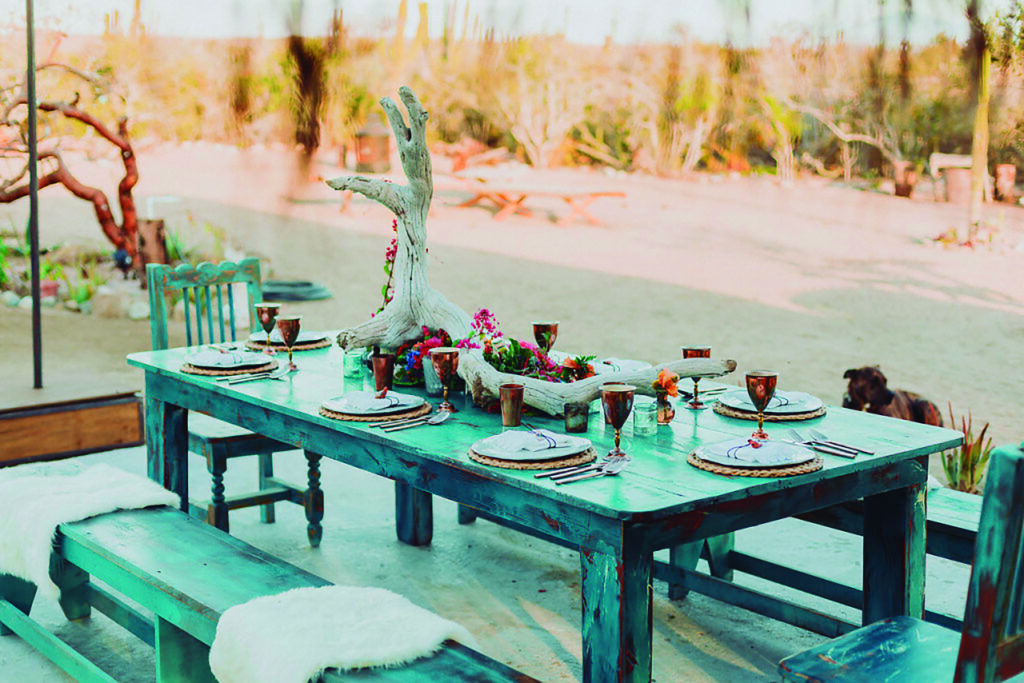 What makes Gypsy Canyon different than other hotels and lodging options in the area?Gypsy Canyon is an experience. When you stay at the property, you are staying totally outdoors. There is no light pollution, so the stars in the Baja sky look amazing. There's just something rejuvenating about spending a night in nature, with close friends, around the flames of a campfire. It makes for a very enjoyable experience. Good food, good drink and a good night of sleep is what we aim to provide.
What kind of vibe does Gypsy Canyon have? Gypsy Canyon is a thrill at the end of a dirt road – bohemian chic – hippie living in style.
What kind of person do you think will enjoy staying at Gypsy Canyon? Adventure seekers will love Gypsy Canyon, but so will couples that want to camp while still being comfortable. With nice beds and a stylish, fun decor, you get a taste of camping along with personal space and loads of comfort. It's also a really safe environment, so it's great for solo travelers. Most of all, Gypsy Canyon provides an experience that is truly different. .
Is Gypsy Canyon a good place for individuals to stay? Or, is the concept geared towards larger groups? We accept individual reservations, but we are also working a lot with larger groups, such as retreats and weddings. Are glamping setup is also totally portable, so we create Gypsy Canyon pop-up hotels anyplace, anytime.
What kind of adventures can you offer to guests staying at Gypsy Canyon?There are so many options. We can do everything from ATV rides, horseback riding, boat rides, whale watching, massages, surfing, and the list goes on…
What is your ultimate vision for Gypsy Canyon? We see our glamping tents being offered to guests as amazing pop-up experiences on the most beautiful properties in the world. If you can dream it, Gypsy Canyon can put up tents and make your dream a reality. Our glamping setup if fun, beautiful, and portable … we let nature do the rest. In the meantime, come stay a few nights at Gypsy Canyon Baja and get back to what really matters – the smell of coffee in the crisp morning air, the sound of silence, a sense of being one with the world, and as always, a great nights sleep.
To learn more about Gypsy Canyon, or make a reservation, please visit:
Recent Blog Posts