Featuring interesting and influential people of the Los Cabos community
By Justin Porter Biel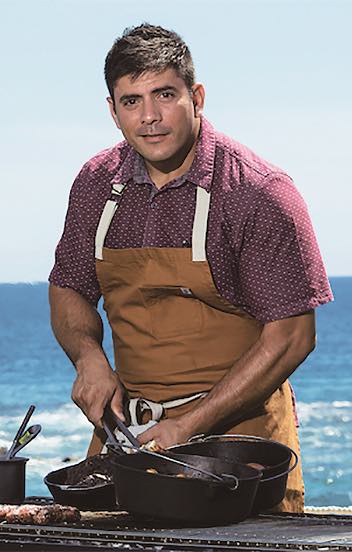 MUCHARRAZ, who is fluent in three languages (English, Portuguese and Spanish), began cooking in the kitchen with his mom at the age of 15.
Mucharraz attended culinary school in Mexico City and then began his career at La Bombilla under Chefs Yuri de Gortari and Edmundo Escamilla. Mucharraz honed skills in Mexican gastronomy and recipe development, showcasing his cuisine at conferences and festivals around the world in partnership with Mexican embassies.
Mucharraz then worked under the famed Chef Thomas Keller at The French Laundry, followed by a stint at L'Atelier de Joel Robuchon under Chef Joel Robuchon. Mucharraz returned to Mexico inspired to use authentic Mexican ingredients with fresh new techniques. Mucharraz's most recent posts were as Executive Chef at Esperanza and The Resort at Pedregal, Los Cabos.
Today, Yvan Mucharraz brings his unique style of cooking, passion for regional Mexican ingredients to his role as Executive Chef at Chileno Bay Resort & Residences.
Are you from Los Cabos? If not, what brought you to the area?I was born in Mexico City, but the biodiversity, the organic farms and the fresh products that the region offers captivated me and brought me to Baja.
What did you first know you wanted to become a chef?I studied different careers before the kitchen found me. I was in naval school for two years, and I also studied to be an Actuary. Neither of those careers felt right, so I continued looking at other options. During that time I found myself with my mother, helping her to decide what to eat, watching how she cooked and visiting the Mercados. I wanted to learn more, so I went to a cooking school. The first time I entered the kitchen everything just made sense.
What is unique about the food you've developed for COMAL, the restaurant at Chileno Bay Resort & Residences?It's a kitchen about Latin American culture. Latinos are fun, happy, full of culture and life. We want to reflect that culture, that life, and also showcase the diversity of our local ingredients. The restaurant is all about sharing the fun of Latino culture through great dishes and style.
What is your favorite thing about the culinary scene in Los Cabos?I like the commitment to organic and local products. It's also great to be able to support local fishers and engage respectfully with the environment. We are very considerate about where we source ingredients and I feel that is very admirable. I believe that Los Cabos is without a doubt the best tourist destination in Mexico and also showcases some of the best Mexican cuisines.
What does your typical workday look like?I usually start at 8:30 AM and I never know what time it will end. But even with the long hours, I love what I do, so it doesn't really feel like work. Each day I have many responsibilities such as checking the food and product quality, working with suppliers, working on new dishes, finding new food trends, and reviewing the daily menu. I also need to review the mise en place with the chefs to be ready to execute on our daily plan.
How do you like to spend your free time in Los Cabos?I like to read, to rest, and I enjoy the sunrises and sunsets of Baja. However, I also like to go off-roading, and I'm in the process of learning to dive. Another thing I enjoy is exploring the other culinary experiences in Los Cabos.
What's the best advice you've ever received? Did you take it?"Be free and do what you like." It sounds simple, but it's a powerful message. I do things for love, from a place of desire, and I try to give the best of myself in every situation. The rest comes naturally.
Out of all the countries you've visited, which one has the most unique culinary scene?I absolutely love the culinary offerings in Mexico. From one Mexican city to the next, there are so many great culinary options. The United States also has an excellent culinary scene because of the cultural diversity and wide range of restaurants. While traveling in Europe, I was very impressed with Italy, Spain, and France.
How do you spend a night on the town in Los Cabos?I like to share good conversation with friends and family. Like all good Chilango's, I really like a good Taco too. I don't drink a lot of alcohol, so fresh water, food and company are what I enjoy.
What do you do to decompress?I exercise a lot. I'm usually in the gym by 6 AM. Even if I leave the restaurant late, I make sure to exercise in the mornings. Exercise makes me feel great, but it also helps to keep me focused.
You're cooking a meal for your closest friends and family. What would you make and why?Since I cook for a living, I prefer not to at home. But if friends and family came to the restaurant, I would work with seasonal, organic ingredients and cook what I felt most inspired by at the moment. It would all be family style, and I'd probably make some fresh Latin food like ceviches, tiraditos, with citrus and spicy flavors, using ingredients like cilantro, radish, and cucumbers. The best moments between family and friends happen in the house over meals, everyone working together, and I think I'd want it to be like that.
I try to give the best of myself in every situation. The rest comes naturally.
Recent Blog Posts