By Justin Porter Biel
My name is JOSE LUIS MURRIETA ROSAS, but everyone calls me "PEPE." I was born in Xalapa, Veracruz, and went to school at the Panamericana de Hoteleria in Mexico City. After finishing school, I ended up in Cabo in 1984 and then received my PADI Scuba Instructor Certification in Chicago in 1989. I then moved to Cabo Pulmo, and in 1992, I opened the first dive shop together with my partner at the time, Libby, and Juan Castro. With help from the community, family, and friends, such as Nancy, Robert VanWormer, Wayne Siepman, Mary Olive, Libby and Juan Castro, we were able to establish Cabo Pulmo as a National Park.
[/vc_column_text][/vc_column][/vc_row]
JB:
What initially brought you to Baja?
PM: After I finished college, I started traveling, and the adventure brought me over to Cabo.
JB: Why have you chosen to call Cabo Pulmo home?PM: Because it is a diver's paradise and I love the quiet village atmosphere.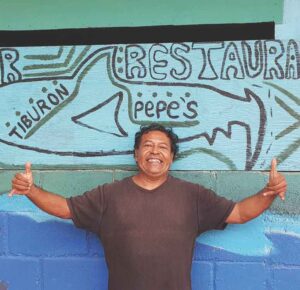 JB: What inspired you to protect the reefs of Bahia Pulmo?PM: I felt it was important to preserve the underwater beauty of the coral reefs and protect the sea life.
JB: What is your favorite thing about diving?PM: The freedom you feel underwater and the ability to observe everything that happens under the sea.
JB: What's the most exciting fish you've ever seen? PM: An Oar Fish. It looks just like a giant snake.
JB: How do you spend an average day?PM: Taking care of my garden, walking on the beach and doing small projects around my house.
JB: What is one thing people don't realize about the Sea of Cortez?PM: It has a beautiful richness of marine life, but it may not last forever.
JB: What has your time in the ocean taught you about life?PM: It's taught me that life is unique and precious. You must live life to the fullest.
JB: What would you tell someone coming to Baja for the first time?PM: Go swim and snorkel, explore the beauty of the seas, and have a drink with the friendly locals.
JB: What's the best advice you've ever received? Did you take it?PM: The best advice I ever received was to stay in Cabo Pulmo and never leave. And yes, I'm still here! Come and visit for some underwater adventures.
Recent Blog Posts