[page_title]
[post_date]
By Justine Schock, your guide to the Los Cabos Social Scene.
October marks the beginning of our busy season in Los Cabos and is FULL of fantastic events for everyone. In addition to our action-packed event calendar this month, here are a few other local activities I highly recommend whether you are living in or visiting Cabo San Lucas!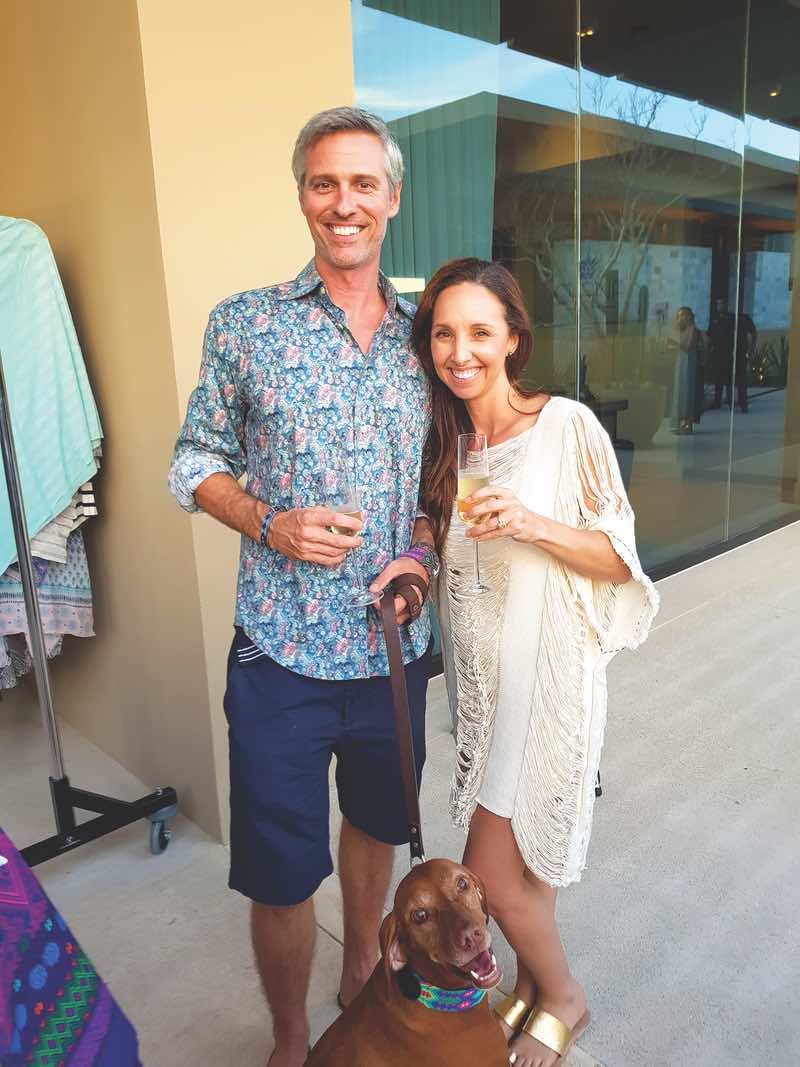 ECLECTIC ARRAY GRAND OPENING AT MONTAGE – If you want to pick up a few high-quality, handmade souvenirs on your trip, head over to one of Eclectic Array's 4 convenient locations. Eclectic Array works directly with talented artisans to create modern fashion and unique gift items. Eclectic Array's mission is embracing artisans to create unique handmade products, connecting artisans with consumers, and transforming lives across Mexico. Their stores carry a great selection of pet leashes and collars, bags and wallets, beach blankets, dresses and rompers, tops, shoes, hats, jewelry, home décor items and more! On Friday, August 31, Eclectic Array proudly opened their forth and largest store at Montage with live music, an artisan demonstration, hors d'oeuvres and cocktails. Other locations include downtown Cabo San Lucas in Plaza de la Danza, Plaza del Pescador in San José del Cabo, and Flora Farms. Shop online at: eclecticarray.com@EclecticArrayCabo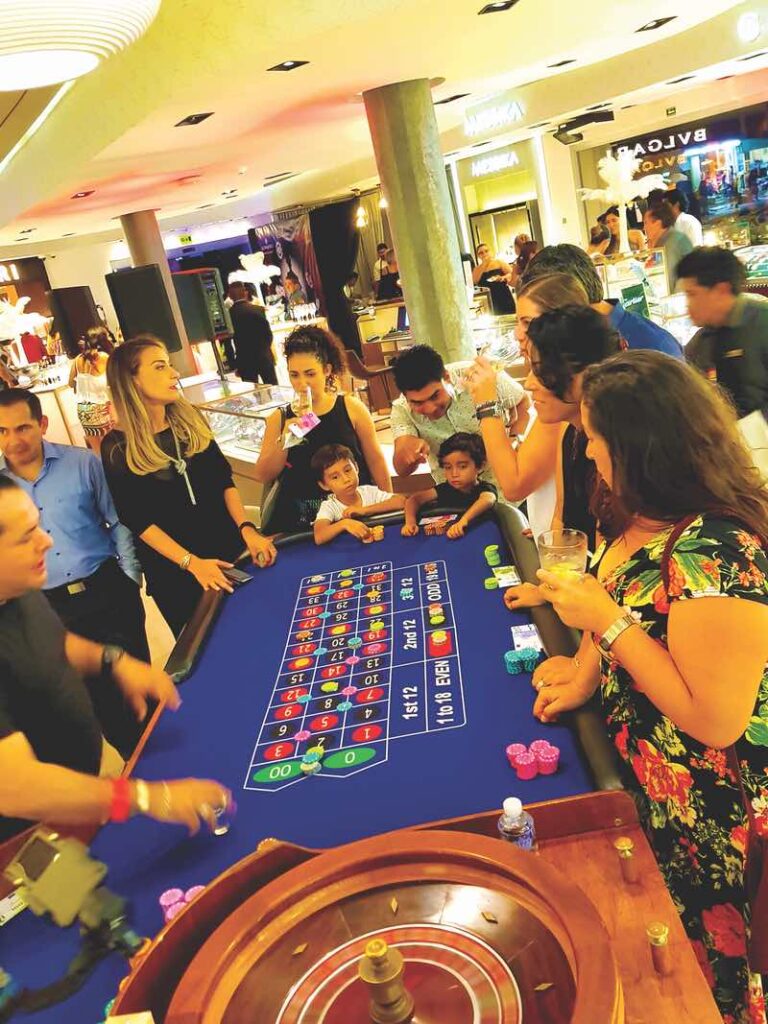 ROYALE CASINO NIGHT AT ULTRAJEWELS – Another fun activity to do while on vacation in Los Cabos is shop at one of our many high-end jewelry shops around town. Dedicated to offering the best Swiss watchmaking and jewelry brands in Latin America, Ultrajewels on the Cabo San Lucas marina carries a wide variety of rings, earrings, necklaces, watches and more. On Thursday, August 30, Ultrajewels held a Royale Casino night complete with live DJ, complimentary appetizers and cocktails, Vegas style showgirls with over-the-top feather headdresses, and several gaming tables for guests to try their luck gambling with special "Ultra Dollars". The night was a nice air-conditioned break from our sweltering Cabo summer nights. @UltrajewelsMarina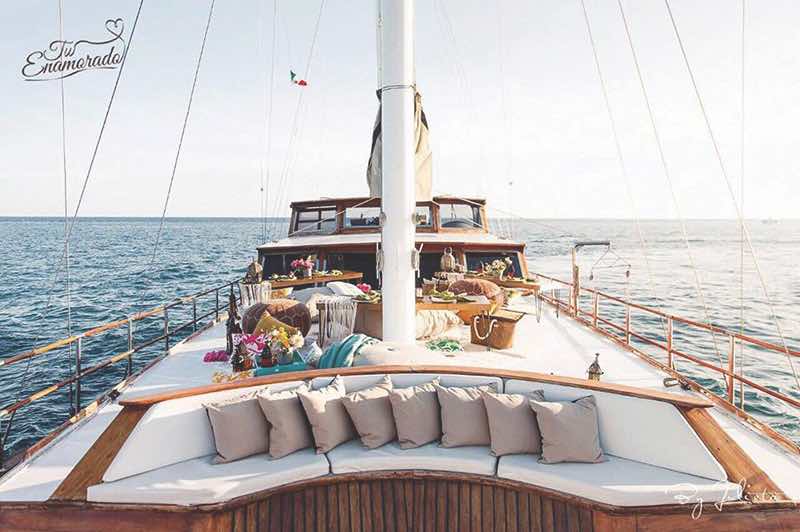 TU ENAMORADO BY WILD CABO TOURS – Tu Enamorado is the newest boat in the Wild Cabo Tours fleet which also includes the Cabo Escape, Cabo Wave, Cabo Legend, and Buccaneer Queen Pirate Ship. Tu Enamorado is a luxury sailboat available to rent as a private upscale charter for snorkeling or sunset tours. Destino Los Cabos set sail on a private sunset tour in September to experience everything this new extravagant yacht had to offer. The tour started off with an appetizer plate of cold meats, homemade cheese, olives, fruits and nuts. After a few cocktails and wine, quintessential photos at the famous Cabo arch, and a stroll around the upper deck, dinner was served. Our main course included jumbo shrimp, a delicious beef filet with red wine sauce, accompanied by mixed roasted vegetables and mashed potatoes. The tour concluded after we watched the sunset over Cabo along with great company and relaxing music. Visit our friends at Wild Cabo Tours for more information and reservations. @TuEnamoradoYacht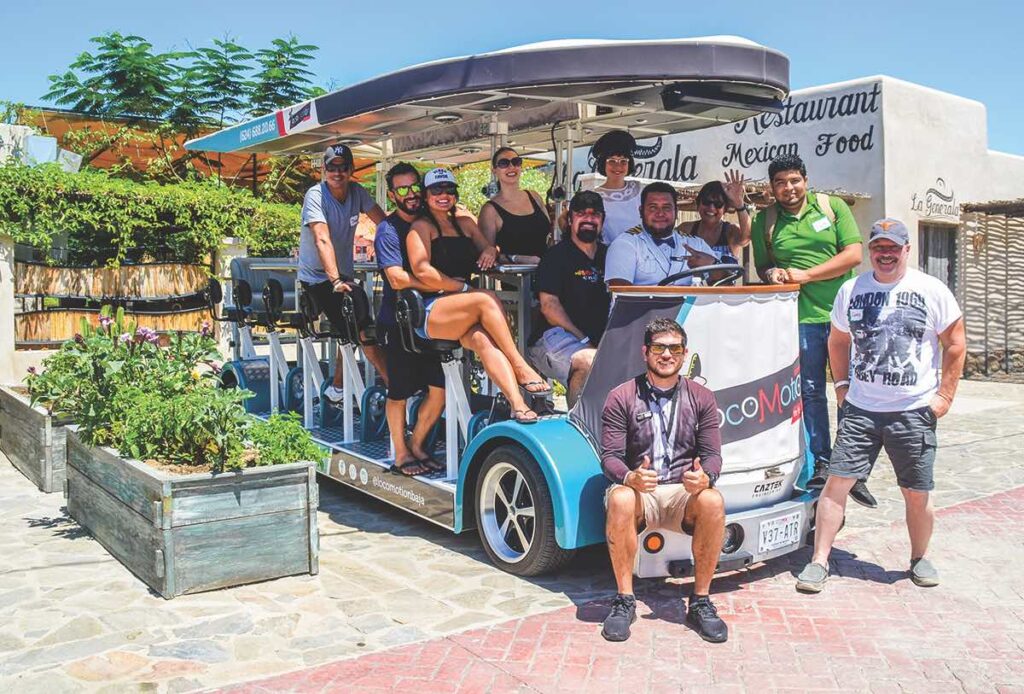 LOCOMOTION TOUR OF TODOS SANTOS – Locomotion Baja is a new company created to show the culture, tradition, history, and people of Mexico in a fun and original way, using an electric bicycle driven by up to 14 people. This fiesta bike tour of Todos Santos includes transportation to and from Los Cabos in an air-conditioned van, a bilingual guide, and Mexican snacks, cocktails and more! Guests get to pedal the bike to each stop along the way while learning all about important landmarks in Todos Santos. Stops along our private tour in September included a lesson in traditional Mexican blanket weaving at Corazon Zapoteco, learning to make authentic fresh tortillas, guacamole, and pico de gallo at La Generala Mexican Restaurant, a cocktail class where we got to shake up tasty mojitos at Guaycura Boutique Hotel, a visit to the historical Todos Santos church (Iglesia de Nuestra Señora del Pilar), wine tasting at La Bodega de Todos Santos, and a break for ice cream at the end of our tour at La Paloma. Locomotion Baja is the best way to experience Baja the "LOCO" way! @LocomotionBaja
DOWNSTAIRS AT HOTEL EL GANZO – Located just 10 minutes north of downtown San José del Cabo, Hotel El Ganzo "exudes a cool vibe, from the tip of its rooftop sushi bar to the edge of the dramatic infinity pool, and right down into the underground recording studio, where resident artists and visiting performers work their magic." Downstairs restaurant is the culinary heart of the hotel featuring classic recipes with organic ingredients created by newly appointed Executive Chef Carlos Peregrina Serralde. Downstairs invited Destino Los Cabos to try their new menu which included items like beef carpaccio, tuna sashimi, duck with a chocolate chipotle and curry salsa and much more. The staff at Downstairs went out of their way to ensure our experience was top-notch and service was excellent. In addition to the hotel and restaurant, El Ganzo hosts a series of curated arts and music programs including their "Sunset Sessions" live music performances every Friday night. They will also host the band "Little Jesus" from Mexico City on October 13 at the El Ganzo Rooftop. TIP: For Mezcal lovers, try the "Piña Agave", a cocktail with Mezcal, roasted and caramelized pineapple, ancho chile liqueur, agave syrup and jalapeño pepper bitter. YUM! @HotelElGanzo
by Marilia Olio, Marine Biologist and guide at Cabo Trek
Humpback whales have became famous to be the superheroes of the ocean and the reason remains unclear. There have been at least 115 documented sightings of rescues made by humpback whales since 1951 and recent reports suggest that humpbacks have intervened to save their own calves, as well as California sea lions, ocean sunfish, harbor seals, and gray whales. In nearly 90 percent of cases, the humpbacks seemed to show up after the orcas had already begun to hunt, suggesting that humpbacks are not defending themselves but actively choosing to interact with hungry orcas.
One of this cases happened in Antarctic in 2009. Several killer whales were trying to catch a Weddell seal that had taken refuge atop a drifting patch of Antarctic ice when a pair of humpback whales turned up. As the panicked seal swam toward them, a lucky wave tossed it onto the chest of the closer, upturned whale. The whale arched its chest out of the water, which kept the seal away from the charging killer whales. And when the seal started to fall off, the whale carefully pushed it back onto its chest with a flipper. Soon after that, the seal scrambled to safety on another ice floe.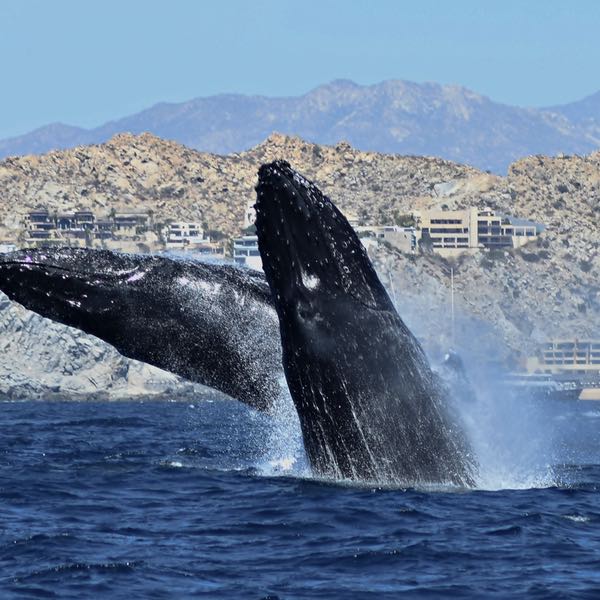 In 2012, rese
archers observed a pod of killer whales attacking a gray whale and its calf in Monterey Bay, California. Two humpback whales were already on the scene as the killer whales, or orcas, attacked the grays. After a struggle, the calf was killed. But after the calf had been killed, around 14 more humpbacks arrived—seemingly to prevent the orcas from eating the calf. One of those humpbacks was sighted in Cabo in March of 2017.
And the most recently case happened last year when a marine biologist was saved by a humpback whale in Cook islands. She was shocked when, on this dive, one of the animals swam up to her and began to nudge her with its head and cover her with its pectoral fin. Unsure why the humpback was acting this way and easily overpowered by the creature, the marine biologist decided to stay still and let the whale call the shots. After 10 minutes of care- fully dancing with the whale, when she climbed on board, she understood what the graceful giant was trying to tell her: a large tiger shark. The whale's proximity saved her from a potential attack.
So are humpbacks compassionate? To fully understand the complexities of these interac- tions, a lot more research is needed. Meanwhile, you can Be a Cabo Trek guest and witness these gentle animals in their environment here.
Recent Blog Posts