Written by Rebecca Ehrenberg, Pisces YachtsPhotos Courtesy of Pisces YachtsYachting in the Sea of Cortez, whether it be by visiting the islands close to La Paz or cruising nearby to Cabo San Lucas to visit its famous Arch and beaches is an experience that we are very lucky to enjoy in the Southern Baja. Jacques Cousteau once described the Sea of Cortez as the "aquarium of the world" and with good reason. If you are cruising on a yacht departing out of Cabo you will have some of the best vessels to choose from, and all easily accessed at walking distance from downtown in the nearby marinas. Yacht departure points are usually from IGY Marina and Marina del Rey, with options of a full day, half day or even a sunset cruise. Whale season from December to March allows visitors to enjoy luxury and wildlife simultaneously, while the Arch views never disappoint. You may also encounter other wildlife such as sea lions, dolphins, manta rays, turtles, amongst others.Just a short 45-minute cruise from Cabo's main beach at Medano Bay you can find yourself at two of the nicest snorkeling beaches, Santa Maria and Chileno Bay, where the Captain and crew will drop anchor and allow you to enjoy the area. Most yachts boast a range of water toys such as paddle boards, kayaks, and snorkeling gear, for your personal use and will have a fresh cooked meal waiting for you when you desire. Of course, the drinks will always flow freely too.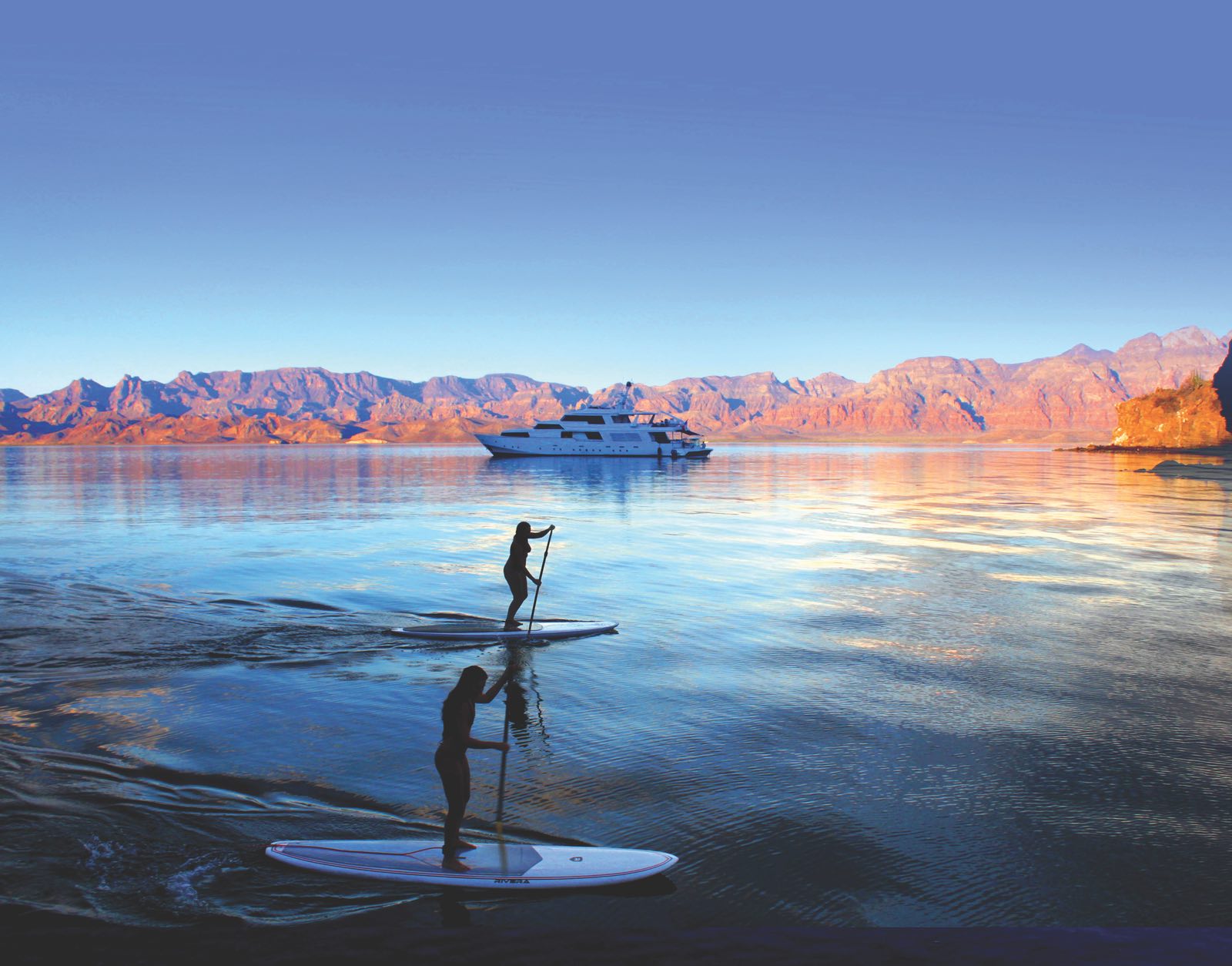 Depending on your charter option you may also be able to do an overnight stay on board, or even set up a multiple day trip. The Cabo area is perfect for either of these experiences, and considering some of Cabo's hotel prices, this may even be a luxury that is quite attainable, especially when traveling with a small group. Luxury yachts ranging from 55' to 100' typically will sleep from 4 to 8 or 10 guests aboard, and for an overnight trip in the bay may include all meals and drinks. If you prefer to stay nearby to the nightlife, shopping or restaurants, then sleeping onboard your luxury yacht under the stars in the middle of Medano Bay with everything at arm's reach may be just the thing for you. Waking up at sunrise to paddle board out to the Arch is one of the favorite perks of this luxury experience. Although with the tempting Cabo nightlife a few may be just rebounding the yacht at this time.
For those wanting to get away from it all, and dive into the natural beauty of the area, with at least two or more days available you may venture up the coast to San José or further North to Cabo Pulmo. For multiple day trips, pricing will usually be a yacht base rate, just for the rental of the yacht itself, with expenses for fuel, drink, food and any tours or excursions at an added cost. In the yachting world, this is called an Advanced Provisioning Allowance (APA), which usually is based at about 30% of the base cost of the yacht. This pricing system is put in place because the tastes and preferences of guests may vary greatly, and this allows the charterer to provide (almost) anything the guest desires and can also be used to cover any unforeseen costs along the way. If any of the 30% allowance is not used, then it is returned to the client and clear records are always kept.Cabo Pulmo is a natural ocean reserve on the East Cape which boasts some of the best snorkeling and scuba diving in the world. This is honestly quite far via sea, as cruising speeds are much slower than by car. Some yachters may opt for boarding in San José, leaving out of Marina Puerto Los Cabos (which is only a 40 minute drive from Cabo). Others may choose to drive to Cabo Pulmo and board there for a scuba or snorkel tour by marine park guides and board their yacht subsequently. Although the Cabo Pulmo area itself is protected and no fishing is allowed, there are nearby areas, such as Los Frailes which are great for fishing. You will anchor around here for overnight trips or day trips anyway because of park restrictions. Also close by are luxury resorts such as Costa Palmas, the new Four Seasons development neighboring the small scuba town. For those who are watermen, the East Cape also boasts a few awesome surf spots along the way up to Cabo Pulmo to try out.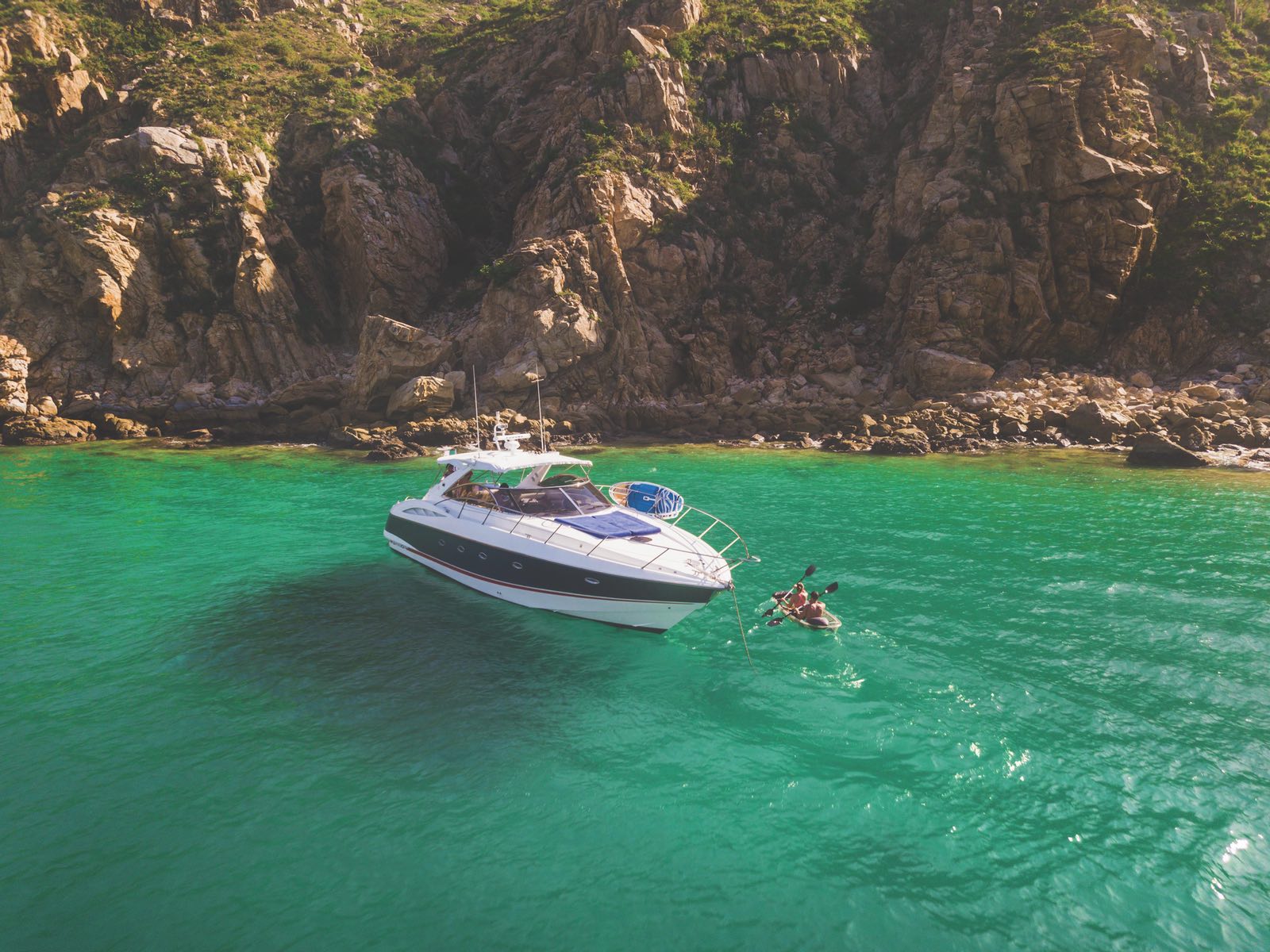 For a yacht trip of a lifetime, head up even further North to the Bay of La Paz and discover the surrounding islands. Most people who are based in Cabo simply use ground transportation to arrive in La Paz in two hours and board their yacht there. If you are in La Paz there are several marinas you can depart from, only about a 10 to 35-minute drive from the malecón or main boardwalk. Yacht departure points include Marina La Paz, which is closest to town, Marina Palmira and Costa Baja. From there, in under an hour you will find yourself at Playa Balandra, rated one of the most beautiful beaches in the world and then in about an hour or so you will reach the beautiful island of Espiritu Santo. This island is an uninhabited beauty, with white sand beaches and turquoise waters, not to mention activity options for everyone (unless you're looking to go shopping or stop for lunch). Fortunately, when on a luxury yacht, crew and the chef aboard take care of every need and this shouldn't be an issue. Espiritu Santo is also a protected area so no fishing or specific motorized vehicles such as wave runners are allowed, but kayaking along its coasts or paddle boarding are wonderful experiences.You can even head to Los Islotes at the Northernmost point of the Island to swim with the sea lion colony there during season. Your yacht charterer should inform you to purchase your park pass or purchase it for you to visit these areas. Swimming and visiting this sea lion colony is definitely an experience to tick of your bucket list. Other nearby islands include Cerralvo Island, which is great for diving, scuba and snorkeling.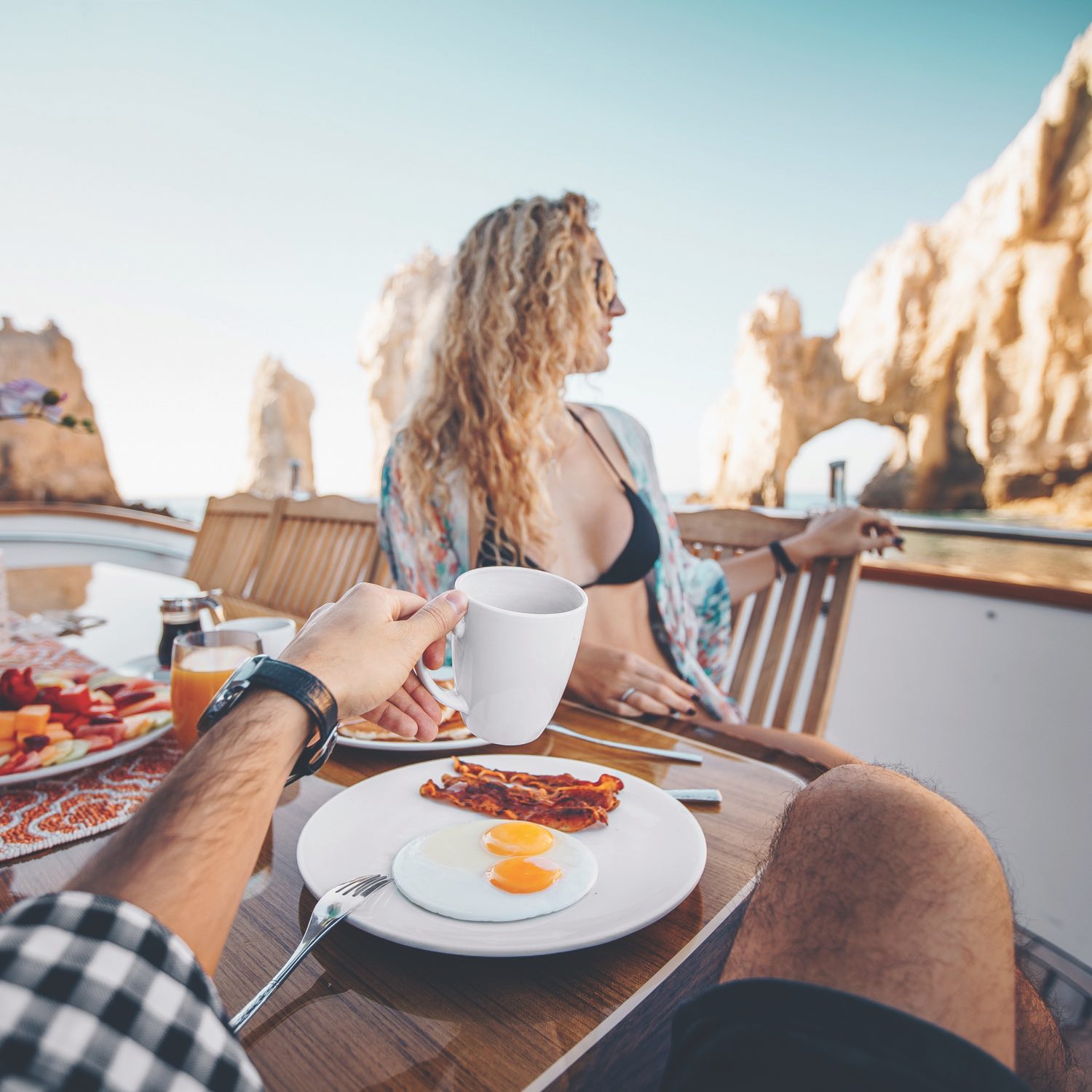 If your budget and time permit, you may head to the nearby islands of San Francisco and San José. The first is very small, and in the shape of a hook (appropriately nicknamed Hook Island because of it) and the latter is quite big, with the largest mangrove system of any island in the entire Baja. Waking up or taking in the sunset in either of their bays is an otherworldly experience, and as not many tourists go much further than Espiritu Santo or the La Paz bay, you can usually get this anchorage all to yourself (or with only a handful of others). From here on North there are many more beautiful, untouched beaches, wildlife encounters beyond your wildest dreams and sunsets and sunrises that take your breath away. Making it as far North as Loreto (which you could do in a trip of say 6 or 7 days departing from La Paz) is an experience of a lifetime and unlike anywhere else in the world. In all of my years of yachting experience and travels around the world, there is not yet a yachting destination that compares itself to Baja and the Sea of Cortez.Cabo's growing tourism and the arrival of high-end luxury yachts to the area are evidence the growth of yachting of the area, mainly supported by the ease of travel between naturally beautiful and pristine areas, and a mix of opportunities for nightlife, first-class restaurants and leisurely activities. Cabo and the Southern Baja areas are well on to their way to becoming some of the most exclusive yachting destinations worldwide, giving us Baja natives another reason to be so lucky to call this place home.If you want to live a life of beauty, luxury and yachting adventures beyond
your wildest dreams, this Southern tip of Baja is truly the place, and now at much closer reach than ever before.
Recent Blog Posts