[page_title]
[post_date]
Article & photos by That Baja Guy – Gary Graham
There's little doubt or controversy about Los Cabos having grown into an international resort city renowned for sport fishing, golf, luxury hotels, beaches and so much more and looking for Baskin Robbins? Costco? Walmart? Or many, many chain restaurants and hotels, you've come to the right place!Any questions about finding comfort and convenience in these areas would soon be put to rest while strolling through Cabo's IGY Marina. Just look around, and you'll see the fleet of sport fishers that have grown to include anything that floats — from well-equipped outboard-powered pangas to mega-yachts — huge, fast, sleek — all underscoring the popularity of larger boats that can easily venture farther and more comfortably in search of gamefish.And yet, that's an obvious veer from course for many knowledgeable Baja anglers seeking that "classic, old-Baja style" that first ignited the imaginations of Baja pioneers like John Steinbeck, Ray Cannon, Earle Stanley Gardner, Gene Kira, Neal Kelly, and others.
Perhaps we're returning to a time when revisiting fishing and fun matters more than all the other factors.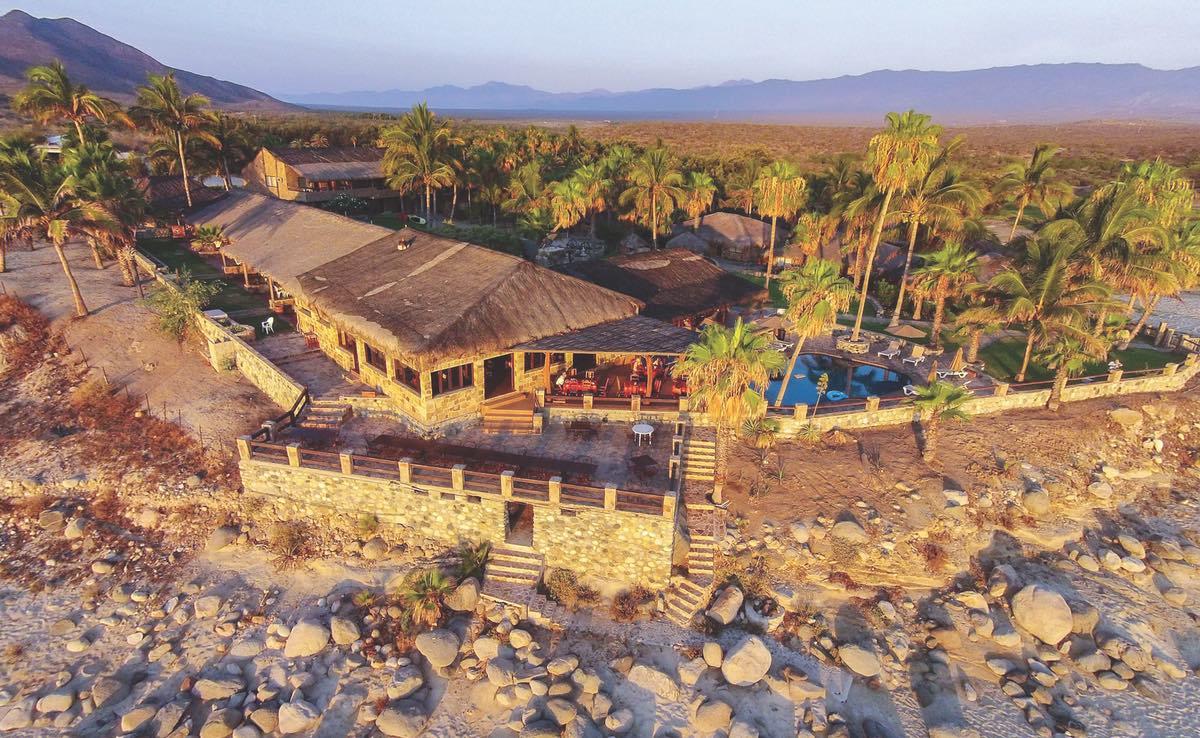 The 34-room "Rancho," perched on a rug- ged point, is only accessible by a dirt road and overlooks a submerged reef teeming with sea life and a broad view to the north and south of the Sea of Cortez.
Development has overwhelmed some of the larger, more popular areas, but many visitors have resisted that trend. They have heralded a return to the basics, and there have been several large areas that have fought to remain relatively undeveloped by today's standards — remaining outposts in populated areas attempting to stay as authentic an "Old Baja" as possible.John Ireland, from East Cape's Rancho Leonero, is an example of a long- time owner who has insisted on providing a remote and authentic "Baja experience" to his guests. The 34-room "Rancho," perched on a rugged point, is only accessible by a dirt road and overlooks a submerged reef teeming with sea life and a broad view to the north and south of the Sea of Cortez. His resort has a fleet of 10 super pangas up to 25 feet that are preferred by many anglers for a variety of reasons. With only the captain on board, everyone becomes part of the crew and enjoys the openness the boats offer. The versatile pangas are equally as effective for inshore fishing for wahoo, dorado, roosterfish, and jacks along the miles of sandy beaches in both directions, while offshore, they offer a stable platform to chase billfish and yellowfin tuna.
For those wanting to stay even closer to shore, not only are kayaks available, but also there is the opportunity to walk the beaches, fishing from shore using either fly or conventional tackle.Meanwhile, farther down the Baja Peninsula on the Pacific side, surf fishing has also earned a following of anglers using spin-gear to cast over the huge waves that often crash on the beaches. Their success can be remarkable, landing huge roosterfish, jacks, snook, sierra, and even dorado.Because of the lack of swells or surf at East Cape most of the time, the beaches are more user-friendly. That soft water feature has not been unnoticed by the fly-fishing community that flock to the area. Although most commonly known for its success on freshwater lakes and streams, fly-fishing has taken a big bite out of the saltwater scene. Case in point: roosterfish. Many guides are now plying the surf line with anglers at their sides, spotting gallos cruising close to shore searching for food.
You can spot the roosterfish crowd generally in early spring after the north winds subside until late fall when the north winds return; this is a popular pastime for hordes of fly-flinging anglers!Farther up the road at a popular spot also located on the beach, the Hotel Buenavista Beach Resort offers mostly cruisers and a panga or two.At the heart of East Cape is Los Barriles, where the Van Wormer Resorts located right on the beach offer a wider variety of accommodations and choices. Also, Martin Verdugo's, a small RV park where many DIY-type anglers (do-it- yourselfers) gather for the season to fish in their trailer boats. In addition to the RV Park, Verdugo's offers rooms and areas for camping.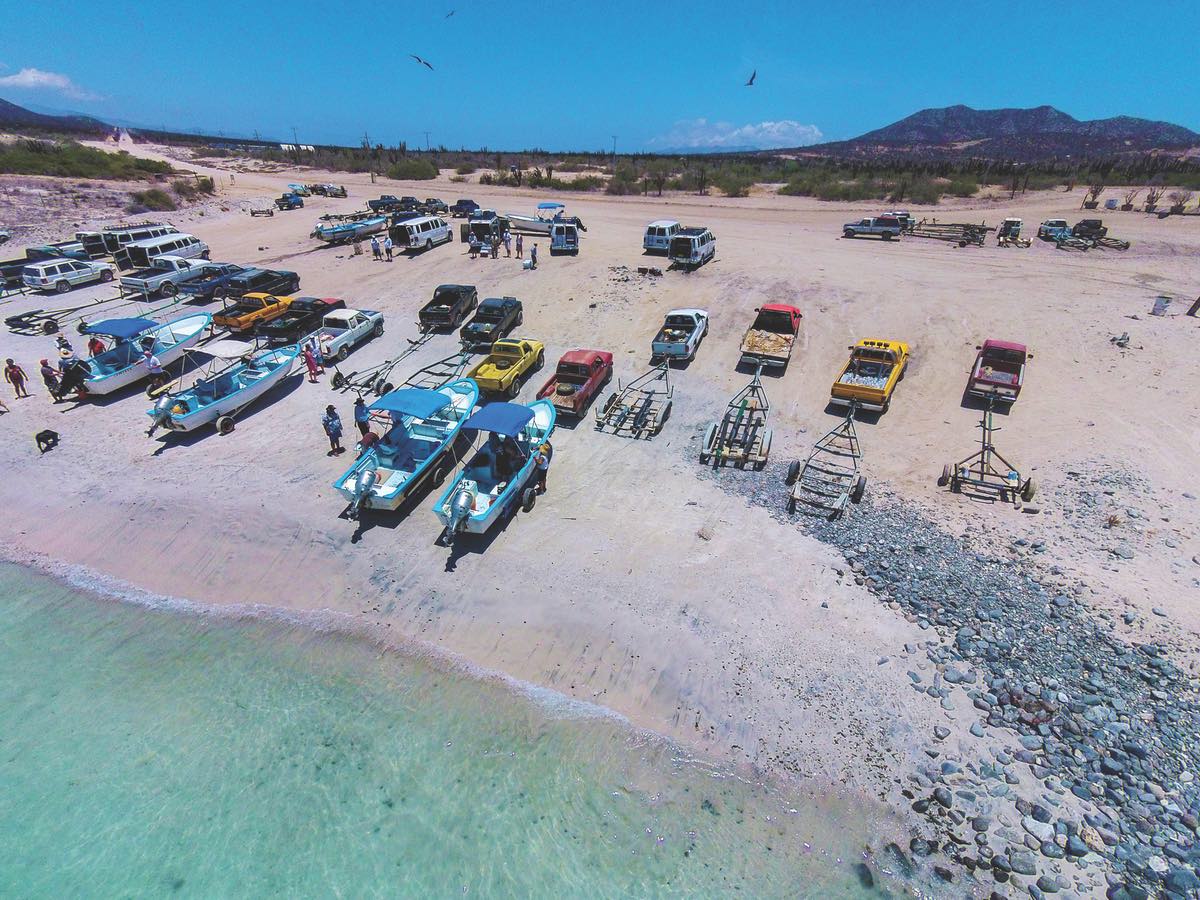 Muertos Bay boasts a large fleet of independently owned pangas that launch every morning attracting anglers from La Paz and the East Cape area as well as some who choose local accomm
Roughly 30 miles north of Los Barriles up into the Sea of Cortez, and twice that distance south of La Paz, there is another remote area – Muertos Bay and Las Ventana. This area offers one high-end resort, Rancho Costa, Bahía de los Sueños, plus a few very basic family-owned operations that are spread out along the shore at La Ventana facing Isla Cerralvo and offering ocean adventures including sportfishing in spring, summer, and fall plus windsurfing in the winter months.
Muertos Bay boasts a large fleet of independently-owned pangas that launch every morning attracting anglers from both La Paz and the East Cape area as well as some who choose local accommodations.
This area is unique as knowledgeable anglers know because of how inexhaustible the bite is! It is important to have your tackle rigged when boarding the boat as often the moment the boat pulls away from shore, the fishing begins. There are no long boat rides here. Most of the time the best fishing is within a few miles of the shoreline — the bottom drops off rapidly, and it is not uncommon for folks arriving late to see fish already being caught as they are loading their gear into their respective boats. The area offers a broad array of species — from billfish to triggerfish.Another rustic and remote destination at the very end of a barely passable one-lane dirt road, almost an hour from La Paz or La Ventana/Muertos Bay is Rancho Las Cruces, truly in the middle of nowhere!Although built in 1948, the hotel lays claim to being one of the oldest in Baja Sur and is distinguishable by the three crosses perched on a point near the hotel overlooking the Sea of Cortez. Many old-timers still swear the fishing here is better because of the light pressure that is the result of its seclusion.Next, on our return to basics list, La Paz is often described by locals as "tourist friendly" but NOT "touristy!" The capital of Baja California Sur, this old colonial city is more like the old-Mexico of decades ago. It is family-oriented and still offers plenty of DIY fishing from shore as well as on similar pangas as Muertos.Several islands to the north outside La Paz bay offer not only some extraordinary sportfishing for a laundry list of species, but some unique snorkeling areas also.
There is a paved road extending to the northward accessed from Mex 1 just north of town at El Centenario. This road allows anglers to explore the rocky points and sandy beaches that extend northward along the western side of La Paz Bay.On the eastern side of the Baja Peninsula – both north and south – there are miles of rocky coastline easily accessible by local pangas and cruisers and home to trophy-sized grouper, snapper, cabrilla, and many other fish.Traveling approximately 105 miles north is Ciudad Constitución, where there is a turnoff to Puerto San Carlos, which is 32 miles west on a paved road. It is the epicenter of the only deep-water port on the West
Coast of Baja with a population of approximately 6,000.
For those truly seeking the basics of Baja, Magdalena Bay is one of those places that time has virtually left behind and is considered one of the most important wetland ecosystems on the Pacific Coast! It is as large as San Francisco Bay, and stretches approximately 132 miles along the West Coast of southern Baja, encompassing nearly 1,500 square miles approximately 600 miles below the border as the frigate bird flies.Protected by five barrier islands along the West Coast of Baja, it has remained an enigma, tantalizing and bewildering even the most seasoned Baja traveler.
With its stunning, rugged desert landscape shaping a backdrop for hundreds of miles of mangrove-lined channels, Magdalena Bay attracts an overwhelming collection of wildlife unduplicated anywhere else in Baja!Most visitors are drawn to the larger, more popular tourist destinations scattered across the Baja landscape with easy access by commercial aircraft. Even those who drive the length and breadth of Baja's peninsula seldom venture the extra 32-plus miles out to Puerto San Carlos or Lopez Mateos, the largest villages on the bay.
More services are offered in Puerto San Carlos than in any other village on the bay, including a few hotels, motels, markets and restaurants along with pangas and some cruisers for sportfishing in the bay and Pacific.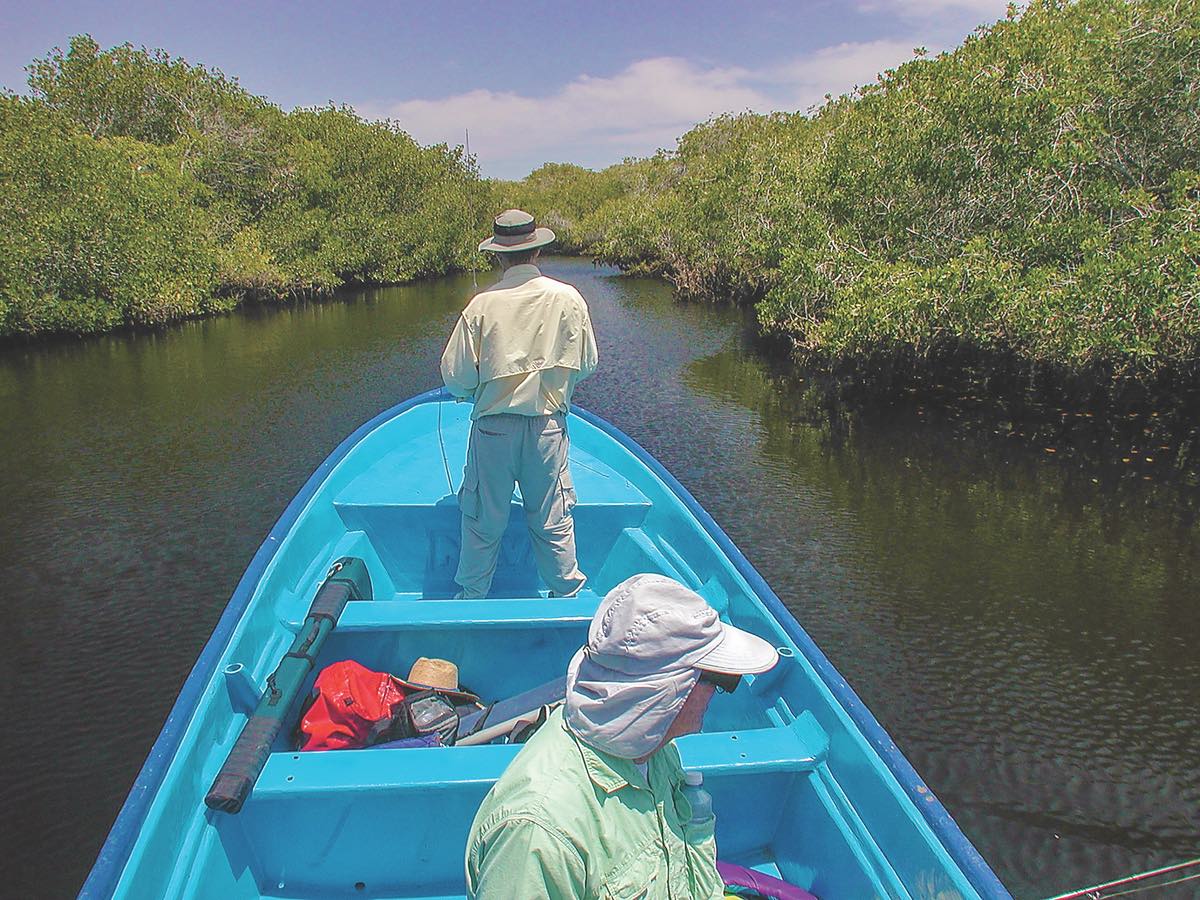 With its stunning, rugged desert landscape shaping a backdrop for hundreds of miles of mangrove-lined channels, Magdalena Bay attracts an overwhelming collection of wildlife unduplicated anywhere else in Baja!
The miles of mangrove-lined channels are considered the largest snook habitat in Baja. Water temperatures peak in the fall months and produce the best snook action. Sizes range from a few pounds to a respectable 40-plus. By far the most productive method is fishing live sardines or shrimp. Live bait drifted in the deeper channels up against the mangroves provides the best shot to catch snook.If you were to poll seasoned captains from around the world, their consensus would be there are few spots on earth where so many billfish congregate offshore so predictably, usually from October through late November or later.From Puerto San Carlos, Five Barrier Islands create the bay. The channel to the Pacific is about 19 miles to open ocean and from there to the north is Santa Maria Bay where many boats can be found anchoring at night during the fall months. There are banks where large quantities of sardine and mackerel are scattered up and down the Pacific.
Crews will likely hook more fish in a week or two here than they will see anywhere else in the world over a handful of seasons in these fishing grounds.Boats and crews, dazzled by the sheer volume of fish, often think that triple- digit totals are what it's all about. Over the years, many seasoned captains wisely focused on taking advantage of the volume to fine-tune their techniques on a variety of tackle – light, heavy, spinning and fly – or who wanted to improve their boat handling, cockpit management, and fish finding capabilities, ultimately return home much more skilled than when they arrived.Adolfo López Mateos, located about 30 miles up the bay from Puerto San Carlos, is about a third of the population with a little over 2,100. It has a few hotels and motels, as well as a small fleet of individually-owned pangas and cruisers that anglers can hire for sportfishing in the bay and open Pacific. The bay continues up the West Coast nearly 40 miles farther. There is also a dirt airstrip available, the only one around.
For the last Back to Baja beginnings' destination on our list, Bahía Concepción lies 625 miles south of the Tijuana border, but just 28 miles south of Mulegé. Those 28 miles of highway hug the coast offering direct access to what are considered by many to be some the finest beaches in all of Baja.This rugged paradise is the real "old" Baja — just over 20 miles long and varies in width from two to five miles, uncrowded and just plain "fishy." One of the most beautiful spots in Baja, it is another place that offers a variety of ways to fish: shore, kayak, inflatable, panga or small cruiser.With its dramatic scenery along the western coastline of Bahía Concepción, the ultimate photo opportunity for those traveling south by car or boat is available for Baja visitors. This giant bay, within the Sea of Cortez, offers travelers a glance of what "The Real Baja" is all about, but it must be seen to be appreciated.The incredible bay once teemed with scallops, oysters, butter clams and nice-sized game fish. On my first visit to Bahía Concepción in 1973, after Mex 1 had opened,
I lay in my sleeping bag dazzled by the dark star-filled sky adjacent to a mound of scallop and oyster shells higher than I was tall.These days, the clams and the larger fish are found only along the beaches of the eastern shore. Though the bay inhabitants still include: cabrilla, grouper, snapper, triggerfish, sierra, jack crevalle, roosterfish. At the mouth of the bay, yellowtail, amberjack, snook, plus dorado, striped marlin, sailfish are still found offshore.
It is still known as one of Baja's favored spots for campers, kayakers, those with RV's, and those who love beautiful beaches and quiet coves; the bay is especially good for kayakers as it is usually quite calm with light winds and not much in the way of strong currents. There are beach-side campgrounds, with varying degrees of services for RV's and campers scattered along the coast below Mulegé. Some of these campgrounds offer complete services and even a restaurant or two.Mulegé is the home of the iconic Hotel Serenidad that also boasts an airstrip for fly-in visitors. In the town of Mulegé, there is a complete array of stores and services available.There are other destinations for those looking to return to the basics that we haven't mentioned here.And for other visitors who look for the beautiful, well-developed locations with cookie cutter comforts, there are many places we didn't even try and name; there are many articles that have been written about them.But for the many out there who choose to have experiences where beaches are unspoiled, the food is basic but wholesome, and the local culture takes you back to a time where life is simple, and adventures are fun, give some of these a try. You'll be glad you did.
Recent Blog Posts