By: Gary Graham – That Baja Guy
Happy New Year! And Welcome to Baja!
According to AccuWeather, both January and February will be warm and extremely dry, with sea temperatures averaging in the low 70s – ideal for fishing here in Cabo San Lucas.Warm offshore currents from the Sea of Cortez converge with the waters of the Pacific Ocean, attracting huge schools of sardine and other baitfish, which in turn attract striped, blue, and black marlin, underscoring why Cabo is considered the "Marlin Capital of the World." The large number and variety of bait also draw yellowfin tuna, dorado, and wahoo to the area. For those preferring to remain closer to shore, roosterfish (release), sierra mackerel, white bonito, dorado, and small yellowfin tuna are another option. In addition, there is a long list of bottom fish around, candidates for a feast for the chef at your favorite local restaurant or hotel dining room to prepare for you.Not only are January and February exciting months for sportfishing, but they are also the best two months in the middle of whale watching season throughout Baja Sur from Loreto, Magdalena Bay to Cabo San Lucas!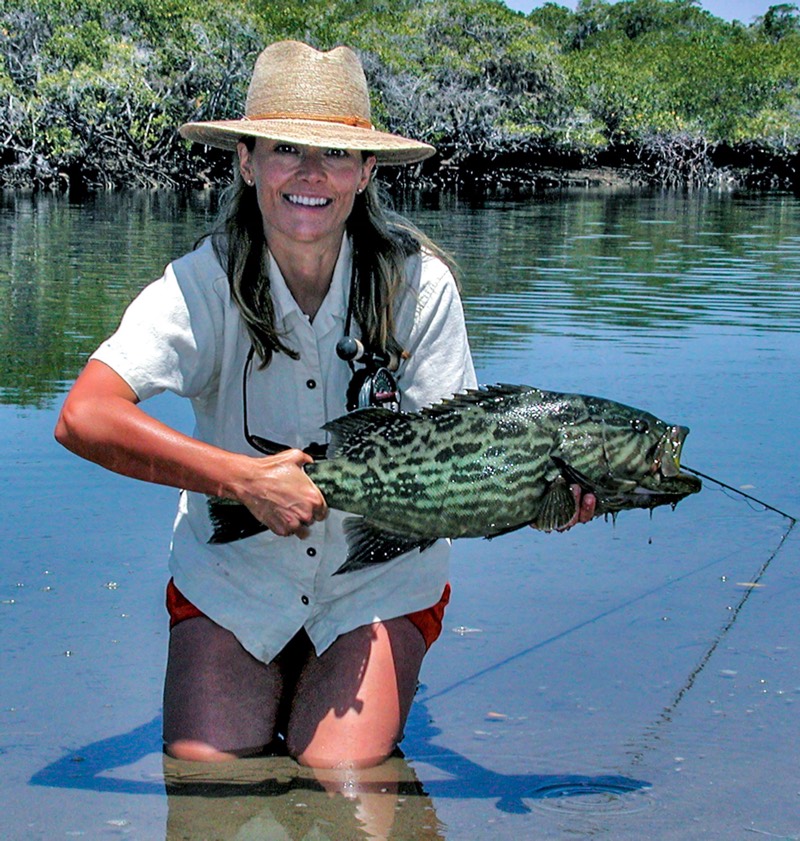 In the Los Cabos area, expect to see humpback and gray whales most often females with their calves.in the Cabo area, but much rarer, the Orcas (also known as killer whales), blue whales, and fin whales are also around. These marine mammals do not stay in the area; they usually migrate through looking for food. Sperm whales can also be seen offshore in Cabo waters. At San Jose del Cabo, Gordo Banks (a sea mountain 110 feet below the surface) is a mere 10 miles from shore. There, you can expect to catch billfish, yellowfin tuna, dorado, wahoo, yellowtail, jack crevalle, pargo, and grouper aboard the large pangas from the Gordo Banks Fleet located close to the entrance to the harbor and marina. And, of course, they offer whale watching trips this time of year, as well.Seasonal north winds have a definite impact on the sportfishing activity in the East Cape area, including La Ribera, Los Barriles, and Las Arenas/Muertos Bay, where conditions are often more suitable for kiteboarding. However, locals with their tin boats usually enjoy an early morning window fishing close to shore for jacks, sierra mackerel, and bottom fish around the many rocky points before the winds arrive mid-morning.The sportfishing activity is limited to La Paz Bay or Isla Espirito Santo in the La Paz area, where fishing is primarily for bottom and reef fish. However, another option is swimming with whale sharks in La Paz Bay or a day trip up to Magdalena Bay to observe the gray whales and their newborn calves.At Loreto, the north winds may be in the forecast, so the best spot to hit bottom fish would be San Bruno Reef and Candeleros, both north of Coronado Island.Sierra mackerel may still be along the beaches. In addition, to the coastline heading north has been productive for a few fish.The winter months also offer whale watching for humpback, grey, blue, and orcas. If you're hoping to spot whales breaching, the gleaming surface of the Sea of Cortez is an ideal place to be.The whales arrive in December and stay in Loreto until March to soak up the pleasant weather and warm sea temperatures. All spring long, the weather in Loreto is ideal for long afternoons on the golf course, snorkeling adventures on the islands, and hikes through the mountains.Baja Sur's springlike winter months offer plenty of sportfishing opportunities along with the chance to observe up close and personal some of the largest mammals found on earth. ENJOY!!!
Recent Blog Posts