By: Ruth RamirezThis past month of November, Balandra beach received an award for being the best beach in Mexico, and this has increased the popularity of one of the most beautiful beaches you will ever see. Balandra is located just 35 minutes from downtown La Paz. Locals know that you have to get there very early to make the most of your visit to Balandra. This is because it is a Protected Natural Area and access is limited to 450 people. This will remain in place as long as the municipality of La Paz stays in "Green" on the COVID-19 Health Alert System. A color-coded alert system that the government of BCS has implemented to safeguard the health and well-being of locals and visitors alike. If the Alert System goes back to "Yellow" Balandra, and all other beaches, can only have 50% of the maximum allowed capacity.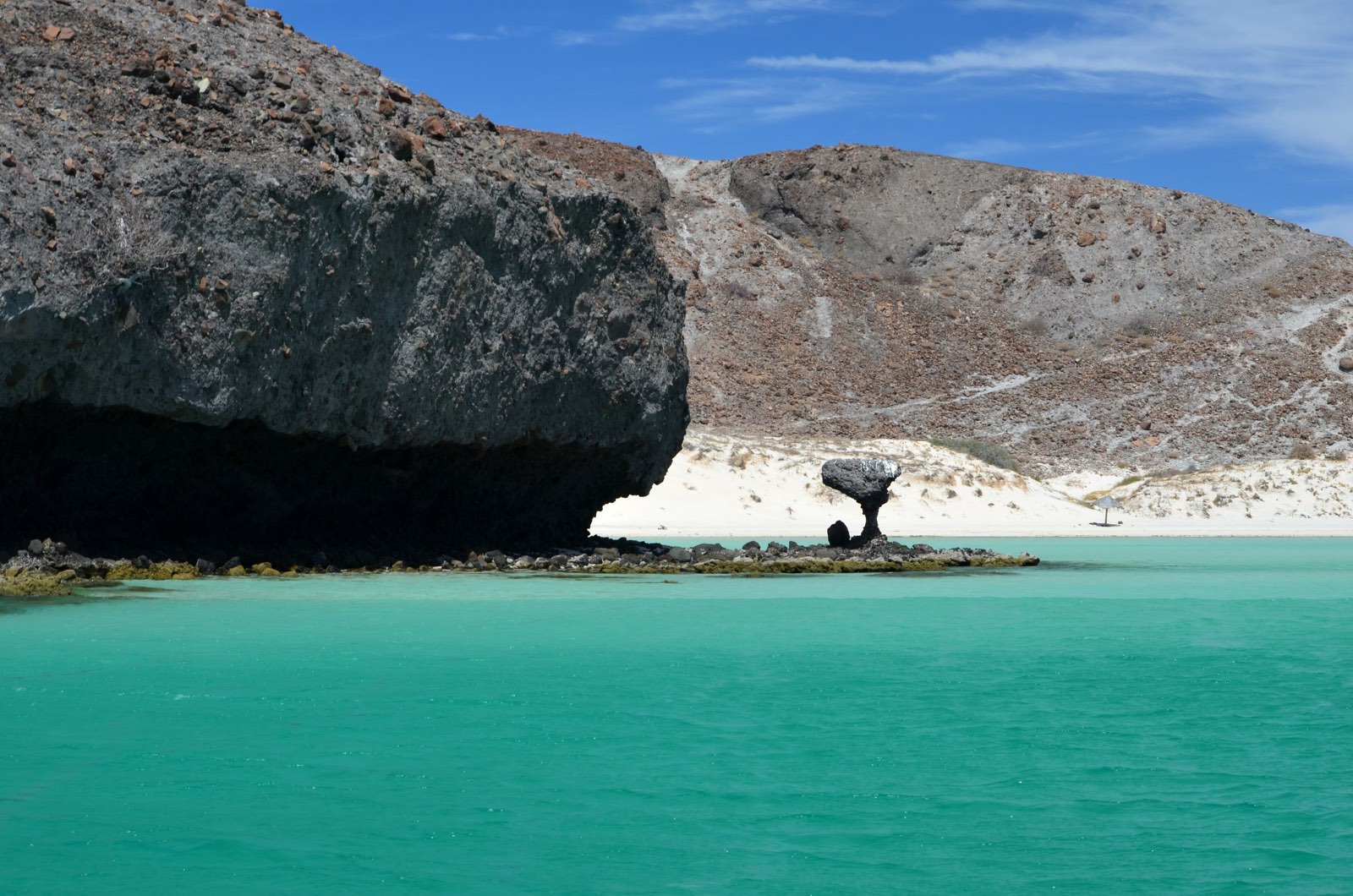 A few local tips about visiting Balandra:
There are no hotels or restaurants, at Balandra, visitors carry their coolers or backpacks with food and drinks.
On the way to the beach you will find access to several hiking trails.
A short hike along the beach takes you to the famous "Balandra mushroom", which is OK to photograph and definitely not OK to climb on.
Make sure to wear oil-free sunscreen. This will keep you from hurting the delicate ecosystem in the area.
Drag your feet when you enter the water, as you could find small stingrays buried in the sand, this is a way to warn them of your presence, they will feel the vibration and flee immediately.
Make sure to take your snorkeling equipment, you will be surprised by the wonders that you will see inches from the surface.
Leave no garbage or any trace that you were there. And remember all the small pebbles, rocks, shells etc., belong to the beach. Take photos and memories with you, leave the shells and sand behind.
After a day at the beach go back to the Malecón – the way locals refer to the Boardwalk – and quench your thirst with a traditional "Vaso Loco". This crazy drink is a tasty blend of tomato and clam juice, with or without beer and a mix of lime juice, salt, chili powder, Worcestershire, soy sauce, and lots of ice… believe me; it is delicious! If the hike and the sun made you hungry you must try the traditional battered fish tacos, known as "capeados". If you feel like having something fresh, try the shrimp or fish ceviche tostadas, you'll love them. Now that you have replenished your strength it's time to visit other points of interest. A few meters from the boardwalk you will find the Art Museum, on the corner of Madero / Independencia and 5 de Mayo. The museum has recently undergone a complete renovation, with fully inclusive facilities, ramps, an elevator, and some of the most Instagramable spots in La Paz. I recommend you make your reservation at https://www.facebook.com/laneperia.mx/, or via WhatsApp to +52.612.288.28.13. The museum is open Tuesday through Sunday from 11am to 7pm. The museum is offering a fully immersive experience by Lois Patiño, that is like diving into the sea and floating without moving. You can also admire the "Claroscuro" exhibition by Javier Marín, a talented Mexican sculptor from Michoacán, his work is simply put, something different, you'll see. After the Museum visit Casa Parra, to the left of the Cathedral of Our Lady of La Paz, there you can admire traditional indigenous Mexican art from different parts of the country, and on your right is Indigo Gallery, by Carlos César Díaz, a local artist whose art will make you fall in love.La Paz is a city to walk and wander, a place to ride a bike and sip good coffee as you watch the peaceful sea. It's a place to enjoy at your own pace and unwind. There are many more special places that I would love to tell you about, ut we will leave that for another time.
Recent Blog Posts