By: Gary Graham, That Baja Guy
Baja Sur in summer is hot, and so is the fishing. There are tournaments targeting billfish (striped, blue, black, and sailfish), dorado, yellowfin tuna, and wahoo during July and August, each with their individual fan base.The Cabo San Lucas Harbor was developed in a natural basin and is home to the IGY Marina, one of the largest marinas in Baja with 385-slips. In addition, several smaller marinas offer a combined total of slips approaching 600, all of which have allowed Cabo to become the home of the largest sportfishing fleet in Baja and the west coast of Mexico.A unique wide sidewalk (the Malecón in Spanish) almost surrounds the entire bay and is lined with outdoor restaurants, shops, a few weigh-stations and even a shopping center. Its easy access to the docks is a welcome to the fleet.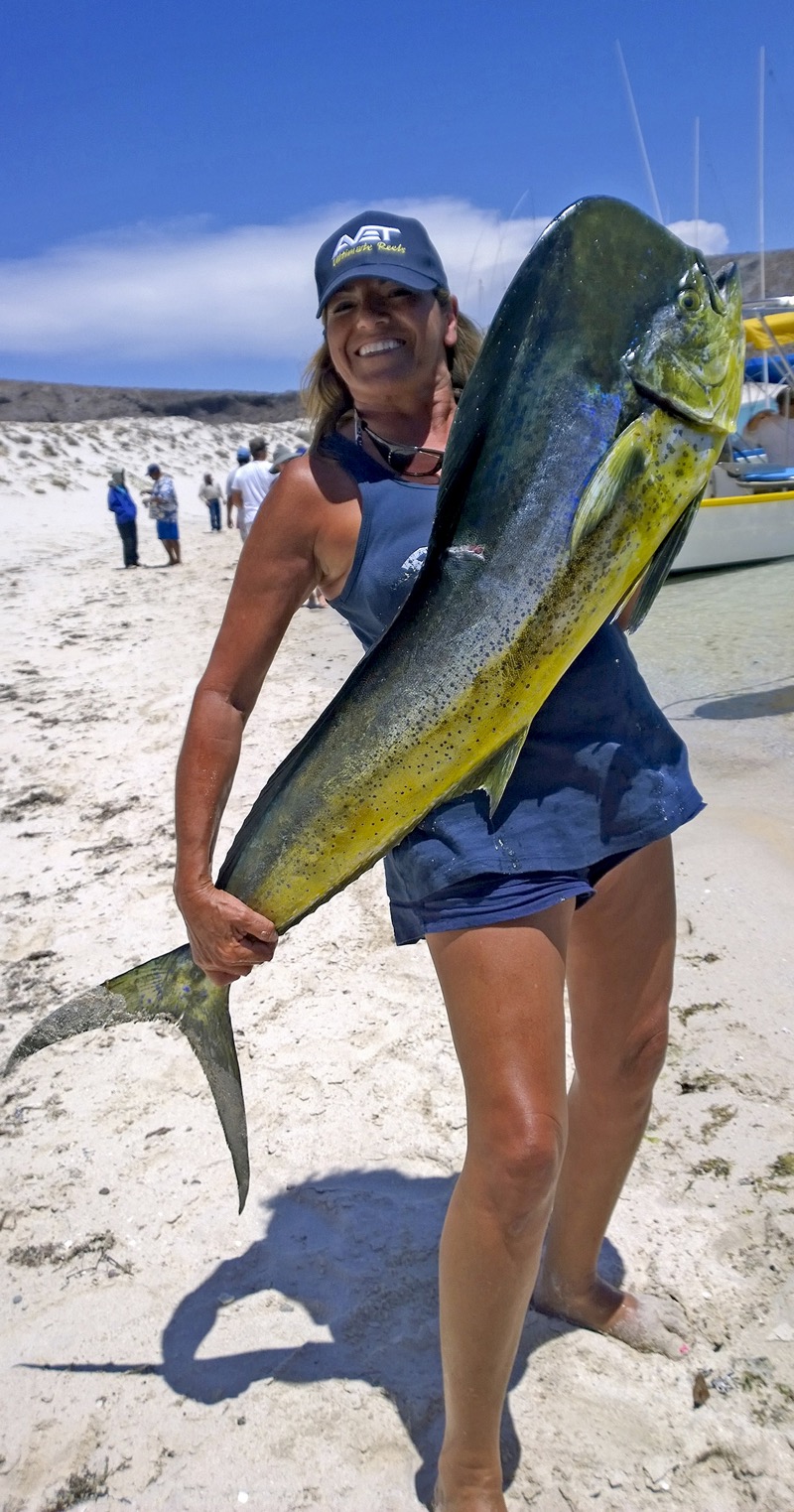 A fantastic and fun way to gauge the fishing is to stroll around the marina and see the number of different fish flags flying from the outriggers – Blue (billfish)-Red/White (billfish released); Yellow (dorado; White (tuna) and Orange (wahoo).Most anglers around the globe consider this area to be one of the Billfish Capitols of the World, and it is the ideal opportunity for newcomers to sample the sport.Another sure-fire way for you to ascertain what is happening in the sportfishing here in Cabo is to check out which tournaments are scheduled during your visit. Tournament dates are listed on local websites to see the best time to be in Cabo for the species to target. In addition, most events use the public weigh stations that are open to the public for weighing the participants' catches.July and August are the months when the giant black and blue marlin begin to show from Baja's tip up into the Sea of Cortez. These monsters that weigh hundreds of pounds challenge anglers' strength and tenacity are not for the faint of heart.Many visitors favoring sport over challenge choose dorado and yellowfin during July. Confirming their popularity this time of year, the Dorado Shootout is held annually at East Cape. This year's event is on July 16 at Van Wormers Resort in Los Barilles, BCS.During August, you will have similar options as in July, with a growing number of black and blue marlin, joined by striped marlin.Underscoring the significant impact that billfish, dorado, tuna, and wahoo have on Baja Sur fromLos Cabos to East Cape, three other major events target those species, including the Wahoo Gold Cup held at Van Wormers Resorts on August 20. Bisbee East Cape Offshore, the first of their three tournaments held on August 3, offers over a million dollars in Cabo and East Cape prize money.From October 21 to 22, 2022, Bisbee Los Cabos Offshore follows Bisbee East Cape Offshore. Then on October 25-29, 2022, the granddaddy of them all, the 42-year-old Bisbee Black and Blue Tournament follows soon after, offering millions of dollars in prize money.Regardless of your reason for visiting our area, we welcome you! If you came to fish, you are in the right place. GOOD LUCK! If you came to enjoy the many other amenities the area offers, ENJOY!If you are new to sportfishing and are curious enough to want to give it a go for a half or full-day, our Cabo Sportfishing Fleet is one of the best in the world! They specialize in introducing FIRST-TIMERS to an unforgettable ADVENTURE of a lifetime.
Recent Blog Posts