All the beaches in Los Cabos have something different for you. Which one is going to be your new favorite?
MEDANO BEACH
This swimmable and family-friendly beach is located in the heart of downtown Cabo San Lucas. The peaceful waters of the Sea of Cortes make it a perfect place for water sports and activities such as jet skis, parasailing, flyboarding, stand-up paddling, and more. The stunning view of Land's End and the vast entertainment options make this beach a must-visit.
Location: In the heart of downtown Cabo San Lucas.
Tips: Be prepared to be approached by a lot of souvenir vendors. If you're not there for the shopping, just respond with "No gracias."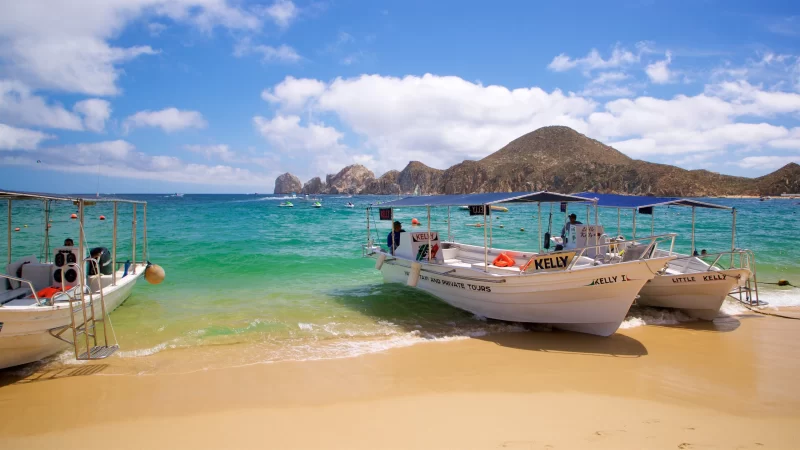 SANTA MARIA BEACH
Santa Maria Beach is a stunning horseshoe cove with unique coarse coral-colored sand and abundant marine life, making it an ideal place to go swimming, snorkeling, and diving. Alongside the shore, you will find Palapas providing some much-needed shade and the perfect spot to have a picnic with your family.
Location: Follow the signs which read PLAYA SANTA MARIA and exit at Km. 13 of HWY 1. Follow the dirt road until you reach the parking area.
Tips: Swim from the shore towards the rocks on the right or left side of the beach for a great snorkeling experience. Make sure you arrive early so you can beat the crowded snorkeling tours that arrive during the day.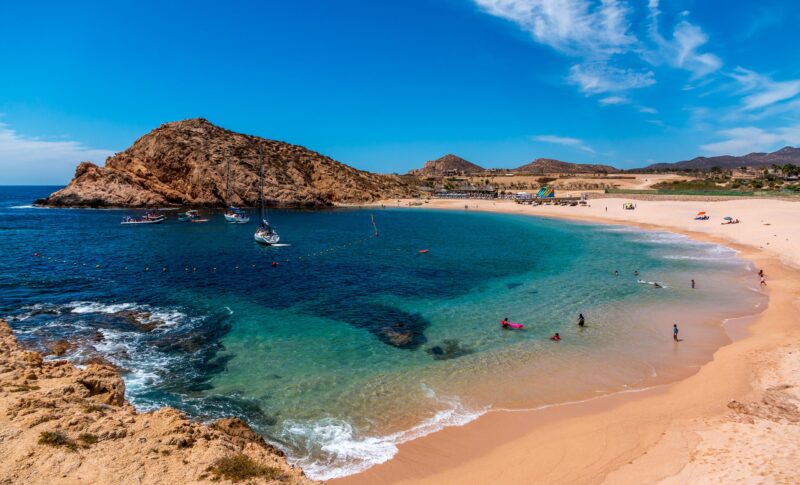 PALMILLA BEACH
Palmilla Beach is known for its family-friendly calm waters and a mile-long stretch of beach. You will find yourself surrounded by oceanfront luxury homes and the exclusive One&Only Hotel. A favorite of the locals, it's ideal to take a slow walk or sit to read a book. The beach area on the left is roped off with buoys for safe swimming, and the area on the right has tide pools and rocks that you can explore.
Location: Take the PALMILLA ramp exit at km. 27 and turn into the residential community (towards the ocean). You will wind down until you arrive at the beach entrance on the left side, in front of the Del Mar community gate. If you reach the One&Only Hotel you have gone too far.
Tips: Palmilla Beach is popular among local families on the weekends, so arrive early if you want a palapa.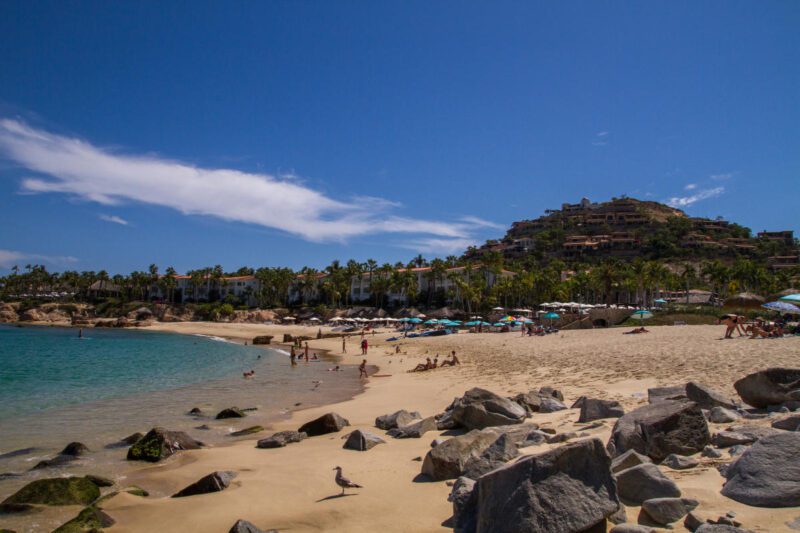 CHILENO BEACH
This is one of the best options for swimming due to its calm waters, and its beautiful reefs offer excellent snorkeling and scuba diving. Public restrooms and showers are available, as well as a handicapped ramp that takes you right to the beach.
Location: Follow the signs for PLAYA EL CHILENO near Km. 14 of HWY 1. 
Tips: Snorkeling visibility is often better in the early mornings and you'll avoid the mid-day snorkel tours. Bring snorkeling gear and shade!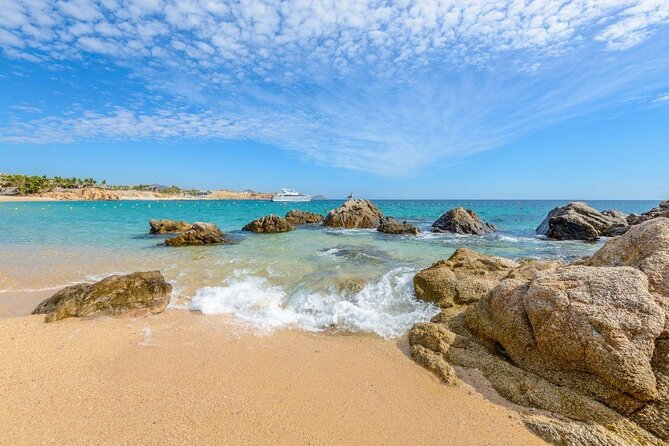 COSTA AZUL BEACH
This iconic beach has won a place in the history of the surfing scene in Los Cabos, being the home of many different events over the years. Its different breaks for different levels of experience make Costa Azul the perfect place to visit. Even in winter when the waves are calmer, Costa Azul remains one of the best beaches in Los Cabos to swim and snorkel.
Location: At the southwest of San José del Cabo, between km 28 and 29 on the Transpeninsular Highway.
Tips: If you want to try your hand at surfing but have no experience at all, Costa Azul is home to many surf lessons to get you started.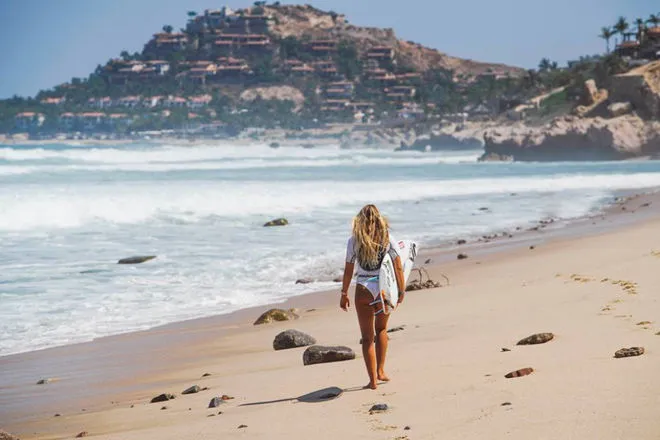 LAS VIUDAS BEACH
Near Cabo San Lucas lies this place of peace and beauty, walking across the shore you'll find rock formations that create a spectacle as the waves break on them. Even if this makes for a less-than-ideal place to swim, it creates an atmosphere of magic and relaxation that makes you want to stay the whole day. 
Location: Playa Las Viudas is located at km 11.5 along the Tourist Corridor and is accessed by a dirt road that continues for just under a half-mile toward the ocean.
Tips: Las Viudas is a small beach with few amenities, so arrive early and prepare everything you may need.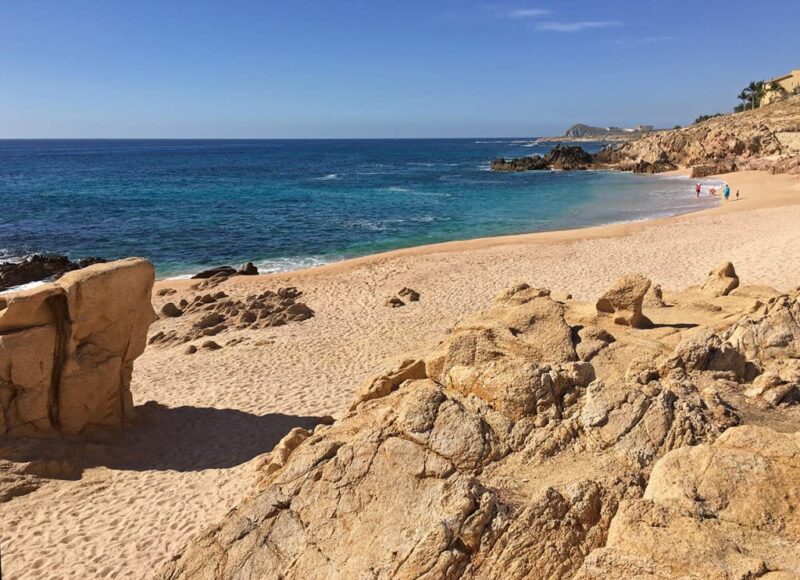 MONUMENTS BEACH
Famous for being the closest surfing spot to Cabo San Lucas, the beautiful rock formations that adorn this beach make it an incredible place for exploration and relaxation. Even if the waves are a bit too harsh for beginner surfers, it counts with a picture-perfect view of the iconic Los Cabos' arch.
Location: Just at the entrance of the Tourist Corridor, turn right at the Misiones del Cabo turn-off from Kilometer 5. Follow straight until you reach a security checkpoint where you can park and walk the rest of the way to the beach.
Tips: Take precautions before going for a swim as you may find agitated waters.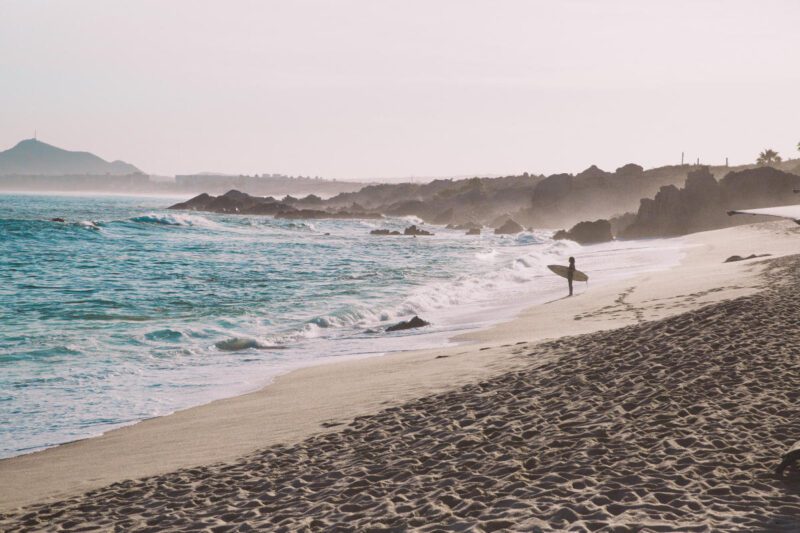 CABO BELLO BEACH
Escape to a small and discrete space hidden among most beaches in Los Cabos. Cabo Bello is a well-known residential area close to Cabo San Lucas that provides easy access to this picture-perfect beach. Its smooth white sand leading to the bright blue waters of the pacific ocean makes for the perfect sport for a relaxing retreat.
Location: In the community of El Tezal just 2.4 Km from Cabo San Lucas along the Transpeninsular HWY.
Tips: There are no services alongside the beach so make sure to bring everything you are going to need.