In a groundbreaking moment, the Bisbee's S Black & Blue 2023 Tournaments marked its 43rd year with a record-breaking $4.4 million USD payout, cementing its position as one of the most prestigious events in the world of big-game sportfishing. The staggering sum of $3,906,550 USD was awarded as a single check, surpassing all previous records and exemplifying the tournament's commitment to excellence.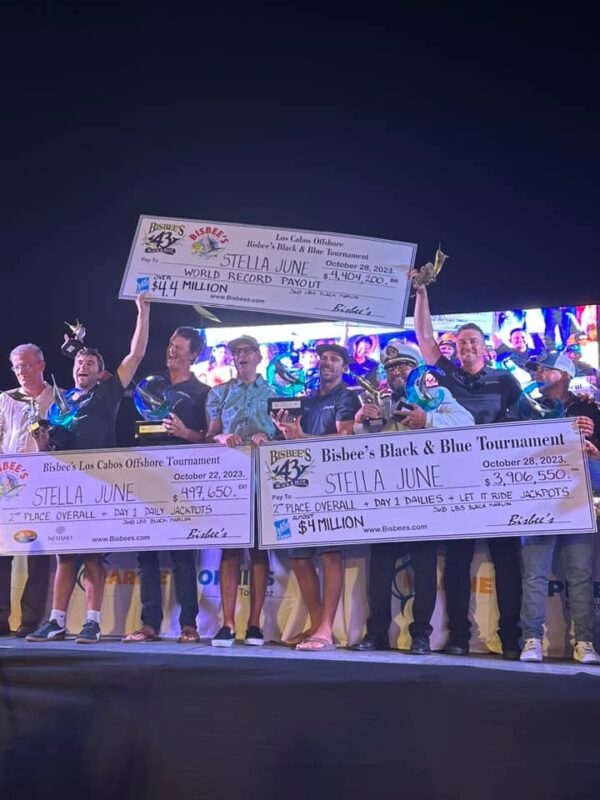 This milestone payout eclipsed the prior record held by Team Bad Company back in 2007, which fell short by a mere $4,000 USD. The astounding victory in 2023 was achieved by Team Stella June, who made a triumphant landing with a colossal 368-pound Black Marlin on the tournament's first day. Their remarkable catch not only secured them the Daily Jackpot but also propelled them into the limelight, having previously clinched the "Let it Ride" Jackpots in both 2020 and 2021. Team Stella June's exceptional performance earned them the well-deserved 2nd Place Overall.
However, the competition was fierce, and Rocky Mountain Hookers made an incredible statement by landing a colossal 501-pound Blue Marlin on the following day. This extraordinary catch not only secured them the 1st Place Overall position but also cast a shadow over Stella June's potential winnings. Had Stella June's Black Marlin retained the title of the largest of the tournament, their winnings would have been in the staggering range of 5 million dollars. The Rocky Mountain Team showcased their prowess by promptly bringing their remarkable catch, the largest in any tournament this year, to the scales right after the weigh station opened, at a remarkably early 9:45 am. This impressive feat earned them a total check of $3,644,139 USD. Of which they donated $100,000 to a local charity underlining their remarkable achievement.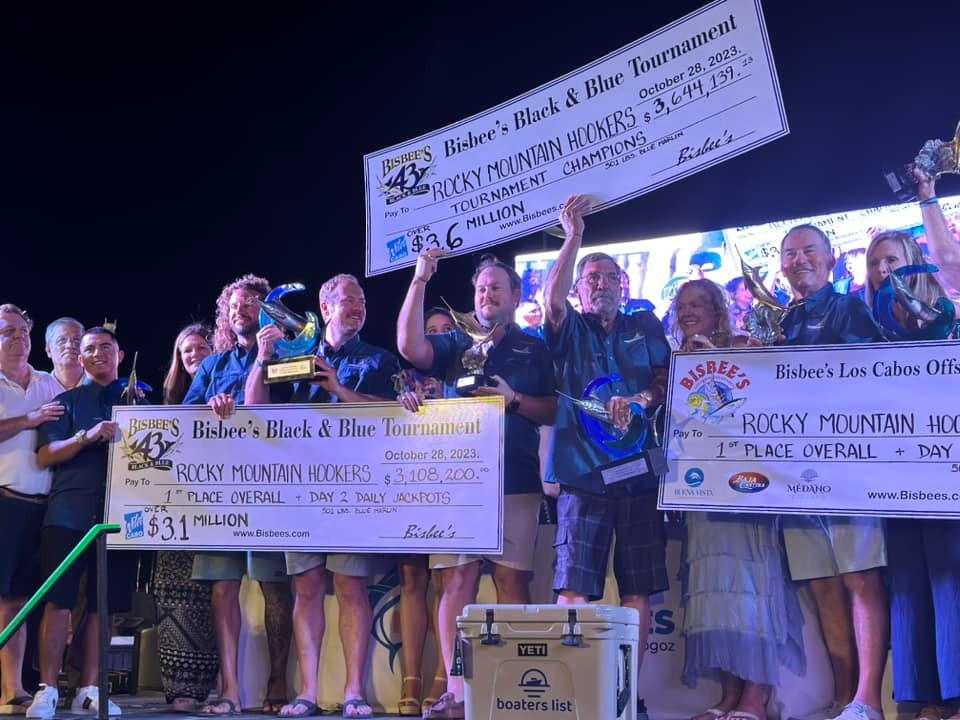 The tournament also featured the Marlin RELEASE Category, which saw remarkable performances:
1st Place in LCO & B&B went to Team Pour Decisions, securing a substantial $60,775 USD for their outstanding performance with 2 Blue Marlin releases.
Team Bacco claimed 2nd Place in LCO with a notable Black Marlin release, earning them $21,037 USD.
Team Reel Estate secured 2nd Place with a remarkable Blue Marlin release, resulting in a prize of $36,337 USD.
Team Magic Touch clinched the 3rd Place in LCO with a splendid Blue Marlin release, earning them $11,687 USD.
In the 3rd Place B&B category, Team Bacco once again excelled with a Black Marlin release, securing a prize of $20,187 USD.
The excitement didn't end there as the LCO GAMEFISH Winners made their mark in the competition:
Team Go Deep Cabo won the Day 1 Dorado Daily Jackpot with a 37.5-pounder, earning them a remarkable $43,350 USD.
Team C Student claimed both the Day 2 Dorado Daily Jackpot and the 1st Place Overall with a 50.2-pounder, resulting in a prize of $73,380 USD.
Team North Star outshone the competition by securing the Day 1 and Day 2 Tuna Daily as well as the Overall Tuna categories. Their impressive catches, a 93.8-pound Tuna and a remarkable 236-pounder, earned them an astounding $116,730 USD.
In conclusion, the Bisbee's Black & Blue 2023 Tournament showcased unprecedented moments of triumph, setting new standards and raising the bar for future competitions. Congratulations to all participants for their outstanding performances in this prestigious event.