<![CDATA[[vc_row][vc_column][vc_column_text]by Justin Porter Biel LEON ROBLES JOSEF was born in Guadalajara, Mexico into an outdoor oriented family, and since he was a kid he loved sports. He started skateboarding and then picked-up mountain biking, rock climbing, skydiving, hang gliding and surfing. He started his own business at 22 years old, and by age 24 he already had 100 employees. Leon built many extreme attractions at parks and zoos, worked in the entertainment industry with networks such as Televisa and ESPN, and from there he did many sports events like the Reef Classic Surfing Tournaments.
I'm a very passionate person. I love being successful doing what I truly love. I feel blessed to have my wife as a partner, two beautiful kids, and many friends, and to keep living the dream in Cabo, proving to myself that if you do things right with love and professionalism, good things will happen as a result.
After building his first eco-adventure park called TAPALPA EKO PARK, he moved to Cabo where the venture to build Wild Canyon Adventures began; a year-long challenge that resulted in the most popular adventure park in the area. Here's a brief Q&A with the man himself: [caption id="attachment_3043" align="alignright" width="209"]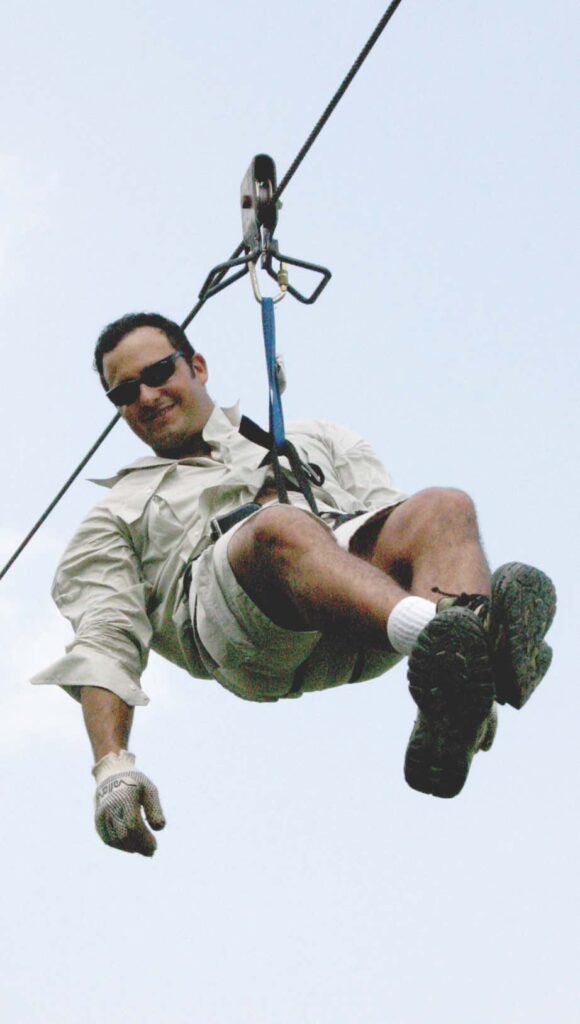 Leon Robles[/caption]
How long have you lived in Los Cabos?
Eleven years.
What inspires you most about life in the Baja?
The outdoors, the desert, the waves, the ocean, the people and the nice organic life that we live here in Baja.
What do you do for fun?
Work on my park, surf, sail and be a father of twins.
What do you do to decompress?
I love to camp and surf.
What is your favorite beach and why?
Misiones because it's very close to my home and has great waves everyday with the view of the arch.
What's the best advice you've ever received? Did you take it?
To be humble, work hard, believe in yourself and pursue your dreams. I like it and I do it every day.
What emotion are you feeling right now?
I'm very happy to tell my story, and to have this amazing opportunity to build my dream.
What are you currently reading? Watching?
I love to watch EL SOCIO, it's a business program on the History Channel.
What has living in Los Cabos taught you about life?
To pursue your goals, to survive the unknown, and to always be ready to start again after the storm.
What would you tell anyone coming to Los Cabos?
It's an amazing place on this earth that is full of marine life, many activities, lovely beaches and awesome people. Come and explore!!![/vc_column_text][/vc_column][/vc_row]]]>