by Alex Navarro
Let's do some riding this vacation! Go home with a great memory and tell your friends you did some riding while in Cabo. The options are wonderful and boundless here in Baja Sur to do some riding. Anything from riding a wave on a surfboard, to riding a mountain bike in the hills, here are some fun ideas to make your visit a very special one.
Riding the Baja Sur on a rented Harley Davidson motorcycle: See most of the tip of the southern Baja in one day by taking the highway loop composed by Transpeninsular Highway #1 and #19. With DESTINO MAGAZINE you can clearly mark your route by using the nice maps within the publication. Maybe start in Cabo San Lucas and head towards San Jose del Cabo and on to Miraflores and Santiago. Enjoy a nice stop somewhere for a nurturing breakfast and energizing coffee. Then keep heading to Los Barriles and then pass San Bartolo and San Antonio and arrive at El Triunfo, which is a very nice little town with a lot of history. Then head back south to Todos Santos and ride back to Cabo San Lucas while having the sunset on your right-hand side as the Pacific Ocean enchants you with its beauty. This ride has amazing scenery! You go next to the coast sometimes, then through the desert as the Sierra La Laguna mountain range flanks you and at other points you fully cross these majestic mountains. Maybe rent a BMW dual purpose motorcycle instead if you prefer that type of bike.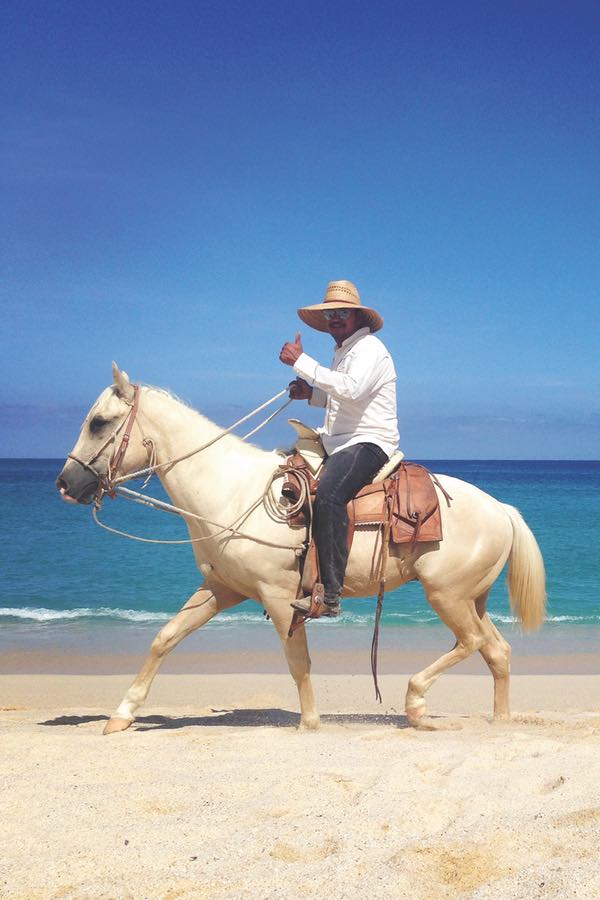 Riding a wakeboard in Medano bay: Go for a fun ski boat ride early morning at Medano beach and have some fun wakeboarding in smooth waters. Later in the morning have some delicious breakfast and enjoy one of Cabo's most iconic beaches.
Riding inflatable beach toys like the famous banana or donut behind a ski boat: Also at Medano beach, have a blast with all your family and friends in this classic activity.
Riding a wave runner: One of the top activities to enjoy and admire Land's End and the famous arch. There are many companies to choose from right on Medano beach, or also you can book through your hotel concierge.
Riding a skim board at Land's End: Only for expert skim boarders, this is the place to go. But skim boarding is also great and more tranquil at most other Cabo beaches. You can buy skim boards at many stores throughout Cabo San Lucas.
Riding a motocross or Enduro motorcycle in the Baja desert trails: Hire an outfitter and do one of their tours that will take you literally to the middle of nowhere where you will see the most incredible landscapes.
Riding shotgun in a Baja buggy as one of your adventurous family member drives: Feel the rush of Baja 1000 style buggy racing in the perfect place with the most professional operators. This activity is a fully packed adrenaline rush that you will always remember.
Riding mountain bikes in the trails: Get out there and ride through the beautiful paths Cabo has to offer. If you love to exercise, mountain biking will be the perfect choice to get a great workout before that big party weekend ahead.
Riding a road bike in the beautiful airport toll roads: Also a great experience to have, as these new roads pass through the amazing outdoors and have many spectacular bridges.
Riding a skateboard at Baja skate parks: We have many cool skate bowls and parks to get some ride time anytime. A couple of the most popular ones are in Pescadero town in the Pacific Side, and the other one is on the main highway in San Jose del Cabo near downtown.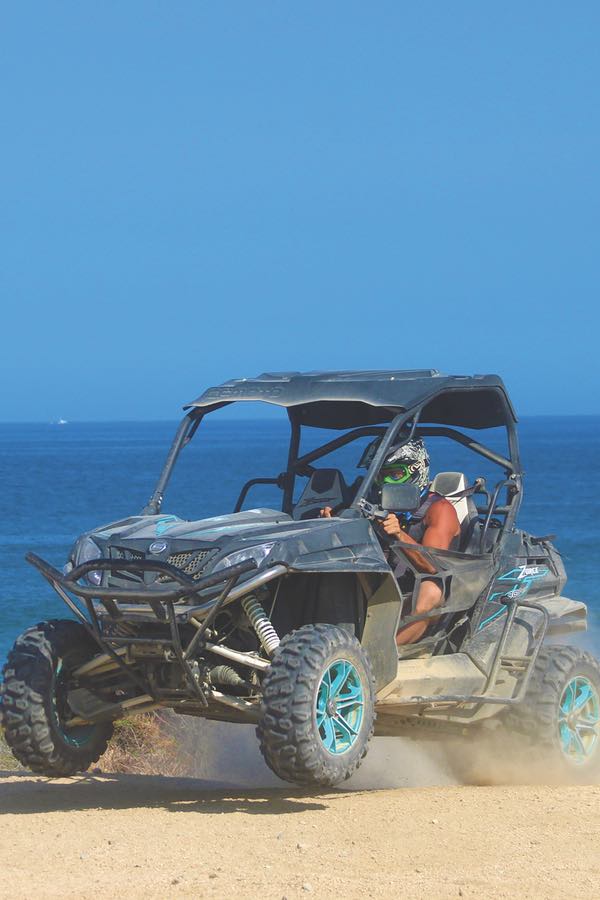 Riding a cruiser skateboard in downtown San Jose: We have a brand-new plaza in downtown San Jose and there are also some great sidewalks to cruise around. Here you can also ride around in roller skates.
Riding a cruiser rental bicycle in the new "ciclovia": We also have a brand new designated bike path in San Jose del Cabo. It is fantastic and passes through beautiful spots.
Riding on a downhill skateboard: For the most adrenaline seeking person, there are many hills around Cabo to do some downhill. Some cool spots are the road that leads to the electric plant near Cabo Real and also the new paved road that leads out to the East Cape.
Riding on a surfboard: The all-time classic activity here in the Baja! It is the perfect thing to do to go home rejuvenated and with a great story to tell of great waves ridden or maybe even of having learned to surf. Here within the magazine you will find a list and information regarding top surf breaks around.
Riding a kite board and windsurfing: Two very rewarding and challenging experiences and best of all is that we have world class spots for them. Head out and make a full day trip to Los Barriles or make a few days adventure to La Ventana. Both have the best instructors and facilities.
Riding on a horse: The beaches and trails in this paradise destination are idyllic for a magical experience horseback riding along with your loved ones.
Riding a camel: Imagine how much fun this will be! For sure a very different adventure that will leave lasting memories.
Riding on an ATV/UTV: Another one of the all-time favorite activities here. There are so many different off-road adventures you can do, for example some go on the sand dunes and others go into mountain trails and dry river beds. This is guaranteed fun in nature!
Riding on an ultra-light delta wing: Take off from the beach and get a bird's eye view of the gorgeous coastline. For sure you will spot many sea animals and maybe even some whales. This is the ultimate way to observe the astounding contrast between the bright blue waters of the Sea of Cortez and the sandy tones of the desert landscape.
Riding high on life: Well, after doing any of these exhilarating adventures and activities you will be feeling great and ready for your next challenge in life.
So, have a great time riding Cabo and hope you come back soon for more fun in the sun! Thanks as always for choosing Los Cabos for your unforgettable vacation and please take care.