By Jake Snook
Within the last decade Cabo San Lucas has transformed from the "sleepy little fishing village" at the tip of the Baja peninsula to a luxury vacation destination that attracts global attention every month of the year. Spring Break in Cabo has a different definition to everyone; however the speed of Cabos evolution has progressed past the hay days of partying on Medano Beach. Whales breaching, fish swimming, drinks pouring, music playing and the sun shining; options along each coastline makes for any type of trip to be had.
As the spring break crowd usually comes with a "party" connotation, spots like Omnia Day Club, Squid Roe and Mango Deck will never go out of style. Numerous hip-hop artists have performed live at Squid Roe during their "Spring Break Edition" events, leaving downtown awake past 2am on a much more frequent basis that our earlier winter months. Omnia, which is tucked into the back corner of the Vidanta property in San Jose de Cabo, is a one-of-a-kind experience you'll find cultivating college kids and party-goes alike for a day-long festival of drinks and club music while in the pool. Pushing to please the younger crowd is a theme that areas of business are following down here, but fear of Cabo becoming "too big" can be shunned simply by the geographic limitations of the area. With only so much space and receding coastlines, undeveloped and unpurchased beachfront property is a thing of the past.
Cabo's demographical shift, making a move towards big-money clients, has been forcefully imposed as companies like Amazon and EBay have had their hands in the purchasing and development of properties in very recent years. With over 20 golf courses, and an almost identical number of private vs. commercial aircraft landings each day, this west coast/celebrity playground has undoubtedly surpassed all other "South of the border" vacation options. High-end culinary and lodging options are popping up every month, but the taco carts and smoothie bars have no signs of leaving the area any time soon. The blend of luxury and cultural grit is what adds a unique flare of attraction to lure travelers from across the world to this remote stretch of beach-front land.
Thursday evenings spent at the Art Walk in San Jose will provide a much more relaxed atmosphere during the Spring Break months. On a weekly basis you will find restaurants open with luring dinner specials, street performers for entertainment and local artists displaying their newest levels of creativity while the scent of cinnamon-sugar churros fills the square. The San Jose Organic Market has a gathering of nearly 100 vendors selling baked goods and homemade tamales every Saturday until 1 pm. Although there won't be any jungle juice poured at these events, both shut down during the hotter summer months later in the year. Capitalizing on timing will get you out of the club scene and back to a relaxing trip of culture and fun for half the day.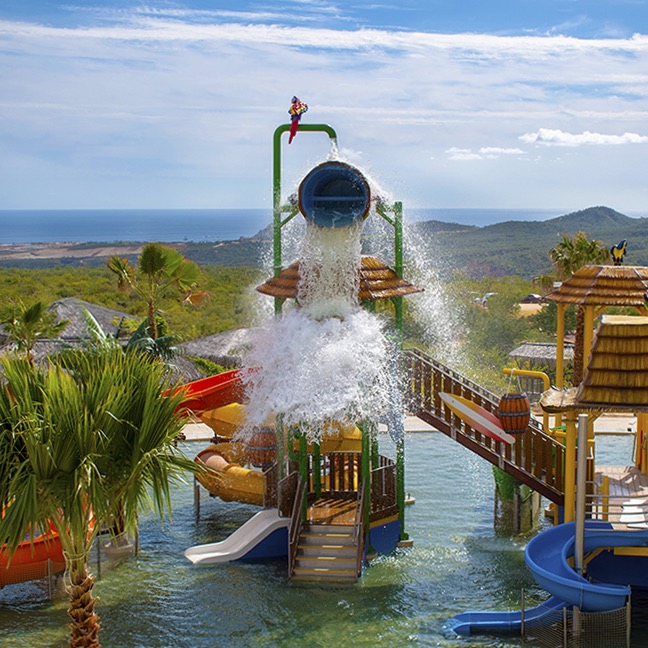 Aquatic attractions have always been a major draw for Cabo's fan base. As the most abundant area for water-dwelling species in North America, touching the sea is practically a must when coming for a week (or more) of fun. Whale shark activity is at its' peak in La Paz during Spring Break; chartered daytrips to go snorkeling with them and the resident sea lions is a great mid-week adventure that is just a short drive away. With the Bisbee's set annually in October, companies like Pez Gato capitalize on the open waters this time of year to provide all-inclusive snorkeling trips, sunset cruises and whale watching expeditions. All boats through Pez Gato are available for private charters and leave directly out of the Cabo San Lucas Marina.
Jet skis, parasails and paddleboards are not for the faint of heart. It's rare that an hour goes by where beach-goers aren't enticed by vendors to spice up their day. With options lined across Medano beach, a voyage to Lovers beach is just a twelve minute glass-bottom boat ride away. If you come to Cabo but don't see the famous Arch (Los Arcos), did you really even come at all?
Although completely surrounded by water, land dwellers have no fear of boredom. The peak levels of dopamine begin at bungee jumping and skydiving; a bit extreme for most of us but incredible experiences nonetheless as you free fall for over 1 minute before gliding down to land softly among Medano beach. Adventure parks with rappelling and zip-lining are great morning or afternoon activities while hikes up all of the surrounding Sierra de la Laguna mountain ranges will keep the heartrate pumping in the best weather of the year. Not-too-hot, paired with low humidity and a slight breeze keeps the insects to minimum while your tan gets evened by the poolside. Waterparks located in Caduaño, Wild Canyon, San Jose and Cabo offer a happy-medium for the younger crowds joining us during the winter season.
Dune buggies and Razors can be taken for a guided afternoon in the great canyons and ancient riverbed canals of the Baja. Camel and horseback riding tours on the beach provide a more relaxing experience while providing the same views as the motorized options (and a bit less covered in dust).
A trip to the East Cape will make you feel like you're in prehistoric times; with no Oxxo for miles, Los Barriles is roughly a two hour drive from Cabo San Lucas. Kitesurfing, ATV trips and scuba diving set the tone for embracing the beauty of the Baja in its finest natural form. Whether you like to conquer the elements above or below the water, you are forced to spend time on yourself on the Gulf side of the BCS because the hustle of Cabo's downtown nightlife hasn't made its way there yet. With names like J. W. Marriott and Ritz Carlton starting projects on the way to this part of our area, we can only assume the quainter spots will show signs of major growth in the very near future.
Up the West coast from Cabo sit a few little towns that line the way to the Baja's capital of La Paz. Cerritos beach, a local favorite, is one of the few spots in the area that allows for 24/7 access to rolling waves, with no rocks to tamper the enjoyment. Boogie boards for rent and local surfers teaching lessons, this is one of our favorite places for a true "beach day" to be had. A bit further you will find Pescadero, home to Baja Beans (who provides some of the best coffee on this side of the border) and Carlito's Place (featured in on pg. 32).
The last stop before the longest leg of a trek to La Paz brings you to Todos Santos. With structures still standing from its origination in 1723, the location that lays claim to the famous "Hotel California" has art, jewelry and leather vendors galore. With fresh food in abundance, foodies alike never leave hungry as it features Jazzamango, a top 10 acclaimed restaurant in the Baja that presents farm-to-table at an all new level for this little oasis town. Multitudes of Airbnb and VRBO options line the area; fresh meat and produce markets will have your head spinning with options for the perfect dinner on your table each evening.
Before heading out make sure to take a pit-stop at Todos Santos Brewing, an Australian owned and operated taproom manned by Liz (one of the owners), serving up some classic bar food favorites like soft pretzels with cheese sauce and hand-cut fries. Dishing out nearly 20 homemade small-batch brews on tap at a time, co-owner and brew-master Ted will provide his opinion for those unable to make a decision on the spot. Growlers full of your favorite choice from a flight of 6 taste-sized beers is an absolute must as you head off of the handmade streets and back on the highway. Moving from a population of only 400 in the early 2000s to nearly 6,500 strong in 2019, Todos Santos and its surrounding areas are feeling the expansion on the southernmost tip of the Baja as well.
Cabo San Lucas will continue to be a North American spring break tradition for as long as the sun keeps shining here and the snow keeps falling there in March and April. Growth throughout the Baja California Sur has brought many new and unforeseen opportunities to fruition as our "sleepy little fishing village" has transformed to one of the most affluent marinas in the world and the vacation metropolis we see today. Whether you're here for a week or here for the month, everyone escaping the cold of winter will agree, there's no better time to vacation than now, and no place better to do it than Cabo.
Contact Us
Tel: (624) 105.9700 | 142.4949

General Inquiries
contact@destinoloscabos.com

Advertising
advertising@destinoloscabos.com
About Us
No matter your destination in Los Cabos, within the pages of Destino Magazine you will find quality editorial about this beautiful region of Southern Baja, as well as relevant tourist information, maps, activities, culinary discoveries, entertainment, real estate, healthy living, local culture, art, sports, and more.
Contact Us
General Inquiries
contact@destinoloscabos.com
Advertising
advertising@destinoloscabos.com
Share Your Cabo
Experiences With Us
#DESTINOLOSCABOS
About Us
No matter your destination in Los Cabos, within the pages of Destino Magazine you will find quality editorial about this beautiful region of Southern Baja, as well as relevant tourist information, maps, activities, culinary discoveries, entertainment, real estate, healthy living, local culture, art, sports, and more.