[page_title]
[post_date]

By Justin Porter Biel

Baja California del Sur is a surfer's dream. With access to the Pacific Coast on the west and the Sea of Cortez on the east, the area offers countless miles of pristine coastline and is home to world-class surf breaks.

In Baja, the opportunities to paddle out are plentiful, and there are waves for every skill level. Most breaks are also surprisingly easy to access, with over two-dozen surf spots within a 1.5 hour drive of San Jose Del Cabo International Airport. So whether you're a surf-veteran looking to go big, or a newbie stoked on catching your first wave, the surf in Baja can satisfy your craving.

The month of June is a particularly fun month for surfing. The temperatures are rising, the crowds are dying down, and the southerly swells that keep waves going through the summer months are just starting to crank up. Both on the Pacific coast and the Sea of Cortez, this time of year brings an abundance of waves.

At breaks near Los Cabos, you can catch great rides alongside a handful of locals and other surf-seekers from around the world. However, if you're looking for even more solace, head to the East Cape, or take a drive up the Pacific. Paddle out early, and you might have the ocean all to yourself.
The
SURF SPOT
BREAKDOWN
Got your board? Perfect! Now it's time to pick a beach, strap on your leash, and paddle out. This breakdown of the local surf spots will guarantee your Baja surf vacation is a success.
Surfing Cabo and San Jose
If you're staying in Cabo or San Jose, you don't have to go far to find clean faces and long rides. Lucky for you, there are over a dozen breaks between Cabo and San Jose alone. Below, we've listed a few of the most popular.
Monuments – A dense, reef bottom left that holds size better than many of the surrounding breaks, Monuments is a fun spot but only recommended for intermediate/experienced surfers. Located just below the Thompson Hotel, Monuments is an iconic wave, one of the closest beaks to Cabo, and offers a rare left break on the Sea of Cortez.
Old Man's – Located directly in front of Cabo Surf Hotel, Old Man's is a long, smooth right with a forgiving takeoff and suitable for beginner/intermediate surfers. You can park for free in the lot above Cabo Surf Hotel. If you're a beginner looking for a lesson, this is the place to head.
The Rock – A short paddle from Old Man's, The Rock is a quicker, more advanced wave for intermediate/advanced surfers that has a nice section on both the left and right. For best results, take off besides the rock and then get ready for a fast, fun ride.
Zippers – A world famous break, Zippers is a cornerstone of the Los Cabos surf scene and the location for the Los Cabos Open of Surf. Best for intermediate/advanced surfers, Zippers works best with southern swell during summer months and produces a lippy wave that occasionally barrels near the shore.
Surfing the East Cape
If you're looking for a more remote surf scene, head straight to the East Cape.
The East Cape offers a number of remote surf spots, connected by a series of bumpy dirt roads. Best with a large southern swell, when the East Cape is firing you'll be blessed with an unbeatable Baja surfing experience. Sure, you have to work a bit harder to get there, but surfing the East Cape is well worth the effort.
You can surf breaks like Nine Palms by day and be back to Cabo by nightfall. If you're looking for a weekend surf experience, you can camp overnight on the beaches or grab a hotel room at Vida Soul, an eco-hotel catering to the surfer crowd.
Shipwrecks – About an hours drive from Cabo, Shipwrecks is the first significant break on the East Cape. It's a fast right off a point break that is best for intermediate/advanced short boarders.
Nine Palms – Fifteen minutes past Ship Wrecks, Nine Palms offers a longer wave and even a chance for a rare barrel in the midsection. A great wave for the intermediate/advanced surfer, Nine Palms is best in the morning and afternoons when the wind and crowds are low.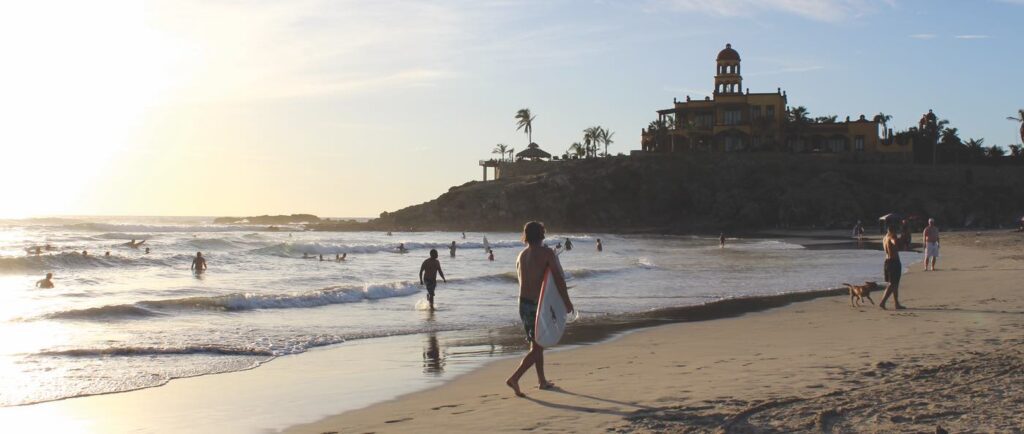 Surfing the Pacific
If you're still looking for more surf, then it's time to hit the Pacific breaks, where both beginner and advanced surfers can catch good rides. Also, the charming communities of Pescadero and Todos Santos offer a more relaxing vibe than the hustle and bustle of Los Cabos, which can be a nice change of pace.
Cerritos – The most popular beach on the Pacific side, Cerritos is a sand bottom break that is good for all levels. If you a beginner, rent a board and have some fun on the inside waves off the edge of the point. For more advanced surfers, the outside point break provides a fun, charging right. There are also other peaks that present both lefts and rights as you head farther down the beach.
San Pedrito – This wave is a big right point break that can hold big swells under the right conditions. San Pedrito is a rock-bottom break for the intermediate/advanced surfer.