by Justin Porter Biel
The Pueblo Magico of Todos Santos serves as a haven for local and international artists. The cities creative pulse is especially prevalent downtown, where the hilled, cobblestone streets are home to dozens of galleries. On any given day, visitors and residents in town can view all sorts of art, including paintings, sculptures, photographs, ceramics, jewelry, mixed media, woodworking and much more. While there is lots of art on display in Todos Santos, the creation of this work often happens behind closed doors, inside homes, or down dusty roads in paint-drenched private studios.
But this February, at the 9th Annual Todos Santos Open Studio Tour, artists will open their doors and share in the spirit of creation during this unique, two-day event. Taking place February 10th and 11th, the tour provides an intimate opportunity for attendees to connect with artists in the local community. It's a rare experience, offering face time with the artists and insights into their creative process. There is also, of course, the opportunity to buy great art.
So, if you've ever wondered what it looks like to see inside a real working studio, or get inside the mind of a Baja artist, the Todos Santos Open Studio Tour is your chance.
Now in its 9th year, the tour was created in 2010 by ARTS (Artists of Todos Santos), an informal group of artists including Diane Knight, Vic Kirby, Michael McAllister, Steve Thurston, Tori Sepulveda, and Roxanne Sparks. While many of the founding members remain involved, the event has continued to grow. This year's tour includes over 40 artists spanning a wide range of disciplines. From well-known artists to talented up and comers, this year's studio tour will have something for everyone.
"Only once a year do artists open the doors to their studios, inviting visitors to explore down rambling dirt roads and discover what's hidden behind their walls," said Anne Hebebrand, one of the more established artists, and a tour organizer for the past few years. "The experience of visiting an artist's studio is completely different from viewing the artist's work in the formal setting of a gallery."
This year's event has global reach, featuring artists from Mexico, the United States, Canada, South America and Europe. There will be established artists like Gloria Santoyo Ruenitz and Anne Hebebrand, as well as up and comers like Ardis Young, Monica Velásquez, Laurie Pearce Bauer and Carin Jette.
The tour is an exploratory art experience, with fun and creativity at its core. "You never know what you will find," said Hebebrand. "Some of the studios are well-established, others are more improvised or temporary, some expand into the outdoors or are entirely outside and some showcase a group of artists." Each entry ticket comes with a map highlighting all the participating studios. Colorful signs placed around town will help to keep you on course. But, getting lost isn't such a bad thing either. "Don't be concerned if you make a wrong turn," said Hebebrand. "Most likely you'll enjoy encountering an artist who was not on your list."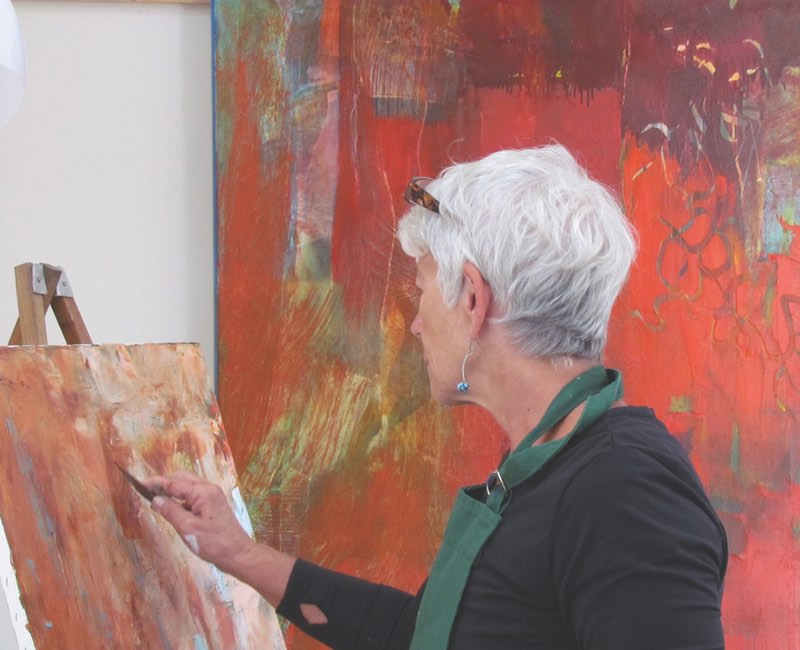 Additional Event & Ticket Info:
The 9th Annual Todos Santos Open Studio will be held the weekend of Feb 10 & 11, from 10 am to 4 pm. All proceeds benefit the children's art programs at the Palapa Society of Todos Santos, A.C. Advance ticket sales begin Jan 28th at $10 (200 pesos) and can be purchased in town at the Tecolote Book Store located on Calle Juarez, or ordered online at ts.studiotour@gmail.com or purchased at www.brownpapertickets.com. Tickets can also be purchased on event days from 9 – 3 at Cleo's in Las Tunas and The Palapa Learning Center (PLC) on del Huerto in town.