[page_title]
[post_date]

 

Mexico continues to be the number one destination for American destination weddings every year, and it's no coincidence. This paradise is close to home, easy on the wallet, and offers something for everyone. Los Cabos couldn't be a more magical place to tie the knot, nestled in a tiny corner of the world, where the Pacific Ocean meets the Sea of Cortez in a little slice of paradise that combines endless stretches of picturesque beaches with miles of untouched desert landscape. There's a lengthy list of reasons why Los Cabos has thousands of engaged couples heading south of the border each year to say, "I do!", but here are 10 of our favorites!  

 

1. IT'S CABO, BABY! 

C'mon, who hasn't heard of Cabo? This amazing destination offers gorgeous beaches, grand resorts, breath-taking sunsets, world-class cuisine, fishing, relaxation, adventure, culture, non-stop parties, the ocean, and nearly year-round sunshine. Cabo actually does have something for everyone. Our charming little Land's End is easy to get to, safe, and loads of fun, which is why it's also the most returned to vacation destination. Visitors love it so much that they continue to come back again and again. Don't expect to hear any complaints when you tell your friends and family that you're having your wedding in Cabo! 

 

2. PREDICTABLE WEATHER CONDITIONS  

Every elderly Italian lady on earth can assure you that rainfall on your wedding day is extremely lucky, but it will still be your biggest wedding day fear. All the planning, the beautiful centerpieces, printed menus and programs, and let's not forget the hours of hair and makeup. The last thing you want to think about is moving your dream wedding indoors at the last minute to escape the rain. But we have good news – Los Cabos is warm and sunny almost all year long. You can count on predictably beautiful weather at least nine months out of the year. The hot and rainy season in Cabo is in the months of August and September, which are also the months when tropical storms are a possibility. Steer away from those pages of the calendar and your wedding day will surely be a beautiful one.

3. AFFORDABILITY  
Weddings in Los Cabos can certainly range in price, but whether your budget is $5,000 or $100,000, you're sure to get more bang for your buck with a Cabo wedding than one in your own home town. With the breath-taking backdrops that this magical place has to offer, there's no need for excessive décor. Also, destination weddings tend to go hand-in-hand with a smaller guest list, and fewer mouths to feed means less spending. This brings us to our next topic – The Guest List! 
4. A MORE EXCLUSIVE GUEST LIST 
A trip to Cabo will require travel, several days out of town, and hotel stays. This gives you the perfect opportunity to cut down on what usually starts out as an unmanageable guest list. We call it "The C List". It's the list of people you don't necessarily want to invite, but you think they might be expecting an invitation, so you feel a strange obligation to include them. Not to worry, when your neighbor across the street learns that your wedding is in Los Cabos, any prior expectation for an invitation will quickly diminish. You can always throw a casual post-wedding party when you get back home.
While a Cabo wedding will definitely offer you some control with who you want to invite, it certainly won't limit you. The event venues in Los Cabos can accommodate anything from a romantic, private 2 person elopement to a grand event with a thousand guests. You choose! 
5. GIVE YOUR GUESTS SOMETHING TO REMEMBER
After six months to a year or more of planning, most couples feel like the day of the wedding is over in a blink, no matter how good you are at savoring the moment. With a destination wedding, you have 3 or more days of fun with your guests. Of course, your actual wedding day will be the pièce de résistance, but you can also give you guest another full day or more of memories. Show your loved ones how much you appreciate them by planning a fun event like a welcome party, rehearsal dinner, pool day, or group excursion. A dinner cruise or sunset cruise is a great way to show your guests the famed Arch of Cabo while sailing around the bay. 
As soon as you settle on a Los Cabos destination wedding, you can say goodbye to the age-old ritual of spending half of your wedding reception walking around to every table to catch up with guests. You'll already have spent hours of fun, quality time together on the days leading up to your wedding.  Destination weddings tend to be more like family reunions, except that they combine two families. And isn't the point of a wedding to join two families together?
6. BEAUTIFUL SCENE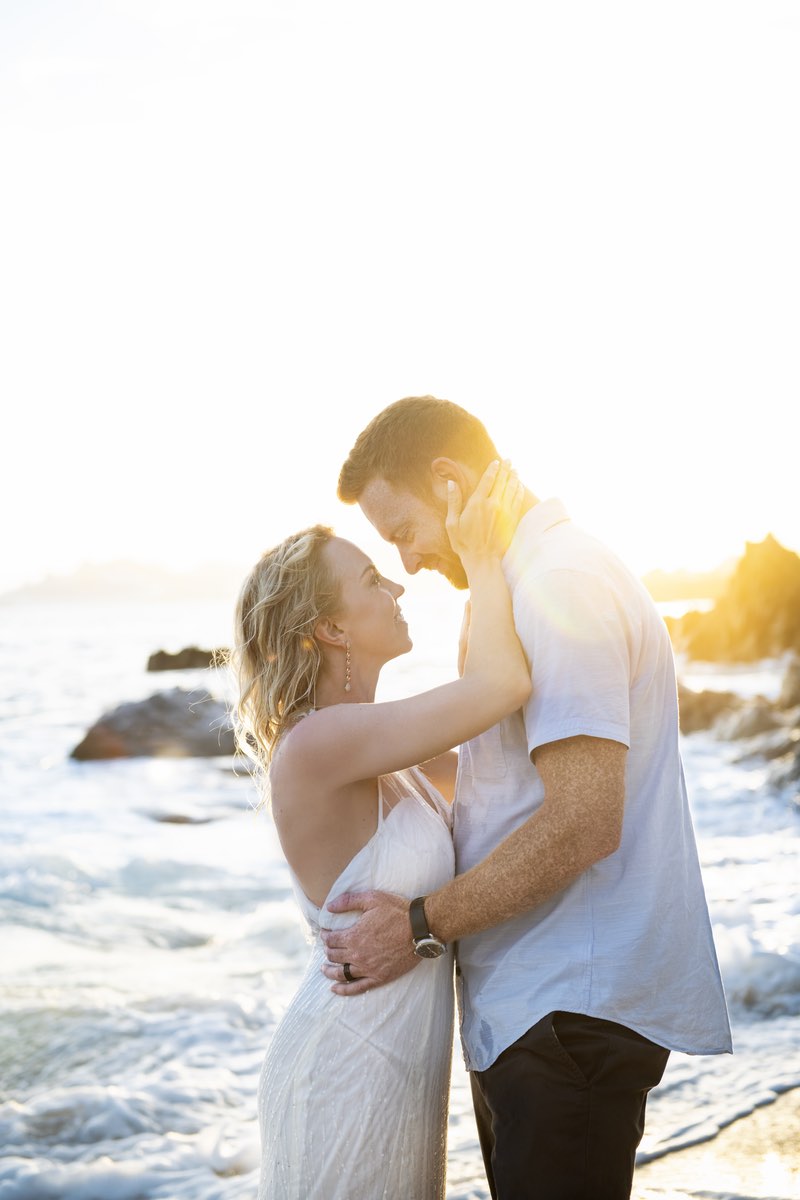 Your wedding day is supposed to be one of the most beautiful days of your life, and certainly among the most memorable. Why not celebrate it in one of the most stunning settings that the world has to offer? Maybe you want to incorporate a little Mexican flare, a bit of fairytale sparkle, some rustic elegance, or some bold and colorful charm. Whatever you decide on will be surrounded by stretches gorgeous sandy beaches, swaying palm trees, crystal blue waters, warm ocean breezes, the sun setting over the Pacific Ocean, and moon rising over the Sea of Cortez.  The landscape of this incredible place is almost unbelievable. Los Cabos is has no shortage of breathtaking views; the perfect setting for your wedding day. 
7. SAFETY 
One of our favorite things about Cabo is that the biggest safety concern should be a severe sun burn. Many Americans have concerns about traveling to Mexico, but Los Cabos is among the very safest of tourist destinations. You can rest assured that you'll be bringing your wedding guests somewhere safe.  While in town, you should exercise the same safety practices that you would at home, or in any other town. For example, don't accept drinks from strangers, use the buddy system when out at night, especially when drinking, don't leave your drink unattended, and don't carry large amounts of cash on you. Aside from these general safety standards of travel, Cabo is a place that you can feel safe and secure. 
That said, with the many activities like boating, jet skiing, diving, paddle boarding, surfing, and fly boarding available, it's strongly advised to be extra careful of you and others while in the water. Even swimming in certain places can be dangerous. Ask a local where the best swim spots are before you hop in. And definitely, definitely apply sunblock! 
8. TRAVEL CONVENIENCE 
Los Cabos is among the most sought-after destinations for weddings in the world, in part because connectivity from the United States, Canada, Latin America, and Europe is decidedly efficient. Travel from anywhere is relatively easy and well-priced, particularly from North America. Every major international airline now has flights to Los Cabos, including new-to-the-scene Southwest Airlines, offering direct flights from several major cities. Travelers from the western United States have always had it easy with short, 2-hour jaunts down the Baja, but now you can find direct flights originating from the Midwest and the East Coast, making a trip to Cabo as easy as domestic travel. To boot, the current exchange rate from dollars to pesos is nothing short of remarkable, making your Cabo visit more affordable than ever. Let's face it, Mexico has never found itself on the list of most expensive places to visit.
9. A VARIETY OF OPTIONS
One of the big appeals to a Cabo wedding is the sheer endless variety. From quaint boutique hotels that give guests a feeling of Old Mexico to the meticulously designed five-diamond resorts for the high-end affair, Cabo can give you exactly what you want. This charming little town can accommodate the simple bride whose only requirement is to have her toes in the sand, as well as the discerning bride with specific ideas in mind. And let's not forget the creative do-it-yourself bride who wants to put her own special touch on her special day.  
Feeling a little country? Cabo has several renowned organic farm-to-table restaurants with a rustic, down-home atmosphere. Want to say your vows at sea? The Cabo San Lucas marina is one of the biggest and highly populate in the world. Take your pick from hundreds of beautiful boats. Cabo even offers services for avid scuba divers to get married under the sea! Los Cabos has become such a desirable wedding destination that it offers world class photographers, musicians, stylists, award winning chefs, and more. Whether you prefer a band or a DJ, Jazz or Mariachi, Authentic Mexican or Italian cuisine – you name it; Cabo has it!
10. IT'S EASY!
Los Cabos boasts a plethora of qualified and experienced event planners who exist to make your wedding planning experience stress-free and easy. These talented coordinators know the ropes, can make calls on your behalf, negotiate rates, suggest creative ideas, and help you avoid unnecessary hurdles. In almost every case, your wedding planner will save you far more than he or she will charge for planning services. What could be more enjoyable that to have every detail of your weekend handled before you even arrive – airport shuttles, dinner reservations, spa treatments, activities, and of course, the wedding!
Your planner's top priority is to keep you under your budget, and that should be the first thing you discuss together. Give yourself the best wedding gift possible when you decide to tie the knot in Cabo – find a planner who you like and let go of any worrying and stress. This is supposed to be one of the happiest times of your life; enjoy it!  * 
For event planning and design specialists in 
Contact Us
Tel: (624) 105.9700 | 142.4949

General Inquiries
contact@destinoloscabos.com

Advertising
advertising@destinoloscabos.com
About Us
No matter your destination in Los Cabos, within the pages of Destino Magazine you will find quality editorial about this beautiful region of Southern Baja, as well as relevant tourist information, maps, activities, culinary discoveries, entertainment, real estate, healthy living, local culture, art, sports, and more.
Contact Us
General Inquiries
contact@destinoloscabos.com
Advertising
advertising@destinoloscabos.com
Share Your Cabo
Experiences With Us
#DESTINOLOSCABOS
About Us
No matter your destination in Los Cabos, within the pages of Destino Magazine you will find quality editorial about this beautiful region of Southern Baja, as well as relevant tourist information, maps, activities, culinary discoveries, entertainment, real estate, healthy living, local culture, art, sports, and more.