<![CDATA[[vc_row][vc_column][vc_column_text]by Blake Harrington Sure, golf is a four-letter word and we've all heard the other four-letter words that go along with the game. But, you know what else is a four-letter word? BAJA! Southern Baja is quickly becoming a destination for the dedicated golfer. Golf is a game that has its way of rewarding the player with its natural landscapes, experiences, and comradery, so planning a golf trip with friends or family is a perfect way to spend some quality, yet very fun time. Especially in Los Cabos and Southern Baja! So what is the ULTIMATE GOLF TRIP to Baja? I've outlined some of my thoughts in this article in an effort to help you and your fellow golfers enjoy the best possible experience when it comes to beautiful Baja and its golf course[/vc_column_text][/vc_column][/vc_row][vc_row][vc_column][vc_column_text]
Diamante – El Cardonal & Dunes Course
[caption id="attachment_3144" align="alignright" width="301"]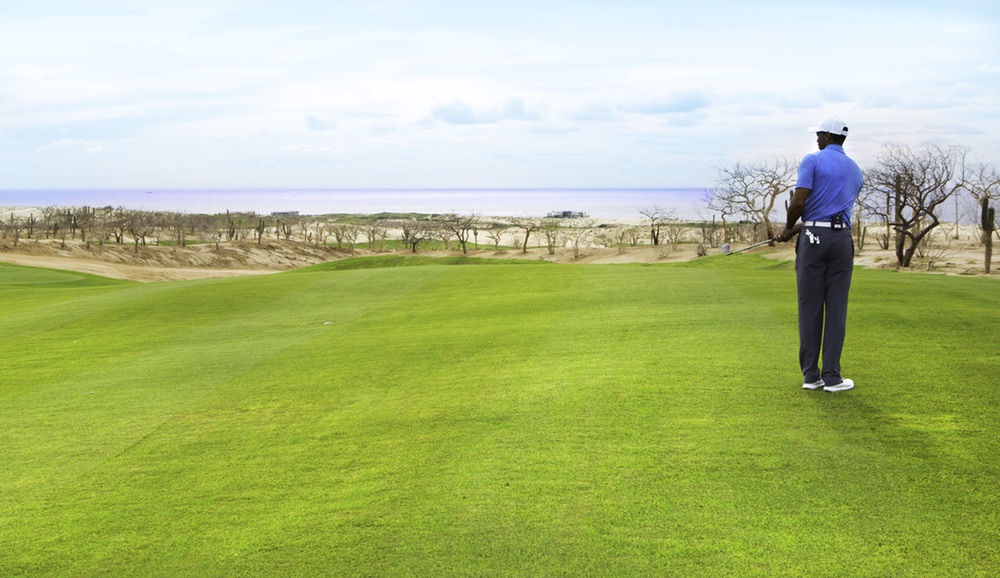 Photo courtesy of Diamante[/caption] When the most dominant golfer the world has ever seen designs and opens his first golf course, people take notice. All the buzz is about Tiger Wood's "El Cardonal" at Diamante, on the pacific side of Cabo San Lucas. A stunning masterpiece with rolling fairways and challenging greens, El Cardonal can test any golfer. Bring your short game as the golfer can experience undulated greens and encourages risk versus reward decision-making on each hole. Diamante is also home to Davis Love III's spectacular "Dunes Course," currently ranking #38 in the top 100 courses in the world according to www.golf.com. With links-style attributes, this challenging design reminds the golfer he's only competing against himself. The course was designed with the wind in mind and rewards you when going with the wind and challenges you when going against it. www.diamantecabosanlucas.com[/vc_column_text][vc_column_text]
Danzante Bay at the Islands of Loreto
[caption id="attachment_3145" align="alignright" width="301"]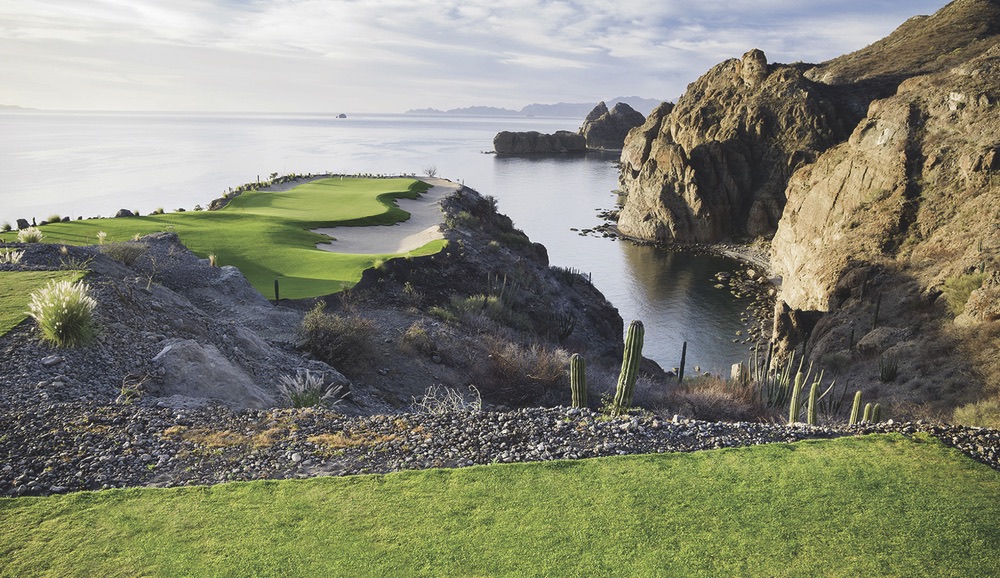 View from the tee box of hole 17 at Danzante Bay Golf Course[/caption]

North of Cabo is Baja's newest gem and it might just outshine the rest. Just opened in 2016, Rees Jones, the architect and designer of Danzante Bay explains the elevated, island-like 17th hole par 3 "I have no doubt that number 17 will be one of the best holes in the world". The course winds you through stunning vistas of the Sea of Cortez, dubbed by Jacques Cousteau as the "Aquarium of the World," as well as the beautiful mountain range of the Sierra's. A stunner to say the least and a must-do for the avid golfer.
Querencia
[caption id="attachment_3149" align="alignright" width="300"]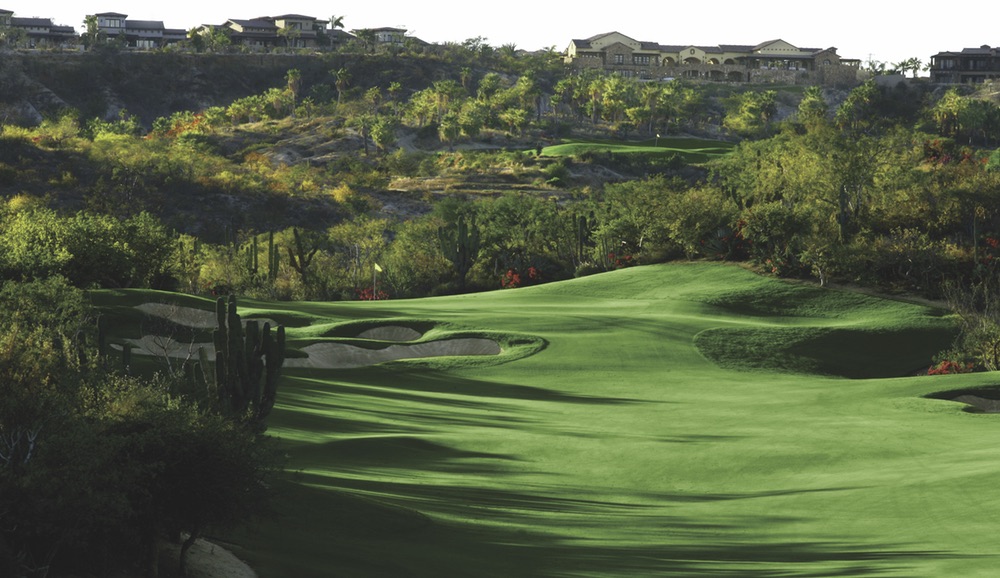 Hole 12 at Querencia – photo courtesy of Querencia[/caption]

If you like Tom Fazio designed courses, this is a must for those of you who have access to private clubs. Querencia, established in 2000, has improved the on and off course experience for players and is home to one of Cabo's most challenging courses. Elevation changes, over-canyon looks off the tee, and narrow fairways (in some cases), make this a course the low handicapper will want to conquer. Querencia has always been known for its exciting greens as there are hidden breaks and some multiple tiers.  A real feel for the flat-stick is needed to make par on each hole.
El Dorado
[caption id="attachment_3146" align="alignright" width="301"]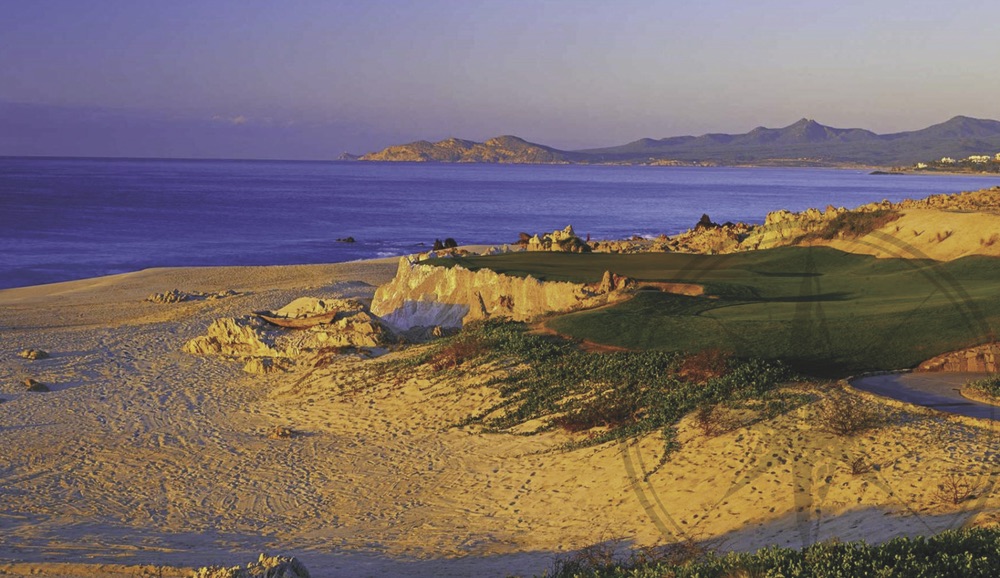 El Dorado- photo courtesy of Eldorado Beach & Golf Club[/caption]

Welcome to the private side of Cabo. Owned and operated by Discovery Land Corporation, El Dorado is where the rich and famous play. If you are lucky enough to be invited by a member, you are in for a treat. Not only is the golf course always in great shape with oceanfront holes, El Dorado puts an emphasis on "The Experience" for the members and guests of members. Fun around every turn and the staff is always there to help with anything…from tacos to tequila, you'll be pampered from the second you enter the prestigious gates of El Dorado.
Quivira
[caption id="attachment_3148" align="alignright" width="300"]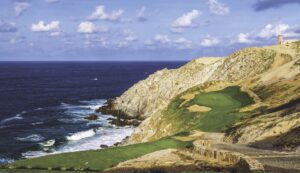 View from the 6th tee box at Quivira – photo courtesy Quivira Golf Course[/caption]

New to the scene and racking up rave reviews is Jack Nicklaus' newest Baja gem…Quivira. On the Pacific Side and sure to test any level of player, Quivira boasts dramatic cliff-side landscapes and multiple oceanfront golf holes. It's not uncommon to be playing while whales breach in the Pacific Ocean or fish jump out of the water. The on-course experience is unique in its multiple comfort stations where players can enjoy tacos, quesadillas, sliders, and of course, a few adult beverages.
Puerto Los Cabos
[caption id="attachment_3147" align="alignright" width="300"]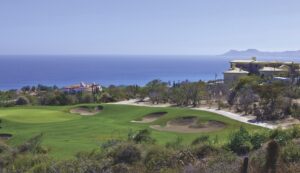 Puerto Los Cabos – Photo by Dwight Harrington[/caption]

This 18-hole composite course made up of nine Greg Norman designed and nine Jack Nicklaus designed holes is a favorite among locals and frequent visitors. With both challenging and forgiving holes, the average golfer can get around the course comfortably and enjoy the numerous oceanfront holes and elevated vistas. Not to mention, comfort stations with food and booze every 4-5 holes make the experience fun for all levels of players and all types of groups.  

www.questrogolf.com/our-courses/puerto-los-cabos

[/vc_column_text][/vc_column][/vc_row][vc_row][vc_column][vc_column_text]
Did You Know?
Cabo will benefit from two new courses coming soon, Rancho San Lucas by Greg Norman and Fred Couples at Maravilla (Montage). Stay tuned for more information on each course, respectively.

[/vc_column_text][/vc_column][/vc_row]]]>